How to make (and spend) money in Steemit.com (A STARTER GUIDE).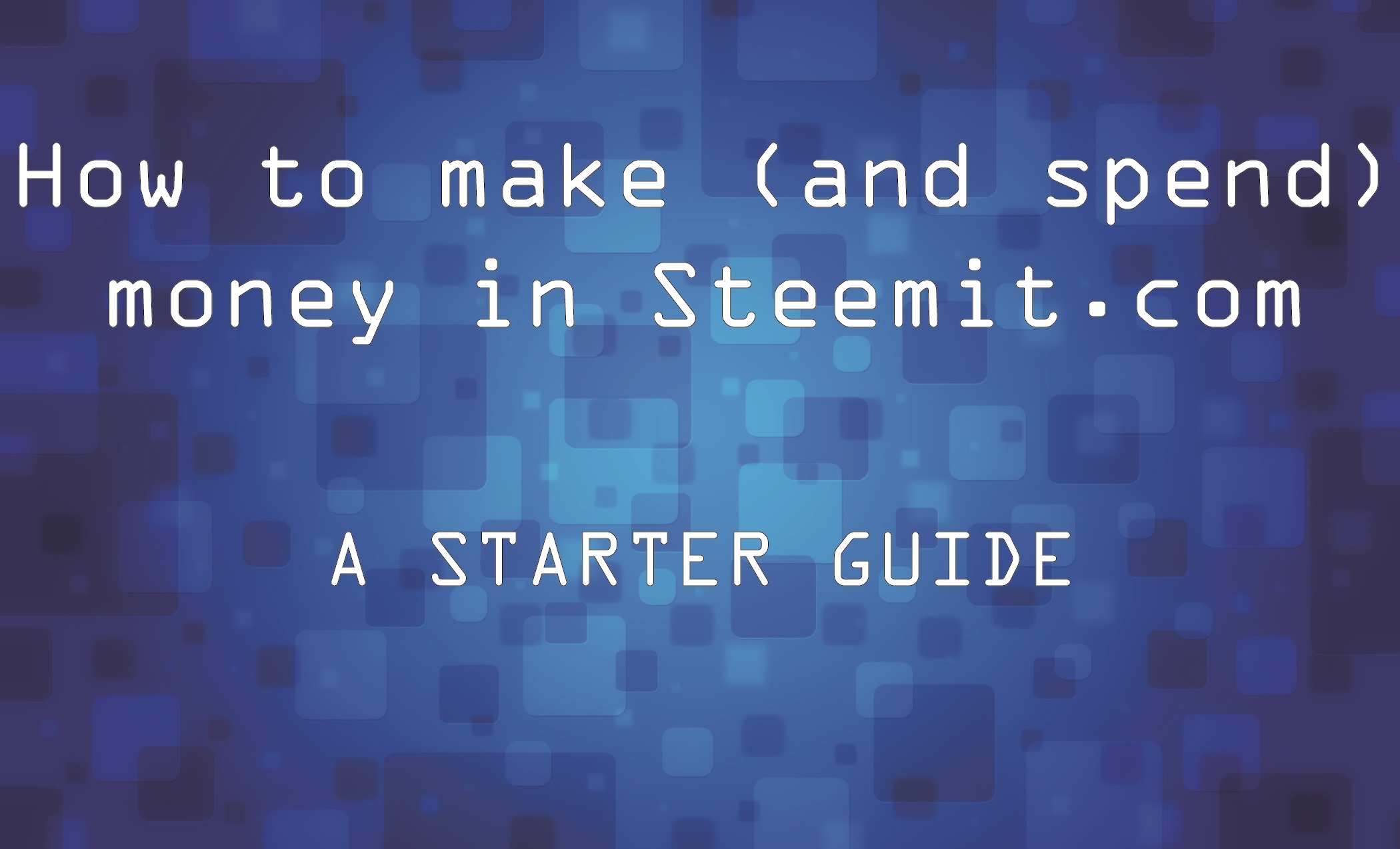 Hello fellow Steemians! This is a short guide for new members of our community. We tried to keep it as simple as possible, so if you want more detailed guides, look around and you'll find some of the amazing resources posted on the site. This guide is also intended for Facebookers and Twitterers, so if you have any specific comments for the people over there, feel free to leave them below!
1) Create an account
Go to steemit.com and click the "Sign Up" button on the upper-right corner of the homepage.
Pick a username and provide a valid email address.
Provide a valid cell phone number (hundreds of countries are supported).
Enter the confirmation code you'll get on your phone into Steemit. 
Wait for your account to be activated (how long it takes depends on the new account load Steemit has at that moment).
2) Post something valuable
Create some content! Write, draw or compose a valuable post that you believe is worth sharing with the world.
Hit the "Submit a Story" button in the upper-right corner of the homepage and publish your content.
3) Upvote other posts, this gives you Steem currencies if you upvote a popular post first
4) Promote your own posts, the more votes your post gets, the more you earn
Keep interacting with your own content and the content of other Steemians. Your Steem currencies will steadily grow based on the quality and popularity of your contributions. 
Payouts occur every 7 days.
5) Sell Steem
Create BC wallet here https://wallet.btc.com/#/setup/register
Go to an exchange that doesn't require registration. We recommend https://blocktrades.us/
Select Send > Steem Dollars and Receive > Bitcoin.
Input your Bitcoin address as the receiving address and continue.
Click your face in Steemit. Go to Wallet. 
Find your Steem Dollars, click and hit "Transfer".
Input the info from Blocktrades or the exchange you are using.
Your bitcoin will arrive in your address in ~1 hour.
That's it. Now you can spend your money in pretty much anything you want. For example here:
Or here:
WE have NO affiliation with these websites, these are just the ones we use. You can buy anything they sell with Bitcoin.
Thank you and see you around! Don't forget to follow us at @jean.racines and @aguayojoshua, and resteem if you found this useful!