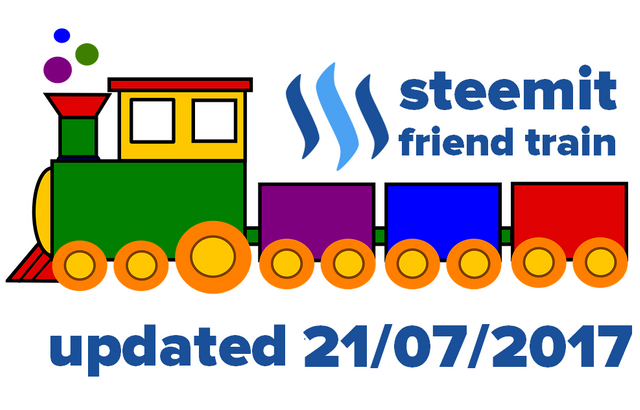 We have updated the Friend Train. If you think we have missed you off the list then leave me a comment below. Also if you would like to ride the train and gain lot's more followers then follow the steps below to get added.
The idea of the Friend Train is really just to boost followers and engagement here on Steemit.
PLEASE IF YOU ARE GOING TO REQUEST TO JOIN AND THEN JUST FALL AWAY THEN PLEASE JUST DON'T REQUEST!
So here is what you need to do to get involved.
So the current rules are that to be added to the train you have to
1/ Follow me as the Original Poster and every passenger on the train.
2/ Comment in the comments section that you would like to be added to the train and you will be listed below.
3/ Resteem the post to bring a wider audience in (More People To Follow You)
4/ Existing passenger must Follow all NEW passengers that ride the train and resteem and comment that they wish to remain on the train.
Failure to do any of the above will result in the guard removing you from the train. All tickets will be checked. Please if you are not going to complete or continue to complete the steps then do not request to ride the train.
There is now no requirement to Upvote unless you feel you want to.
IF YOU ARE NOT SEEING THE UPDATE POSTS IN YOUR FEED IT IS BECAUSE YOUR NOT F FOLLOWING ME OR MAYBE YOU JUST MISSED IT - THE SOLUTION IS TO SEARCH THE TAG #FriendTrain
Let me know you have seen this and understand


InfoBunny
The Friend Train
@infobunny
@uwelang
@detlev
@dutchess
@nexanymo
@xervantes
@enginewitty
@hopehuggs
@judym
@nicnicy
@kombeler
@socialmadeeasy
@rishherbalist
@slickhustler007
@retro-room
@diebaasman
NEWBIES
@somecoolname
@geechidan
@cryptoliving

USEFUL ARTICLES TO CHECK OUT
WHAT I HAVE LEARN'T SO FAR - MAKE YOUR UPVOTE COUNT
SO DO YOU REALLY WANT STEEMIT TO GROW?
HOW TO GET DESKTOP NOTIFICATIONS ON STEEMIT
HOW TO STRUCTURE GREAT STEEMIT BLOGS