Full Steem Ahead – My first month on Steemit
Hello my fellow Steemians, wanna know how was my first month here on Steemit? Quite full, I would say…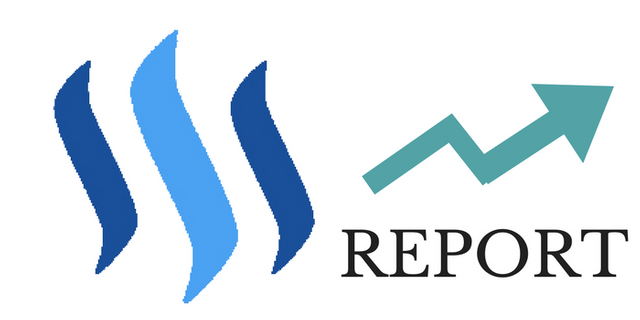 I was accepted at mid August and for the first three - four weeks, I observed and I learned about Steemit, what is it and how it works. I am still learning, since there is a lot to learn about this place. Which it ain't bad, I like learning. This very important, if you want to succeed in everything you do. You have to learn the game, its rules and play by them. As Steven Covey could have said you must sharpen your Steemit saw first plug to an article I wrote about it
By the middle of September I fully committed for a side hustle since I already run a business here in Greece. Here's a link to my intro post.
Anyway, let's see what I did in my first month or so.

Stats
I have gained a reputation of 50 which is great, due to the fact that I wrote some articles that got a lot of upvotes and I commented on posts that I found interesting. I am a good guy around here and it shows on the reputation.
I do a lot of upvoting. I am not concerned that much about curation rewards, if I see something that I like it has my vote.
I have more than 350 followers. I don't don't follow for follow. Of course, I follow a lot of people and I do that because they grabbed my attention. I try to post quality content and I answer every comment I get on my posts.
I want to thank every one that supported me and especially the Greek Steem community @greektrail .

I am invested on the platform and I have put my money where my mouth is. I have invested more than 700 euros on Steem Power and delegated 2500 SP. I think at one should delegate some SP at least to the point that its total is more than 500, so that can adjust voting power. Having a lot of Steem Power gives you … power and flexibility.
Posts
In the beginging, I wrote few posts to test the waters, see how things work. From 09/26 I am blogging almost daily and I am curious to see how it goes.
I comment a lot, at least for my standards. Generally, I am active on the platform but I don't force myfelf to comment. If I have something interesting to say I say it, if not some other time. If what you say adds less than the silence, then be silent. ( chinese proverb I think ).
I don't do whale hunting, I don't comment on their every post, I think it's vain. If it occurs naturally ok , if not let it pass. Just enjoy yourself and sometimes something good might happen.

Having said that, people with reputation over 60 have my extra attention. This could be also a good reason for me to reach that milestone as soon as possible.
I ALWAYS answer comments on my posts and give a little something. It's rude not answer when someone comments on your posts and on the other hand I don't have that many comments.
Promotion
This could be the part that most might find most interesting. I try to promote my blog and my posts with as many ways as I can. It takes time, but I have patience and I know that some things just need their time. We can discuss more ways of promoting in the comments below.
I use @minnowbooster. It's the most profitable bot out there. The other profitable bot is @randowhale, whenever it's awake. A good bot is @whalereward. Marginally profitable is @polsza. When I say profitable I mean that the upvote you get earns you more than the money invested. Bear in mind that from the amount of the upvote you get you have to subtract 25% for curation rewards. Unless you use it right away when you post ( hope I am right on that ).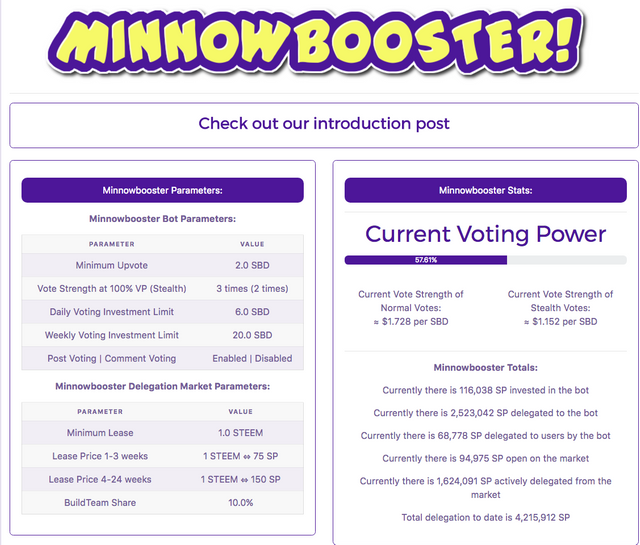 I don't use bidding bots. I've seen that they are not profitable, since a lot of people bid at the end of the bidding period. Maybe, there are secondary gains from an upvote like this, so I will do some testing and report next month.
I use resteem bots, which are @bago ( you sent 1 sbd ), @resteembot ( you sent your reputation/1000 sbd ) and @resteem.bot ( you sent 0.001 sbd , but don't be cheap ass sent it more, its a good service).
I share the link of my post to Facebook groups. There is a Greek Facebook Group that has helped me a lot and a couple more, but haven't seen any value in them. If there is a local Steemit community for your country, join them and you will get support, especially when you start.
I share my link to Twitter and I plan to put Instagram in the mix.
I also share my link at :
Steemit.chat/postpromotion.
Discord App / PAL Channel / postpromotion
Discord App / PAL Channel / upvote ( here you get a smal upvote )
Discord App / Steemfollower / postpromotion
Discord App / Minnowbooster / postpromotion
I don't use the chat for chatting. I find it chaotic and time consuming. A lot of people say that chat is an excellent way to promote your stuff, but for the time being I don't use it. Maybe, next month.
I am part of the @qurator. Our relationship is very young and it has glitches, but hopefully, things will be the way they should be. It seems a promising platform though.
I use Steemfollower, a platform that you can exchange upvotes and following. I have gained around 150 followers, which I am not sure if they have any value or not. I must have gotten my share or upvotes, but I don't track it. If you want to gain followers, I could recommend it. In case you want to try it, use my referral link and I will love you . ☺
https://steemfollower.com/?r=3716
I recently joined Minnow Support Project, so I don't have anything to report right now. Next month I will tell you my experience.
There are a lot of ways to promote yourself in Steemit. The best practice for the long term, in my opinion is to engage with your fellow Steemians within the platform.
Tools
These are the tools that I use. Who doesn't want tools ?
Steemnow – stats for your account link
Steemworld – stats for your account link
Steemvoter – sets up automatic votes link
Steemfollower – exchange votes and following link
Streemian – various services , like following a voting trail link
Bidding Bots Calculator link
Steem Supply – what are your future payouts link
Ask Steem – who mentions you link
Minnowbooster stats link
If anyone knows a good post editor, please let me know.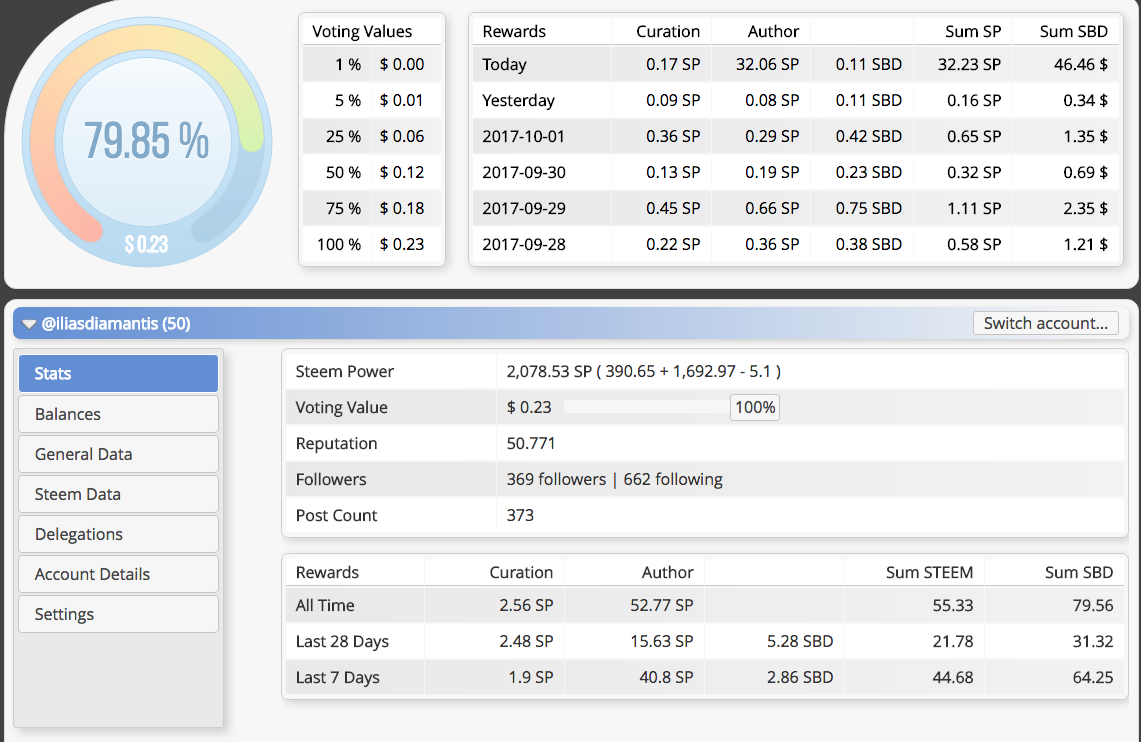 Steemworld interface.
Goals
Write a post every other day. All posts must be profitable.
Total of $100 profit by the end of the month from posts.
Have more than 1000 followers by the end of the month.
Key Takeaways for this month
Learn the game, play the game.
Engage withing the platform.
Have fun.
And until we all go full Steem ahead ,
Be healthy , smile and Steem !
PS: Now, that you've reached the end of this article about my first month on Steemit , I suppose that you know what you could do and that is upvote, resteem and follow, because this way we can create more. Right ?