Check if your Steemit Thumb Image is Compliant for Facebook Ads.
Are you sharing your Steemit blog posts on Facebook, and then give them a boost or run an ad from the Ad Manager for them? If you do, you need to think a bit ahead of your thumb image, so your Facebook ads can be approved.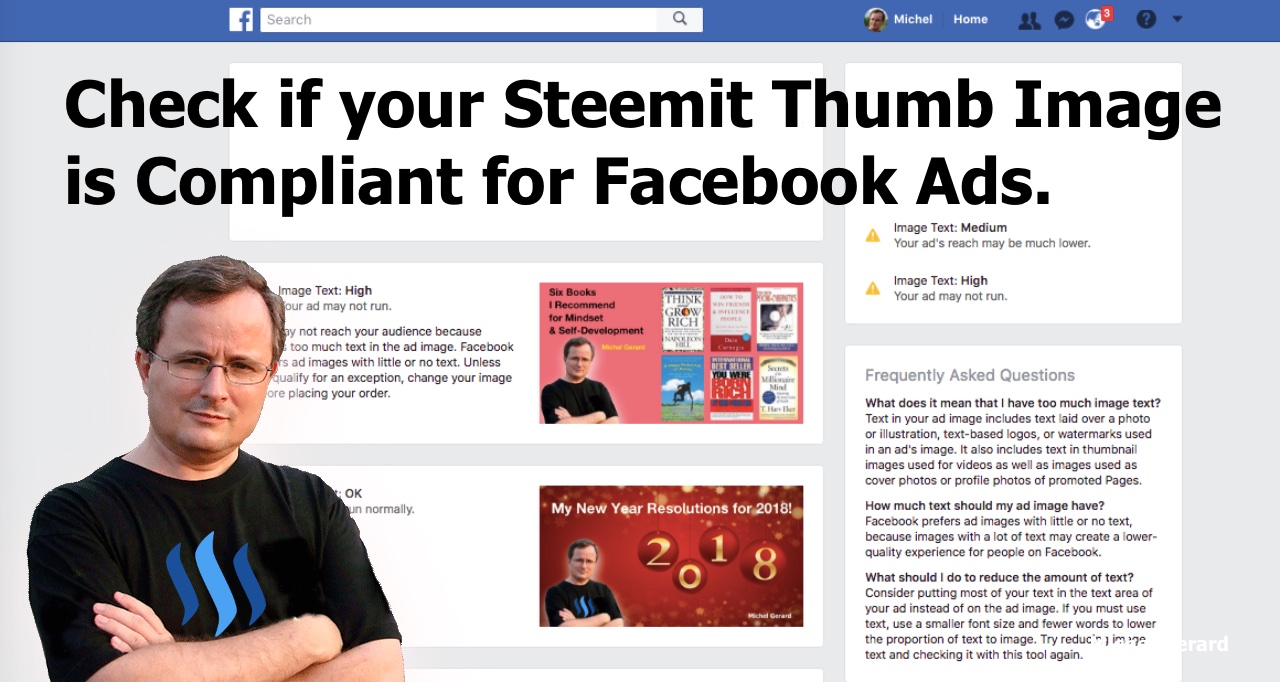 Facebook has a 20% text rule for images showing in ads and very often our first image in Steemit, which is also the thumb image and the image shared in social media, may have too much text in it. At a first glance this might not be obvious and the Facebook ad may be disapproved.
Check if your Steemit Thumb Image is Compliant for Facebook Ads.

If the text in your thumb image exceeds 20%, you will receive a warning from Facebook saying that your image has more than 20% text in it, including a slogan and logo. This 20% text rule is a very important rule in Facebook policies.
Your ad may be accepted, but then disapproved later. Sometimes Facebook recommends you in your feed to boost a post you made on your page that is not compliant with the 20% rule. So, it's better to have an image that is compliant from the start.
This is the rule: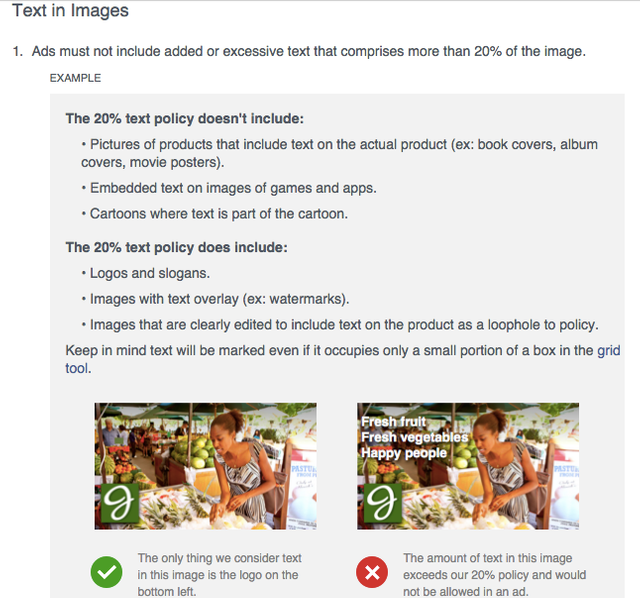 You can see the Facebook policy here:
>> https://web.facebook.com/policies/ads/#text_in_images
Facebook Note about the 20% text rule:
The 20% text policy does not apply to pictures of products that include text on the actual product. Photos of products in real situations or photos of products with a background are acceptable. Images that are zoomed in on logos or images with text overlay are not allowed. We will also not allow images that are clearly edited to include text on the product as a loophole to policy.
How to test your Steemit first image for the 20% text rule?

Facebook has a very useful tool called the "Image Text Check."
It is located here: https://www.facebook.com/ads/tools/text_overlay 
Just load your image and see what Facebook says.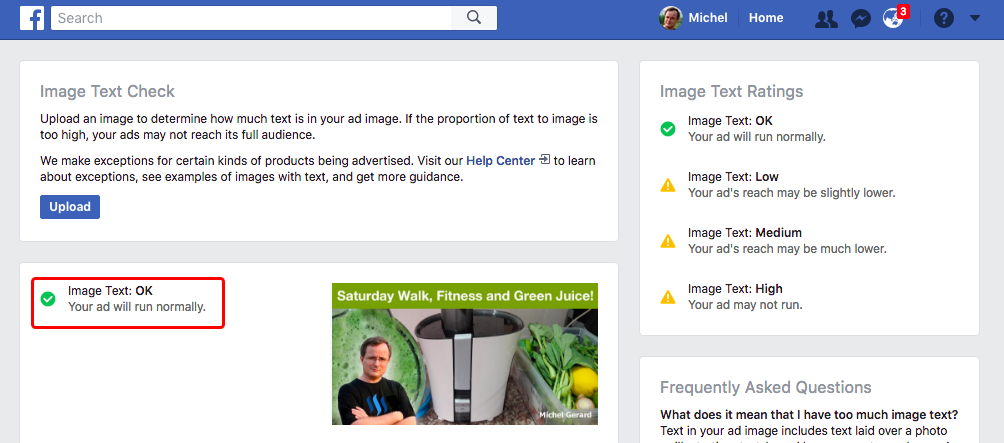 So this post I have shared from Steemit is compliant if I want to run a Facebook ad.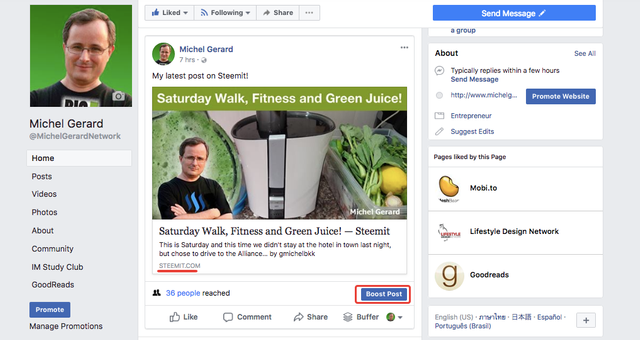 This is another first image from one of my Steemit posts and this one is at the limit, it will run, but the reach will be much lower.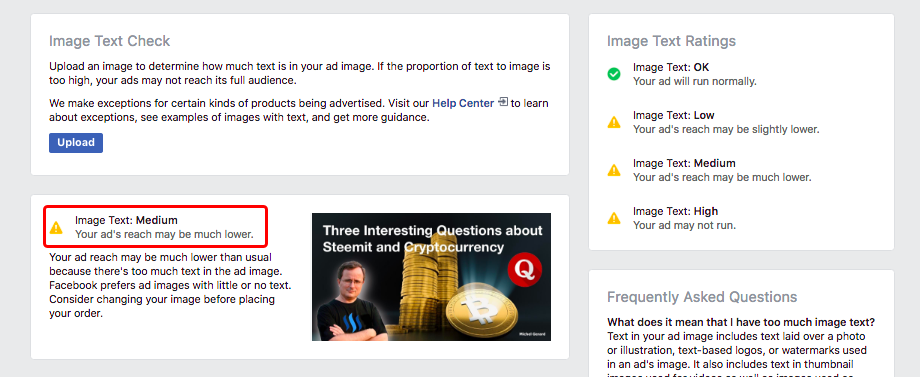 Facebook takes into account the "Q" logo and maybe the "B" of Bitcoin is also counted.
When you use a WordPress blog, you can for example use a separate image for sharing on Facebook, which will have less text and be compliant, but on Steemit, we only have the first image, so we have to make sure it will be approved if we want to run a Facebook ad.
This one is a bit better, but still a problem.

Ideally you want to have an image that will run the Facebook ads normally.
This one is the worst because of all the text in the book covers as well, and the ad will not run.

If you are boosting your posts on Facebook or run ads from the Ads Manager, remember to check the thumb image. I have made the mistake several times, to just put an image that looks good, and then discover that I can't run an ad with it!
I hope this is useful for you.
Would you upvote this post and follow me for more because this will encourage me to write more posts like this one?
Would you please help @jerrybanfield become a top 20 witness because you can help funding projects to build Steem as explained here? Vote for jerrybanfield as a witness or set jerrybanfield as a proxy to handle all witness votes at https://steemit.com/~witnesses. Read the 5 reasons why I'm voting for Jerry Banfield as a witness and how to vote in my post.
Michel Gerard