I've been around the country a fair bit in my life but the North Eastern states have eluded me for a long time. Finally thanks to Steemit and the meetups I'm hosting I get to visit a part of the country I've been wanting to travel to for the past decade.
Jamugurihat is a small town in the Indian state of Assam and has quite a few active users on Steemit. It is so far out from the rest of the country. The nearest major airport is at Guwahati located a distance of 220 kms. Tezpur is the nearest big city and I felt it would be good to host it there.
After a few rounds of discussion with @rahul.stan and @maya7 from Jamugurihat, it was decided that Tezpur is our best bet for hosting a meetup. In fact for a while now @varunpinto and I were debating visiting the North East so this turned out to be the perfect opportunity to do some travelling and also get some work done.
I'm curious to see how people from these far flung areas have taken on to Steemit. Considering the fact that not many people from India are very knowledgable about cryptos in general, Jamugurihat seems to have the most active community from the North-Eastern part of India on Steemit. This fact actually makes me very happy!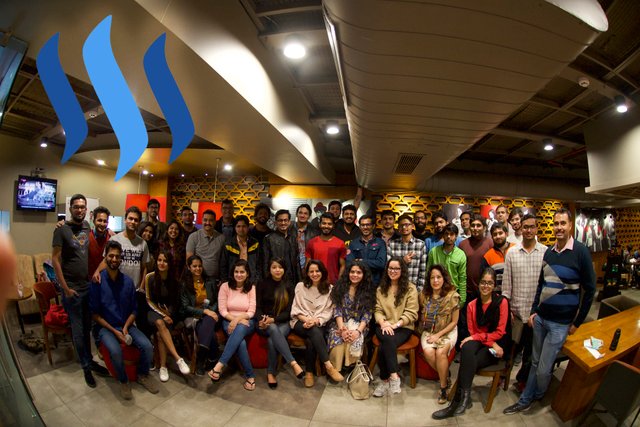 From a recent meetup in Delhi
The location for the event is Aditya's Hotel Centre Point situated in Tezpur. It is easy to reach by local transportation. Most users are expected to get there from Jamugurihat and I'll be traveling there by road with my team. There will be a small presentation on bitcoin, blockchain and cryptocurrencies in general followed by our meet-n-greet session at a nearby cafe.
India Steem Meetup #5 in Tezpur, Assam
Location: Aditya's Hotel Centre Point, 11th March (Sunday)
Address: Mahatma Gandhi Rd, Mahabhairab, Tezpur, Assam 784001
Map: https://goo.gl/maps/FsW1LQMfAxL2
Time: 12PM - 5PM
The video from the Mangalore meetup is already live here. I'll be doing more meetups later in this year but will be taking a short break after this one as I have some hospital visits and a surgery lined up and I will need some time off for that.
Meanwhile I hope to have a successful meetup and meet as many Steemians as possible across my country throughout this year.
My post and pictures from the meetup in Malaysia will be up soon so stay tuned for that.
You can also vote for my witness here:https://steemit.com/~witnesses if you feel my work is helping the community. Thanks all.
---
If you like my work kindly resteem it to your friends. You may also continue reading my recent posts which might interest you:
---