Steemit, Inc. Financial Update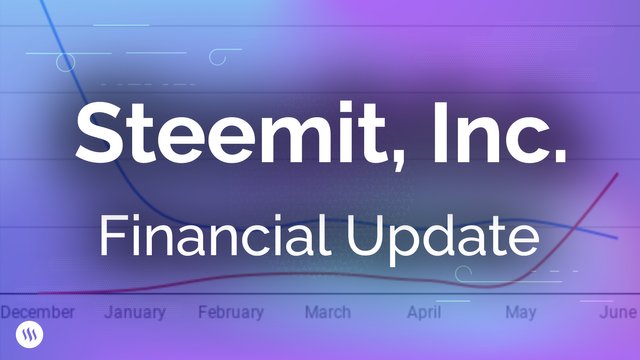 Hello Steemians, my name is Elizabeth Powell, and if you didn't already know, I'm the Managing Director of Steemit. In an effort to be more transparent, I would like to share this financial update to show how we are improving from a cost-cutting stand point, and adding advertising revenue.
Looking Back
For reference, let's go back to December 2018. The only income Steemit reported was the monthly selling of Steem (which we have done since 2016), while expenses were off the chart! Amazon Web Services (AWS) bills were $225k alone. In addition, we had closer to 15 employees so salaries and benefits were high, our office lease was $20k a month, etc., etc. In order to survive, we had to really focus on reducing these costs. And we did. The engineering team has a few more cost reductions to implement, but the major reductions are now in effect.
January: Revenue!
January was the first month we saw advertising revenue simply by turning on AdSense. We began to optimize, sell direct ads and have since added a 3rd party bidding network. Our campaigns are returning good CPM's and continue to increase every day, and we did this without acquiring any data on our users. As with cost-cutting, we will not stop tuning the advertising program and are always looking for ways to add more revenue. Some ideas include adding more bidding networks and possibly paid "sponsored" posts. The ultimate goal, of course, is to maintain a good user experience. I still consider the advertising program in it's "infant" stage. So, definitely more work to be done.
Looking Ahead
At this point, I feel confident that our expenses will remain consistent, which allows for better budgeting and planning. We currently have nine full time employees and one contractor, so salaries and benefits make up the bulk of our expenses. We cut our monthly lease from $20k to $2k and still do not plan on much travel or other extra expenses that do not help add to the bottom line. The only real variable is the advertising revenue. In order to not programmatically sell Steem each month, we need to bring in enough ad dollars to not only cover expenses, but make enough profit to ensure future stability. Obviously the sooner this happens the better so we can slow down the programmatic selling and ultimately stop it altogether. That has always been the plan and like I said, we are working hard every day to make this happen.
Thank you for reading and for the continued support of this amazing ecosystem.
-Elizabeth