Get Ready to spend Steem anywhere !
Want to spend your Steem Dollars ? Purchase online, in store or Withdraw cash at ATM ! Check SteemDebitCard
www.steemdebitcard.com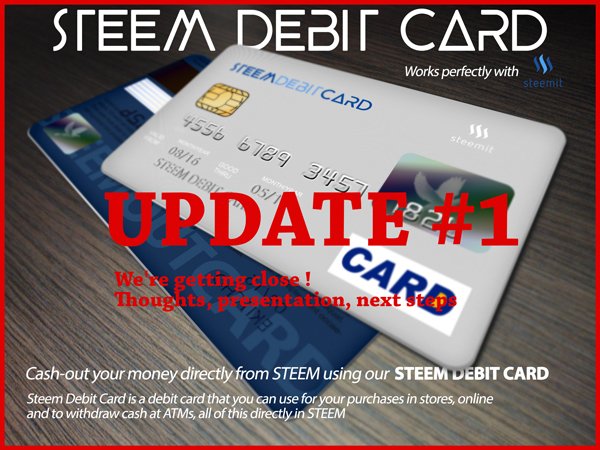 (Not Quick) Introduction (but mandatory)
This is the first update #1, of the Steemdebitcard.com v1 project, posted a week ago. The post was first quite successful but some whales did comment and flag me really quick before I could even reach 10$. I was really upset because we did work hard on making the website and gathering all the information to build the project, and I was suspected somehow to be a fake project even maybe a scam that just wanted upvotes and money. When you see some girls doing 5K$ showing their face, of course, you just want to cry.

But after discussing with @pfunk on chat, thanks to him, he did realize I was serious about the project since I proved my identity he changed his vote. He also made me understand something I didn't even consider. As many people are posting ideas to take the money and doing nothing, Building a good reputation is the key.
I convinced myself I had no time to start an #introduceyourself and that I should directly better work a good Steem project. It was maybe a mistake. My post was a bit hasty and I used some Xapo/Bitpay design to showcase what our project could look like. I didn't realize it could be considered as a scam.
So even I did not like the downvote, I must admit, @pfunk was right . And Even more with this type of project that involves people money ! I worked hard to prove I'm legit and the Debit Card is coming step by step. So first of all here is a quick intro of who I am. I'll do a good detailed post a bit later.
Who is behind this idea
---
@ekitcho : I'm Asian born in France, serial entrepreneur for more than 10 years, 32yo living in Strasbourg, France. I'm involved in several companies and founder of my own Business consulting agency also founder and CTO of a french Magazine named COZE. I did business in China and Thailand but have been working for the past 5 years on local issues like Culture, innovation, sharing economy and Artist- content creator rewarding.
I work with big institutions like the Council of Europe, who trust me as a web and digital strategy advisor. I'm a startup and business advisor expert in I.T, digital strategy, e-business and interested in all kind of project that concern blockchain, decentralized web, and cryptocurrencies. I was so excited 6 years ago by Bitcoin, and this year by Ethereum and the Dao, then a friend @fabien told me about Steemit and the new blockchain. It did not take me long to understand the Steem scaling potential because I expected this idea for a while to come out and people I closely follow like Stephan Tual Slock.it/DAO explains pretty well how blockchain and any decentralized mainstream project will disrupt the whole economy.

This is coming, and it might be us.
I'm now convinced that the STEEM project can be a game-changer in this whole world. I'm taking this very seriously and
decide to stop any of my other activities to focus on Steem.
After thinking long and hard about how to help Steem scaling faster and participate in this revolution,
I finally aimed 2 projects I want to fully invest myself in
.
Building services that connect Steem to real life use and expenses.
So Steem Debit Card is the first step on the path. But not the final end, because the final goal is to keep Steem and use internal services with no transaction fee without using flat currencies EUR/USD/ and more

Building a Startup in Japan & Asia based on Steem !
I will give more detail in another Post but I want to use Japan to help Steem scale faster because I have acquaintances in Tokyo that are linked strong VCs and to also one of the biggest curating / content-reward incentive platform having 50 million members. Also, Japan is ready to experiment any micro-transaction system because they are equipped with the required technology. My goal is to disrupt this platform economy by building the new Steemit JP over those 50 million potential members, promote Steem in Asia and start building any decentralized service that needs micropayment then deploy our Steem blockchain and crypto-currency all over the world starting by promoting Steem in Japan/Korea/China/Thailand. I also have investors in China ready to start working on it. This will basically cover all the Asian languages and needs.This project will start in September and I'm preparing the proposal. Feel free to contact me for any question about this project on the steemit.chat. I hope I will have the opportunity to explain the project to @ned and @dantheman very soon.
---
Now that you know more about me let's focus on our Steem Debit Card plan.

Steem is built on the idea of disrupting the social media world and we can expect it to particularly revolutionize the Online Advertising and content creator rewards. That means we expect the content creators to start using Steem (via Steemit.com and other new incoming services) and getting paid for quality contents by the Steemers upvotes and the Blockchain. We plan to bring a wide range of artists, writers, and creators to the field who are able to focus on their passion and eliminate the advertising (Middleman). But that also means that this money won on Steemit will somehow be part of their income that may have to cover expenses.
Like with any other virtual/crypto-currency, our Steem community may need to connect the real world to this virtual world and feel that what we are building here with Steem is actually.. Real....
This is why my goal with Steem Debit Card is to bring the opportunity to use Steem in what I can call today "Our Old World". Purchase stuff, pay expenses, withdraw cash, enjoy your income.
In the very near future, we will be able to spend our Steem directly on decentralized steem-dedicated-services like SteemAmazon, SteemUber, SteemAirbnb, SteemEbay, with zero transaction fee, this world is coming whether it's Steem or another Blockchain. I personally decide to believe and bet on Steem. This is not a dream and that is what I will do from now on.
But before it can really happen, people have to be able to use their Steem Dollars and Steem Debit Card is the solution.
I have been working the last 7 days to communicate with several card issuers, and to build a good team behind this project.
By my side I have some strong elements, let me introduce you :
@fabien : a good friend, the one who told me about Steem. Elite developer, He is the SteemJs SteemAPI package author and is doing a hell good job for the community. He has the vision and believes in Steem like I do, he wants to build any project that will take Steem to a critical-mass as a disruptive innovation. We're working on it. Fabien is always there to help when we need him
@claudiop63 : this is our man of experience. 53 years old, Theoretical Physicist, former manager at CERN, innovation addict, successful entrepreneur and consultant, Claudio did join the team to help us building the best service. He is involved in a new project which requires negotiations with prepaid card Providers and his contribution is decisive. Check his introducemyself.
What was done during those 2 weeks ? What do we know ? Project status ?
Bought Steemdebitcard.com domain name
Have a website that showcases the Debit card product (still need new design with our own elements)
We are recruiting good elements in our team. We still need developers
We found different Card issuer and are negotiating with them to set-up the SteemDebitCard service
Based on Bitcoin world, we try to setup similar Debit Card services like Xapo, Wirex, Bitpay visa
We did a first post v1 to get people votes and impression and obviously we have many steemers who are waiting for it. We did some mistakes and corrected it by listening to advice
We created the steemdebitcard channel on steemit.chat to post quick project updates and answer / brainstorm with contributors
I had 2 hours mail and phone call with Wavecrest / Mychoice which is the company card issuer for Xapo Wirex and many others
We are setting up all documents to register our company with them and start the Steemdebitcard service. They are happy to serve cryptocurrency world and they know about Steem and are very enthusiastic
We have all fees ready and a real business plan, a project scope to be able to serve those Debit Card in 1 month. (if the app can be ready in time)
We will not be able to have White label cards with our design because it's too expensive for now and need large quantities but a nice Grey Visa Debit Card model
We are eligible for Standard program which is a Prepaid Visa Debit Card with standard design
We plan to take the post reward of this update and the next one, to cover all fee required to start selling cards
The card cost will depend on how much we will invest from our own pocket and how much we get from the crowdfunding. Price range : 10€ to 20€ (11$ to 22$). I estimated it around 15-16€ but that's not a final price.
Their API actually cost money. They have different offers from 2K$ to 12K$ and we need to figure out the final investment and decide the card price according to it
Xapo like MyChoice company does not ship card to the USA. So with this card issuer, we won't be able to serve the USA and some other countries which is a really sad news. Listed here
Bitpay Visa actually is used in the USA and the card issuer is Metropolitan Bank
As Steem Debit card want to also help USA users we are contacting Metropolitan to set up a similar solution
We did not get answer from now so we are focusing on going forward on Wavecrest-My Choice / Solution that works fine in a lot of countries, especially European or even Brasil, China, Canada.
What's NEXT ?
The next update will be Monday or Tuesday, i have prepared all document for Wavecrest so we should have their confirmation if we are eligible. It should be fine.
I have all document and evidence that this STEEM DEBIT CARD is coming for real. According to Steemers support we will put all these post rewards into the project to make this happen as quick as possible.
I will post the Update #2 during next week, showing our business plan and the final estimated Steem Debit Card price. I hope we will have the supplier confirmation by then. We still need more information and once this card issuer will be done, we will focus on the USA market with Metropolitan Bank.
WE ENSURE FULL TRANSPARENCY ON THIS PROJECT and you can come discuss/ contribute anytime on the chat.
For any question feel free to ask, and let's support me to make all this maybe come true.
Some incoming images (all explained in the next update including Business plan, we are waiting for Wavecrest confirmation first to be allowed to start)