My Thoughts on HF22.5: You Can't Make An Omelette Without Breaking Some Eggs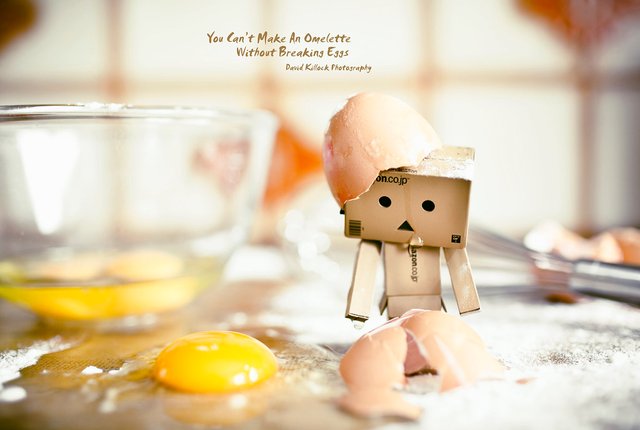 We've all seen dramas unfold on Steem, but this one has a different edge. We are faced not only with losing control of the Steem blockchain (well we already have), but have been suddenly placed in the situation of not really knowing if our great Decentralisation experiment has just failed! What was a worst case possibility of happening has happened. I can barely believe my eyes looking at the witness voting chart! So in this post i would like to share briefly about what has happened if you don't understand, and then some thoughts and some personal advice to anyone who does not know what to do right now!
Background Information - The Least You Need to Know:
Justin Sun, the owner of Tron Bought Steemit INC a few short weeks ago, and with it he bought a LOT of Steem, including many millions that were held but never used for voting of posts or witnesses. This had been the case since the start, and was a weakness that was covered by a mutual agreement and understanding between @ned and the Steem community. There was enough Steem Power in those accounts to knock out the Witnesses and replace them all with someone of your own choosing. In theory you could do what Justin just did (but he did it another way!). So, when Tron bought Steemit INC. many people got really worried that Tron could replace the witnesses and thereby take control of the whole blockchain. He could then publish any new hard-forks and change the rules of the game as he saw fit, or indeed do anything he likes.
The response was to lock out Tron from these accounts, effectively locking up millions of dollars that Tron could then do nothing with. That was called Softfork 0.22.2. It was reversible, but not a great start to the relationship that for sure. This happened since there was not enough trust or clear communication from both sides, with us not even knowing if Justin understood the inn's and out's of what he had Just bought. I think he has demonstrated now that he does!!!
So the response from Tron today was for them to do what the Softfork was designed to stop! Instead of using the Steem that was locked up in several accounts, Binance was used instead, which holds millions of Steem and they powered it all up! That was enough Steem for Tron to then up-vote all his own witnesses and replace the balance of power with himself as sole director! This meant that he could make his own Hardfork, which is HF22.5 and unlock his accounts again. They also published a post explaining their moves and reasoning behind it. I should add that it also contained some reassurances that the Steem blockchain would not be moved to Tron without community approval. He mentioned a few other things too, many of which sounded quite positive.
What Does This All Mean For Steem?
The greatest upset in this whole show is not so much what happened, but the implications of it. Many people are saying that this is the end (at least for them) as this has clearly demonstrated that Steem is not decentralised! Right now at least they are quite right, at least in some ways. Decentralisation is not a black and white thing, and whilst Steem clearly has a lot of centralisation and hierarchy, let us remember that it is still not the same as it would be according to current day capitalism. Steem is decentralised, and it is also anarchic. What this means, and the key difference here that I believe gives Steem a lot of space to call itself anarcho-capitalism is that even now, and at any point in time, any person or group of people can claim back control or some of it at least by acquiring Steem, powering it up and voting for new witnesses.
In my view, Steem is still too small, and the price too low to avoid this happening. This ability to take control of the chain has happened because there is not yet enough Steem in circulation, and the market cap value of it is still relatively easy to overcome if you have deep pockets. In my view this is also a criticism that you can levy on all Cryptocurrency, since anyone who mines more than 50% of any coin can also take control of the ledger and do with it what they wish. This has happened a few times as recently as January, with Bitcoin Gold which got hit by 51% attacks, with $72K in cryptocurrency double-spent!
There are a lot of issues converging here, and it is not easy to understand a lot what is going on because we do not know the exact intentions of Tron or the course things will take. With the great benefit of hindsight it does seem clear that locking up $Millions of dollars of someone's Stake is a very bold move, and it has brought about a bolder response. I can only hope that people watch this with great interest and minimal fear. We have never seen anything like this before in the history of Business! Anarcho-Capitalism is new, and evolving. We will all surely learn lessons from this experience, and perhaps make some different choices in future.
What Should You Do?
If you are not sure what to do right now then my best advice is to just do nothing! Keep doing what you were doing, and see how this plays out. There's no point selling your Steem if your worried about the price, this even may not cause the price dump that you think it may. It could still easily go either way, with the resources and support of Tron to improve and market Steem far wider than we can do alone.
If you are worried that all your hard work and posts are going to vanish, then I would say don't worry! This community is TOO strong to let that happen,. There are many ways this can play out, but there are many witnesses who could quite easily Fork Steem and all its content and make its own coin. The value of that might be significantly less than it is on Steem, but you would still have your Steem tokens too. So whatever happens with Steem as we know it, all our hard work and connections are I believe quite safe..
If you have lost hope in Steem being a decentralised model, then i understand.. but, I still see Steem as a great improvement on any other business model I have seen, and yes there have been mistakes and lots to learn along the way.. but Steem has always been an experiment and this experiment is not yet over! We are definitely breaking some eggs on both sides of the fence, but i still do believe that in time we will have a quite tasty omelette.