What Will Happen With The Steemit Rewards After SBD Gets Back To $1?
For the last couple of days, SBD showed signs of decoupling from STEEM and keeps going south. The initial plan for SBD was to stay at $1, but for the last 3 months it was heavily imbalanced, trading as high as $13. At the moment of writing, it trades just a little bit over $2.5.
Before going forward with the scenarios for this post, I want to let you know why I support, as a witness, a "stable" currency.
Simply put: for e-commerce.
It's very difficult, if not impossible, to create and sustain an e-commerce business on top of the Steemit ecosystem in the absence of a stable currency, one that is "guaranteed" to have the same value now, as well as in 3 weeks from now. E-commerce is a "long" business, it relies on manufacturers, suppliers, carriers and so on and so forth. It's a chain of operations that must be predictable, otherwise it cannot be done. At the both ends of this chain there must be a stable denominator of the value that gets created, otherwise the chain will get fractured.
And while a token used only for speculation may be attractive, if there is not a real usage for that token, it will sooner or later shrink, both in adoption and in value. I really think that creating and maintaining e-commerce businesses on top of the Steem blockchain will drastically boost both the adoption of the token and the value of the currency, way beyond what we see now, which relies purely on speculation.
On the other hand, I do understand the need for another type of currency, one that is intrinsically tied to the overall value of the platform, one that can be traded heavily, with a high volatility. Something like the shares of a company which were bought during an IPO.
Even more, I support this one as well. I just don't think it should be SBD, but STEEM. While SBD can remain stable and open the door to more business flowing in the ecosystem, STEEM can go as high or as low as the markets want.
Now, back to our scenarios.
I used the rewards simulator I wrote on steem.supply for these screenshots, if you want to play with it, here's the link.
Here's what you get at the current market prices (more or less) for a post receiving 10 STU.
---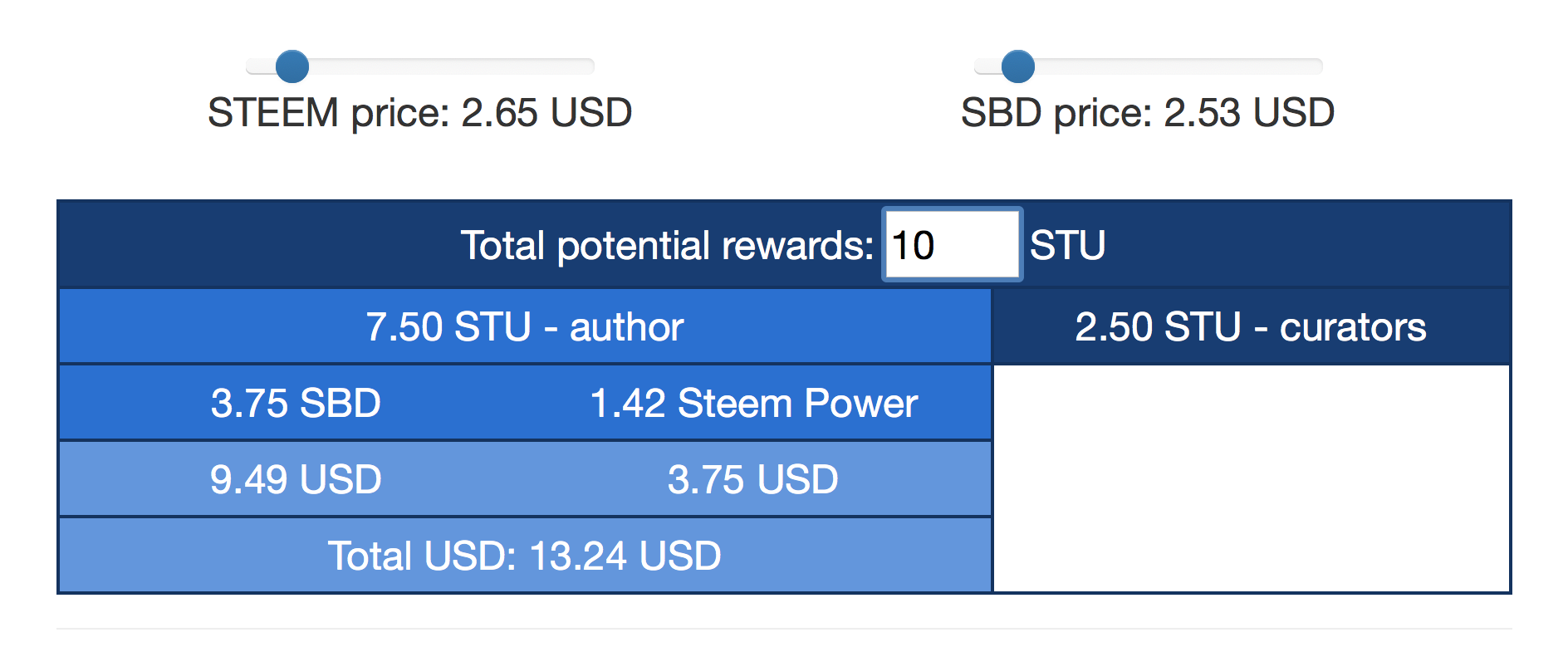 ---
1 SBD = $2.53
1 STEEM = $2.65
Total in USD = 13.24
Total Steem Power = 1.42 SP
And here's what you get for the same post, if SBD would trade at $1, and STEEM a bit higher, around $3.4
---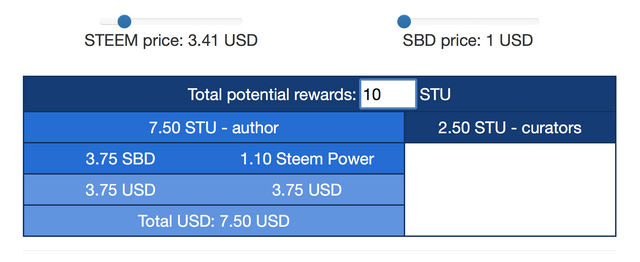 ---
1 SBD = $1
1 STEEM = $3.41
Total in USD = $7.5
Total Steem Power = 1.10 SP
As you can clearly see, the rewards in USD are smaller. Almost half of what they are now. The rewards in Steem Power are also smaller, but that's predictable, since the STEEM price used in the second example is a bit higher.
So, what's the benefit of having SBD trading at $1? At the first glance, it seems there isn't any.
Well, first of all, it only seems like that because, for the last 3 months, SBD was imbalanced. But in a "normal" scenario, that's exactly what you should get for a post that receives 10 STU. That's exactly what we got before the SBD pump.
Second, there is a little known feature of the blockchain that will rearrange payments once SBD is trading back at $1, in this way:
50% in Steem Power (as it is now)
50% in a combination of SBD + STEEM - 25% SBD + 25% STEEM.
Since I didn't see this algorithm working for a long time, I didn't implemented it on the rewards calculation on steem.supply, but I can make a simulation, based on the numbers above.
So, if the rewards will be paid again in 50% SP + 25% SBD + 25% STEEM, you would get the following for a 10 STU post:
Total in USD = $3.75
Total in STEEM = 1.10 STEEM (which is $3.75 / 3.41)
Total Steem Power = 1.10 SP
The situation changes in a very interesting way.
You will get always 25% of your cut in the exact USD amount, and that you can be always sure it's liquid, you can sell it directly or use it on e-commerce sites powered by Steem (which are yet to appear, I'm aware of that), you will also get 25% in the form of tradeable STEEM, and use it for immediate speculation, and you will get 50% in Steem Power, increasing your influence in the platform.
It's a different scenario from the "I will get rich now" approach, but it's a more balanced one, in the long term.
Please note that I don't know when exactly the new payment split will be implemented, but I know for sure that once SBD stays back at $1 for a relevant amount of time, it will be.
Like I said in a previous post about playing the Steemit long game, the hit we may take in the immediate rewards value may hurt. But if you really look at the diversity of options, I think it's worth it.
---
I'm a serial entrepreneur, blogger and ultrarunner. You can find me mainly on my blog at Dragos Roua where I write about productivity, business, relationships and running. Here on Steemit you may stay updated by following me @dragosroua.


---
Wanna know when you're getting paid?
I know the feeling. That's why I created steem.supply, an easy to use and accurate tool for calculating your Steemit rewards
It's free to use, but if you think this is a useful addition, I'd appreciate your witness vote.
Thank you!
Psst: new to Steemit? Start Here