Hello Steemit community!
Man, it's been over a MONTH since my last post and that is going to end today. August was the most successful month my business has had in the 2.5 years I've been on my own and it took a good 6 weeks to get through all that work (although I'm still in grind mode). So I had to put STEEMIT on pause temporarily while I put my nose down and plowed through my work.
Anyway, today I'm following up on a post I made awhile back which was titled going to present the idea of steemit to 1 million cups event which is exactly what I did.
What is 1 Million Cups?
Well that is answered in more detail in that first post but the short answer is that it's a weekly event hosting in cities across the United States that allows entrepreneurs to present their newly founded business to a think-tank of other entrepreneurs, investors and thought leaders.


I presented at the historic James J. Hill Center (pictured above) which is a reference library located in the center of downtown St. Paul.
The Event Itself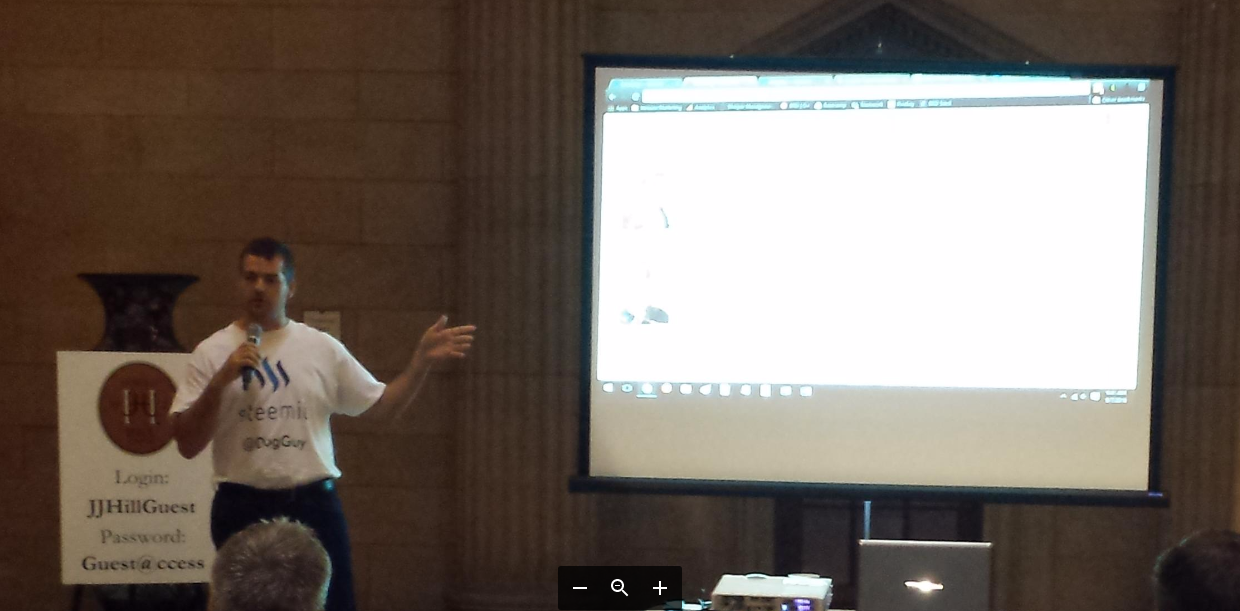 So I greatly apologize for the poor image. My camera of course had some type of issue and so a friend of mine in the audience was kind enough to snap this on his phone. Poor quality, I know but what can ya do?
I thought the event itself went very well. In regards to creating awareness the week of speaking an e-mail blast that included Steemit's logo & a link to the site were sent out to their 5,000+ email respondents. They provide a shout out on social media the day of the event as well and I'd say there were about 30-35 audience members at the live event.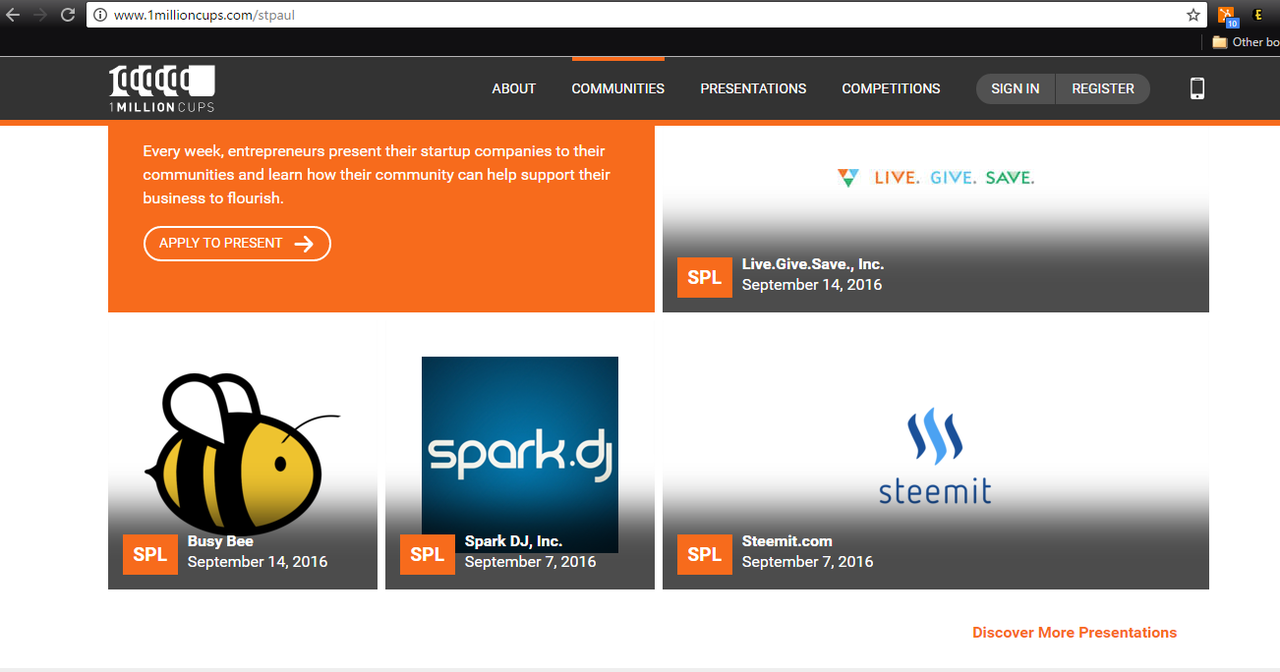 (current 1 million cup st. paul website)
The audiences response was very positive. Most people had seemed to visit STEEMIT prior to me presenting based on the e-mail blast and we were able to get over the whole "where does the money come from?" question pretty quickly. Although the demographic to this event is entrepreneurs/tech type people not everyone was familiar with bitcoin & digital currencies - so there was some education on that as well.
There were a lot of the typical questions that people were asking just to better understand the community and who process.
What kind of content is created?
How do you create an account?
How do you get the cash?
Where does the cash come from? (of course)
What about copywriting issues?
That last question was probably the most interesting of all. We cracked open a can of worms with that one getting into the whole issue of what happens if I publish a book and then Person A who lives half way around the world publishes it on Steemit and gets paid for it? Overall good talks were had and the fact the audience continued to fire questions told me they were greatly interested. It came to a point where my 30 minutes were up and people still wanted to continue chatting. So always a good sign there.
Concluding Thoughts
This was simply my way of helping grow the awareness of this awesome website. Being that I'm an extrovert and enjoy public speaking I thought this was a great way for me to contribute. Truly it was enjoyable. As I told the community when presenting - I'm always a resource for anyone in the greater Twin Cities area for anything bitcoin related. I was actually invited out to lunch in 2 weeks by a member + associate who attended the event to learn more about digital currencies and STEEMIT itself. So it's positive reinforcement to know people care. I appreciate all the support received from within the community and look forward to getting back to posting more content!
Thanks for checking out my post!