DO RESTEEMING AND MENTIONING actually work well? Are those efficient ways of building reach and exposure on Steemit?
| | Lately I've been discussing a topic that is related to mass memos with several people and it's safe to say that I have learned enough about that particular way of "advertising" our content. |
| --- | --- |
INTRODUCTION

... And I've encoutered suggestions several times over now that perhaps it's better to use mentions or resteem as alternative tools instead as this would allow us to get more exposure to promote publication (either ours or posted by someone else).
To be honest, I've mixed feelings when it comes to the efficiency of those two methods. In my opinion, resteeming doesn't bring almost any traffic and mentioning users is very easily skipped by them (since the notification system doesn't really work at all on Steemit).
So, today I would love to share my little experience as well as learn what is your opinion, my dear readers. After all your opinion is the only one that matters to me, since I'm engaging with many of you directly.
RESTEEM

Those who know me for quite some time now are already aware that for each post I publish, it enjoys very high engagement.

Which makes me believe that many people out there do make an effort to visit my account sometimes and check out my latest publication.

If this assumption is true, then I should also be able to assume that at least some part of this traffic will visit my latest resteemed post. Unfortunatelly after a few "tests" I conducted, each time showed that it is not happening.
My impression is that hardly anyone ever does care about any resteemed content. I personally don't. The only exception is when I recognize an author of a resteemed post. Other than that, I really don't open resteemed publications and I hardly doubt that other people do it as well.
Please allow me to give small example: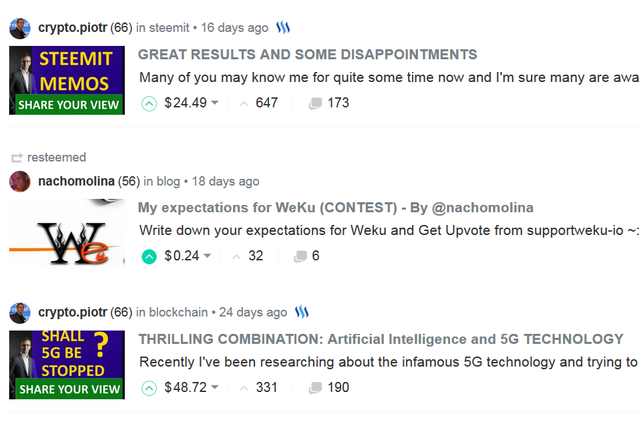 Just look at amount of comments.
Those are 3 quite recent publications, out of which two are posted by me and one is resteemem (@nachomolina is an author). The moment when I shared his work on my account he had 4 or 5 comments. Over 2 weeks later, he had only 6. At the same time, my own publications are enjoying close to 200 comments each one. How do I not have the impression that resteeming this post has been pointless then?
MENTIONS

I've been trying to figure out how many people do actually react when you mention them in your post.

I quickly realized that mentioning is not as useless as I initially expected.

After all, the notification system on Steemit doesnt exist and the only way I know how to monitor who and when mentioned you is by using www.steemworld.org. Is there even any better way?
Based on my current experience, a majority of users mentioned in our post will hardly ever visit it. Which only underlines the problem with awful an notification system that all users are facing. Using different tools to check out Resource Credit (steemd.com), different to check out notifications (mentioned steemworld.org) and Steemit.com to publish our content and engage ... it all does look so confusing and it doesnt seem to work for many users. At all.
MY OWN FINAL CONCLUSION

I personally gave up on the idea of bringing traffic to my publication by mentioning users within this post.

Sending memos to all those users seem to work way better.

I rather like receiving memo, which is easy to ignore if I would find it not interesting instead of someone mentioning me (by mentioning a very long list of everyone this person know), then followed by the process of opening this publication just to see if I even care takes more time than judging memo.
My strong impression is that people only care if resteemed a post that has been published by someone they know. So when my post is being resteemed by 20-50 people then it surely is a great way to reach many users. But pretty much only those who are familiar with my work will bother to click on that resteem. Otherwise it's just not worth it and it does make our profile look like a spam account.
SHARE YOUR VIEW

I wonder what's your personal experience with resteeming?

Share your opinion with me. I read, reply and upvote each valuable comment.

Do you guys bother to visit resteemed posts? Do you think resteeming works fine for you? And what's your view on using mentions as well as the current Steemit notification system?
Yours, Piotr