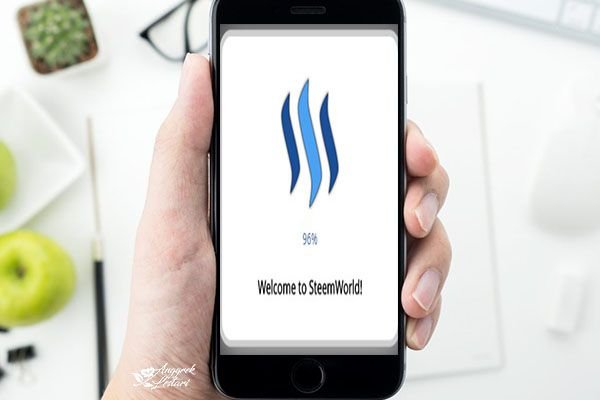 Find Out Who Mentioned You With Awesome Tools: SteemWorld
Temukan Siapa yang Menandaimu dengan Tools Mengagumkan: SteemWorld
By: Anggrek Lestari
As Steemit users we must always look for tools and applications that can facilitate us to manage our Steemit account very well.
Sebagai pengguna Steemit kita pasti selalu mencari tools dan aplikasi yang bisa memudahkan kita untuk memanage akun Steemit kita dengan baik
The section of mention is an important thing we must know. Because we will know the account of anyone who calls us or talks about us in their posts.
Bagian mention merupakan hal penting yang harus kita ketahui. Karena kita akan mengetahui akun siapa saja yang memanggil kita ataupun membicarakan kita di postingan mereka.
Through steemit.com we can not find out who is mentioned us. Therefore we need third applications or tools that tell who has mentioned our Steemit account.
Melalui steemit.com kita tidak bisa mengetahui siapa yang me-mention kita. Oleh sebab itu kita butuh aplikasi pihak ketiga ataupun tools yang memberitahu siapa yang telah me-mention akun Steemit kita.
Before I get to know Steemworld, I use the busy.org app. I'm not happy to use busy.org because the person who mentioned our account in comments and posts does not tell in a separate session. Busy just tells someone who 'mentioned' us in the post. Comments and posts are still called post so this makes me confused.
Sebelum saya mengenal Steemworld, saya menggunakan aplikasi busy.org Saya tidak puas menggunakan busy.org karena orang yang mention akun kita di komentar dan di postingan tidak beritahukan dalam sesi terpisah. Busy hanya memberitahukan seseorang yang 'mention' kita di post. Komentar dan postingan tetap disebut post sehingga hal ini membuat saya bingung.
I just want to see quickly who mentioned me in the post, which is why now, I love Steemworld. I introduced this tool by my partner in #promo-steem @bahagia-arbi he is also one of the Steem Ambassador of Indonesia.
Saya hanya ingin melihat dengan cepat siapa yang menyebut saya dalam postingan, itulah sebabnya kini saya menyukai Steemworld. Saya diperkenalkan tools ini oleh patner saya dalam #promo-steem @bahagia-arbi dia juga merupakan salah satu Steem Ambassador dari Indonesia
Steemworld.org founded and developed by @steemchiller Many things can be done with this tool, but this time I will discuss about the session "mention"
Steemworld.org ditemukan dan dikembangkan oleh @steemchiller Banyak hal yang bisa dilakukan dengan tools ini, tetapi kali ini saya akan membahas tentang sesi "mention"
To find out who mentioned you, please go to the site without sign in. Type steemworld.org/@your name example: steemworld.org/@anggreklestari
Untuk menemukan siapa yang memention kamu, silakan menuju ke situsnya tanpa perlu masuk. Ketik steemworld.org/@namaakunmu contoh: steemworld.org/@anggreklestari
This is how Steemworld.org looks while loading
Inilah tampilan awal steemworld saat sedang loading data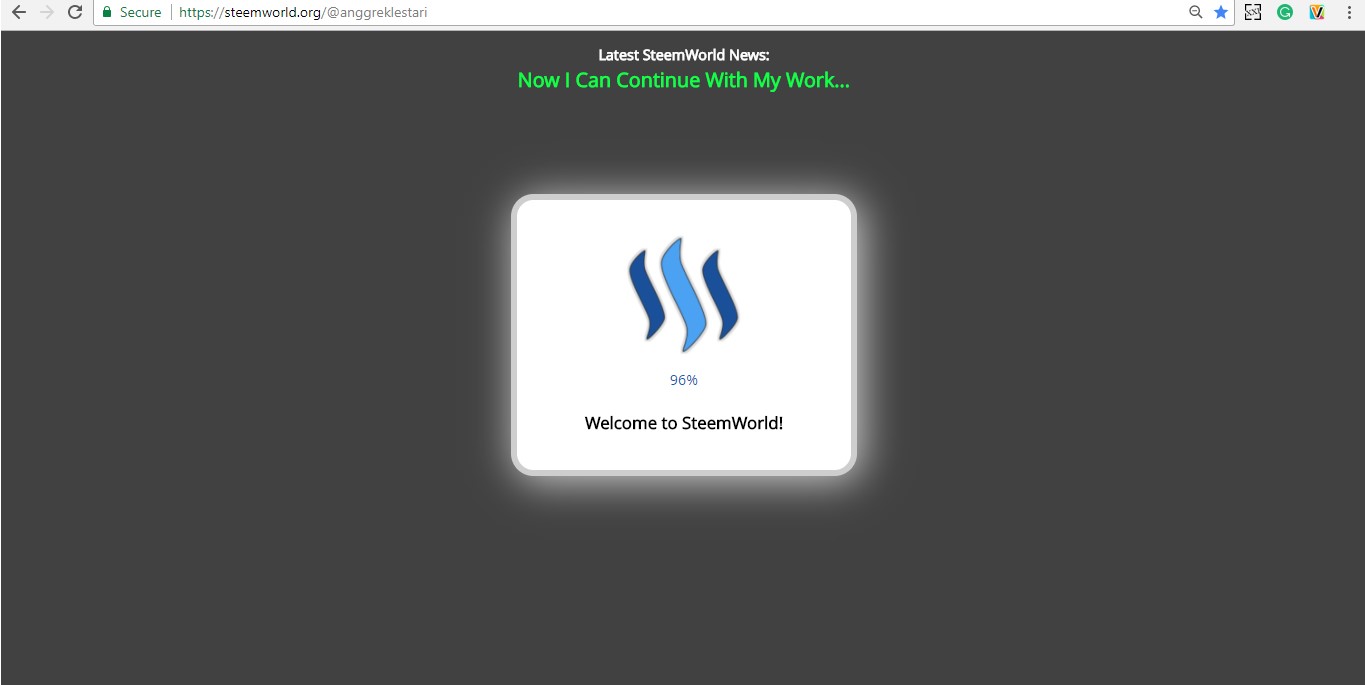 Then the display will appear like this:
Kemudian akan muncul tampilan seperti ini: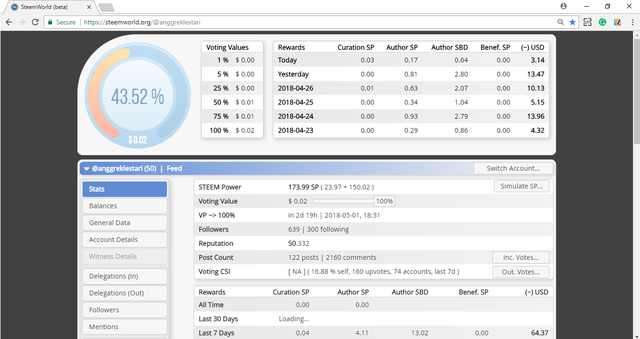 Look on the left side, click the mention session. We can see who mentioned us in the comments (own posts or others) and in their posts.
Lihat di bagian kiri, klik sesi mention. Kita bisa melihat siapa yang mention kita di komentar (milik postingan sendiri ataupun orang lain) dan di postingan mereka.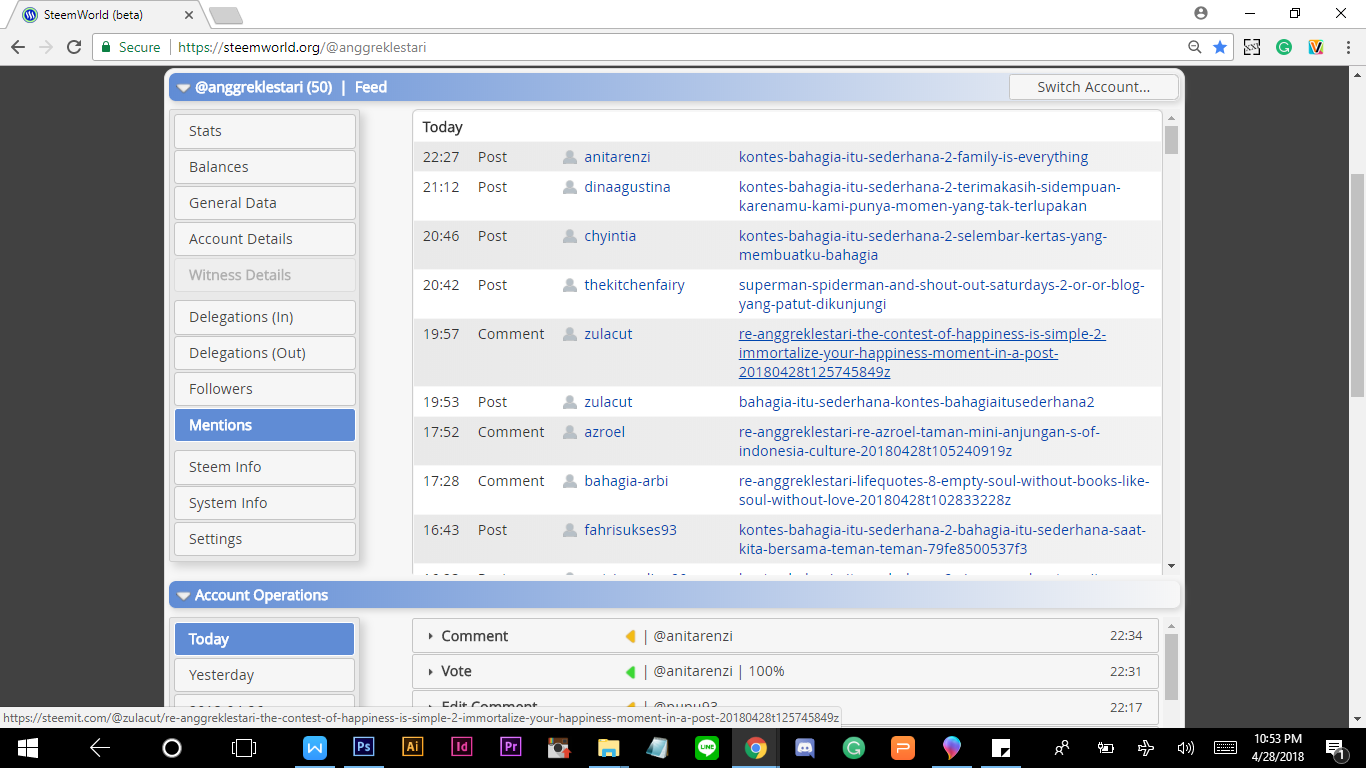 The next amazing thing you can do is we can click on the part you want to see and we were instantly whisked away to the posts that mentioned via steemit.com so that we can make a comment
Hal menakjubkan selanjutnya yang bisa dilakukan adalah kita bisa mengklik bagian yang ingin kita lihat dan kita langsung dibawa pergi ke postingan yang mention kita melalui steemit.com sehingga kita bisa membuat komentar
Try and feel your own experience using the Steemworld.org tools. In the next post I will discuss other parts that can be done this amazing tool.
Cobalah dan rasakan pengalamanmu sendiri menggunakan tools Steemworld.org. Pada postingan di lain waktu saya akan membahas bagian lain yang bisa dilakukan tools mengagumkan ini.
Have a great day an keep steeming on!
---
Please Read Another Part About The Series #LancarBerselancar:
#LancarBerselancar 1: Perlukah Steemian Baru Menulis Postingan Sebanyak Minum Obat?
#LancarBerselancar 2: Tag Salah Tempat, Postinganmu Tersesat
#LancarBerselancar 3: Ada di manakah Harta Karun Postinganmu?
#LancarBerselancar 4: Jangan Tawarkan Rewards Instan. Tawarkanlah Perubahan
#LancarBerselancar 5: Jangan Tinggalkan Steemian yang Anda Ajak ke Steemit Sendirian
---
THANKS FOR YOUR STOPPING BY. I REALLY APPRECIATE YOUR UPVOTE AND COMMENT
---
---