50 days on steemit – an analysis
It is now more than 50 days that I joined steemit. At this moment my steemit stats are as follows:
| Days on steemit | 50 |
| --- | --- |
| Number of posts | 311 |
| Number of followers | 263 |
| Steem Power | 215.42 |
| Upvote Power | 0.04 $ |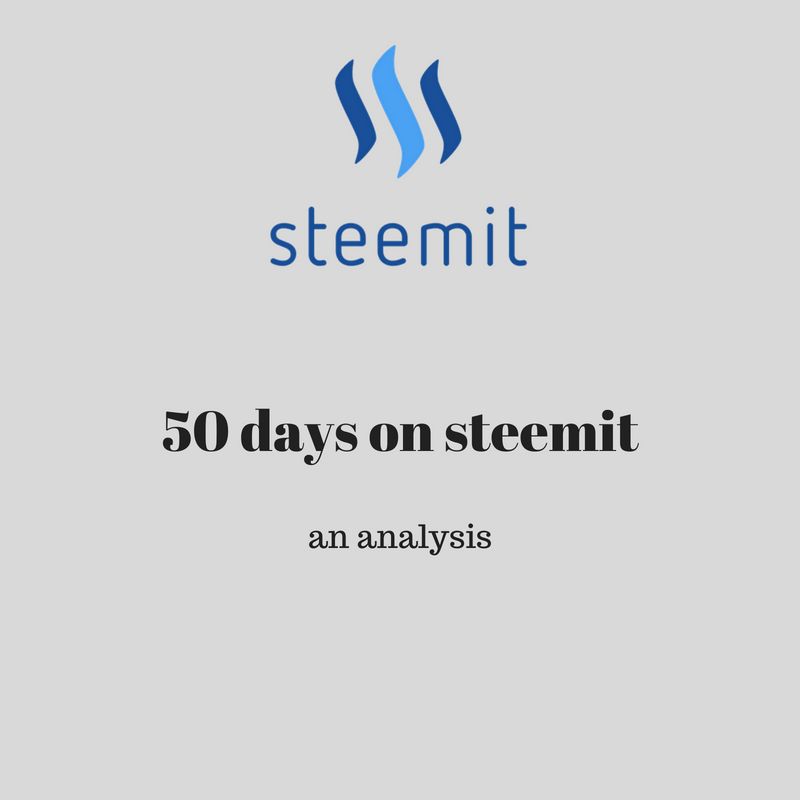 Content: Fiction and Upvote Contests
I've tried to write a post every two days so far. I've started to write fiction that unfortunately had very few readers. I've enjoyed myself writing but I would prefer to do so and know that at least a couple of people read it. I'll put it on hold maybe till I have more followers.
I've also hold some weekly upvote contests. In these contests, I've offered to upvote posts. The echo was very good. I had a lot of participants. I wanted to read all their posts and give an appropriate comment. Unfortunately, it just took too much time and I had to content myself with upvoting and giving a generic content. I wanted to hold these contests to start relationships on steemit. Unfortunately this didn't work out exactly as expected, since the minimum to do to start a relation would be to read peoples posts. The value of my posts fluctated between 0 $ and 8 $, according to whether I used bid bots to upvote them or not.
The important facts I learned about steemit
The value of relationships
I've come to realize that the value of relationships on steemit is tightly linked to the upvote power of an account. On my upvote contests I had sometimes more than 50 upvotes but the value of my posts was still close to 0$. Strictly economically speaking, relations with accounts that have no steem power do not bring any income. It is sad to say but on steemit, if you have no steem power, you are not interesting!
My advice:
As long as your own upvote is worth less than 0.01$ your rather spend your time commenting other people's posts and taking part in contests rather than write too many own posts.
People want to be read but do not want to read
In my contests I've made it quite easy to take part. One simply had to upvote, comment and respect a couple of rules to take part. However this was often too much asked. So even if you offer to give something to people, they hardly read what has to be done to get it. I can imagine that very few people actually read long posts. Everybody wants to be read but only very few want to read what others have to say. If you know this, you could make it an advantage for yourself: Read other people's posts and give good comments about it, showing that you actually read it from top to bottom. They will love that and upvote your comment.
For minnows reading other peoples posts and commenting them can represent an interesting income source.
My strategy
So far my strategy was to get followers and to build streams for passive income.
My upvote power
If my own post is worth nothing, my posts won't be noticed. That is why I invested in my steem power. I used some bitcoins that were lying in a wallet and invested them into steem. Now I can upvote my own posts and each of them has at least 0.04$ value. It's not much but it's a start. Also I'm getting more interesting for other people as I mentioned above.
Smartsteem
Smartsteem is a service where I can sell my upvotes. I try to use my upvotes as well as possible but when I'm not online for a time my voting power gets to 100% and I could give potential upvotes. So I enrolled with smartsteem and in the settings I wrote that I sold my upvotes when my voting power is above 95%. So I use the full potential of my voting power and it gives me a passive income.
Qurator
I've joined @qurator and invested 4 Steem into the project. I also upvote all their posts with steemvoter. This brings me quite a substantial upvote to all my posts.
Steembasicinome
I've invested a couple of Steem into the project @steembasicincome. This again gives an upvote to all my posts (max 1 post per day).
Kryptonia
I've joined the platform of kryptonia.io. There I create tasks for people to comment and upvote my posts on steemit. Often the upvote power of these people is a bit low but the advantage is that you might get a big upvote from Kryptoniabot. You just have to have an active task on kryptonia and use #kryptonia and #superiorcoin in the tags of your posts and the bot might pass and upvote you.
Whenever I post, thanks to these services I get some automatic upvotes that give my posts some value even without using bid-bots.
Future strategy
For the weeks to come, I want to continue this strategy and try to find more ways to get automatic upvotes to my posts and increase passive income.
If you know other ways to do that, I would be very interested!
****
Thank you very much for reading my post. Feel free to upvote, comment, resteem or follow (@achim03).
For several years I have been running websites called faucets where I give away cryptos for free to people willing to take them.
I love to share my knowledge and to help people. I dream of a world based on love, tolerance and equality, where we build our future together, helping each other.
My cryptocurrency faucets. Get free coins every hour: