Wer wird Deutschland dieses Jahr als Weltmeister ablösen, Frankreich oder Kroatien?
---
Who will become the next #worldcup winner, France or Croatia?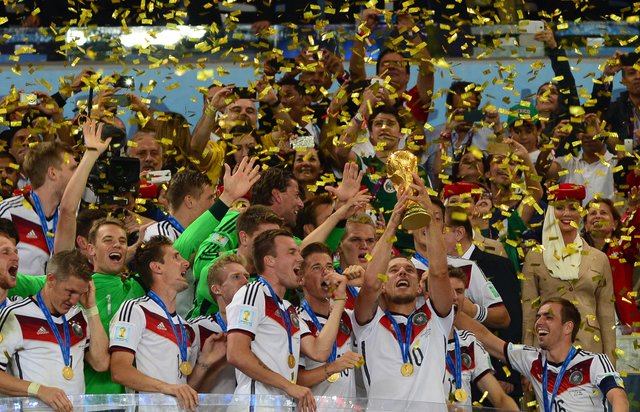 Quelle / Source: https://de.wikipedia.org/wiki/Fu%C3%9Fball-Weltmeisterschaft_2014
Am Sonntag, den 15 Juli spielt Frankreich gegen Kroatien das Finale der Fußball-Weltmeisterschaft in Moskau, Russland.
Frankreich besiegte Belgien im Halbfinale mit 1:0 dank der starken Abwehrleistung und einer verwerteten Standardsituation. Kroatien schlug gestern England 2:1 in der zweiten Halbzeit der Verlängerung, nachdem sie schon früh gegen die Engländer zurücklagen und konnten das dritte Elfmeterschießen in Folge vermeiden.
Im letzten Spiel um den Titel wird es wieder auf Kleinigkeiten ankommen. Wenn die Franzosen wieder so gut verteidigen und vorne die Stars um Griezmann und Mbappe treffen, steht dem zweiten WM Sieg nach 1998 im eigenen Land nicht mehr im Weg. Aber die Kroaten werden sich für das Halbfinale im selben Jahr revanchieren wollen, bei dem sie vor 20 Jahren das Finale knapp verpassten.
Wir werden sehen wer die Fußballkrone dieses Mal nach Hause holt. Ich würde mich für Kroatien freuen. Sie gewannen alle Spiele durch Tore aus dem Spiel und mussten drei mal in die Verlängerung gehen und zwei mal im Elfmeterschießen Nerven beweisen. Sie wissen auf was es jetzt ankommt. Auch Frankreich sollte nach dem verlorenen EM Finale vor zwei Jahren gegen Portugal wissen, dass jetzt jeder Moment zählt. Auf dem Papier ist Frankreich leicht favorisiert. Ich bin gespannt.
Wer mit mir vorm Spiel über die WM diskutieren will, ist herzlich eingeladen einen Kommentar zu schreiben. Sonst sehen wir uns vielleicht am nächsten #steemit-austria Stammtisch im Heuriger vor dem Match. @mundharmonika hat diesmal eine Einladung geschrieben. Hier ist der Link zu seinem Post: https://steemit.com/steemit-austria/@mundharmonika/einladung-zum-12-wiener-steemit-stammtisch-und-dem-einjaehrigen-jubilaeum-am-so-15-7-18-ab-15-uhr-invitation-to-the-12th-vienna
---
On Sunday, July 15th France will play against Croatia the final of the #soccer #worldcup in Moscow, Russia.
France won against Belgium 1:0 thanks to the strong defence performance of the team and one free kick. Yesterday also Croatia came to the finals by beating England 2:1 in the second half of the extra time, after being one goal behind in the first half of the match and could avoid the third penalty shootout in a row.
This last game will be decided by little situations. If French will defend as well as score with one star around Griezmann and Mbappe in the attack they will not be far away to win again, like in Paris 1998. But the Team of Croatia want to take revanche for the semifinals in the same year where they didn't win closely.
We will see who can get the title this time. I would like to see Croatia winning. They won all their games with goals out of the play and had to go through the extra time three times, including two penalty shootouts. They should know now what to do in these kind of situations and stay concentrated what ever happens. Also the French team should know it as well. They lost the European Championships two years ago already in the final against Portugal. On the paper France is in favour. I am curious.
Everybody who want to discuss with me the #worldcup in Russia or soccer in general is invited to leave a reply. Some of you I hopefully see before the match on Sunday at the wine garden (Viennese: "Heuriger") to the next #steemit-austria community #meetup. @mundharmonika wrote this time the invitation. Here is the link to the post: https://steemit.com/steemit-austria/@mundharmonika/einladung-zum-12-wiener-steemit-stammtisch-und-dem-einjaehrigen-jubilaeum-am-so-15-7-18-ab-15-uhr-invitation-to-the-12th-vienna