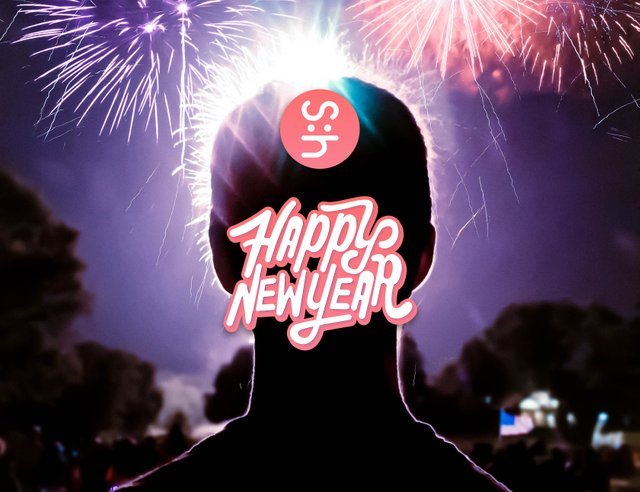 Thumbnail image source - Photo by Spenser Sembrat on Unsplash
Dear Steem community,
2018 has bid us farewell and now it's time to welcome in a new year. We hope you all had a fabulous year-end celebration and we wish you a promising 2019.
Our Journey in 2018
Steemhunt was introduced on March 5th, 2018 with the aim of becoming a Steem-fueled economy for hunting products.
The project began humbly. The two makers - @tabris and @project7 - invested their personal money to stake over 20K Steem Power (at that time each STEEM was worth $3.5, equating to total cost of about $70K) to support early hunters, and luckily we had about 50-100 great early hunters during that time. Most of the current moderators, influencers, and top hunters joined us from the beginning.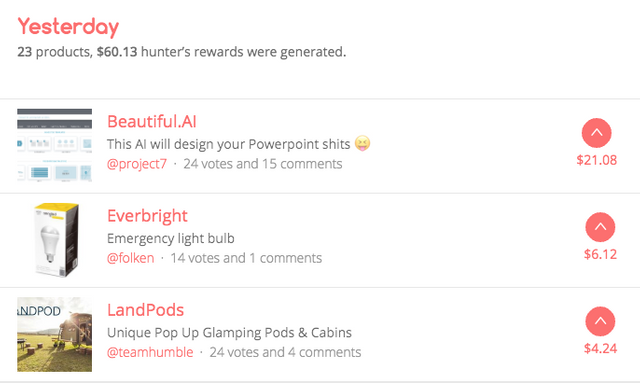 (A screenshot from April 13th, 2018)
On May 22, 2018, we initiated a Steem Power-swapped SMT token airdrop plan with an introduction of Hunt Platform, a bridging platform where hunter's geeky passion becomes an asset to be utilised by companies/makers.
Announcing HUNT Token Airdrops for Steemians (Smart Media Token Project)
Check out how powerful and invaluable the Steemhunt community has become in the past 7 months:
About 40K cool/innovative products have been dug out and shared within the community.
Over 260 Steemians back this project with over 1.7 million Steem Power delegation.
Steemhunt.com has over 60K MAU (Monthly Active User), and even hit over 100K users (in October).
Steemhunt is ranked in the top 10 among all 2,281 global blockchain-based apps on the State of the DApps.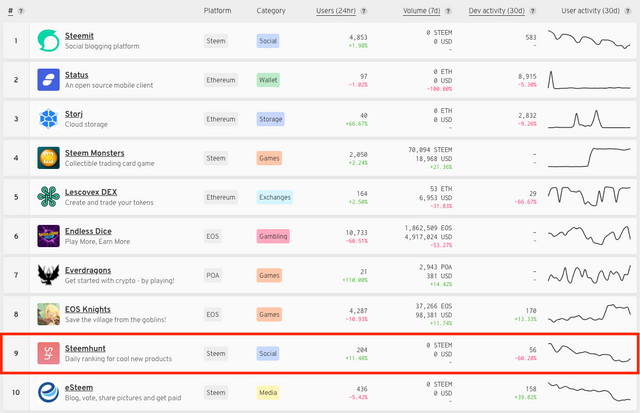 On October 7, 2018, we started running a witness node with the aim of becoming a witness focusing on building the company-wide value stream and improving scalability of dApp experiences on Steem blockchain.
Steemhunt Witness - Focus on Company-wide STEEM Value Stream and Scalable dApp Experiences
Luckily, many people have supported our mission, so we are ranked no.38 at the moment. We will perform more aggressive outgoing activities once our funding/incorporation process is finished.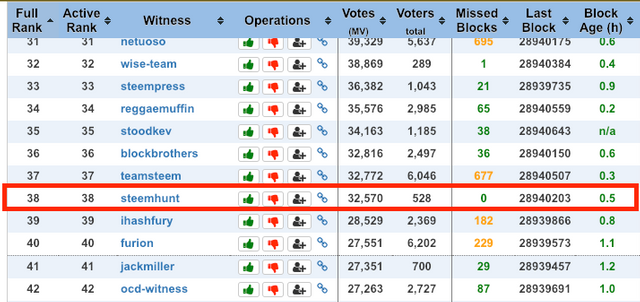 @tabris and @project7 have led and self-funded this project as a full-time commitment for over a year and half. In 2018, we spent over $360K of our personal funds without any equity funding.
We had a marvelous time building our concrete base for Steemhunt community in 2018, but we aim for 2019 to become the year of building the Hunt Platform and revenue stream in our token economy.
Top Five Missions in 2019
We are building Hunt Platform, a bridging platform between product early adopters and makers powered by HUNT token economy.
Check out our plan here - https://token.steemhunt.com/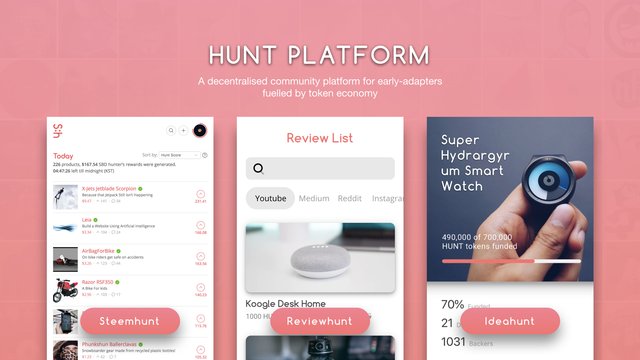 1. Launch of Reviewhunt
We are working on building the beta version of Reviewhunt, and its target launching date is February 2019. Reviewhunt will have these major features:
Product makers/companies will run a review campaign targeting hunters with HUNT bounty tokens. They are required to purchase the HUNT token either via our payment solution or exchange market.
In each review campaign, hunters can share their review content of the product from all kinds of platforms such as Youtube, Blogs, or Social channels (based on the company's request). The company will distribute the bounty tokens based on the quality of the review content.
We will provide a fiat-based payment solution for the companies, so that they can easily purchase the token to run campaigns.
Reviewhunt will have a commerce feature (in the regular version) in which hunters can buy the products with a discounted price with HUNT tokens (this may require review activities).
The Reviewhunt platform will reveal how hunter's geeky assets can attract companies/makers, including those who have never even experienced the crypto market before. This will create a revenue stream on top of Steem blockchain.
2. Funding/Listing via Exchange Market
We have a plan to run funding via exchange markets, otherwise known as IEO (Initial Exchange Offering). We are targeting 3 to 4 exchanges, and have initiated a discussion with one of them targeting an IEO between February and March 2019. After we finalise all the IEO fundings, we will be able to list HUNT tokens on the exchange markets. This funding will be used to expand our team in product and business development. Once we have set/agreed the first IEO plan, we will announce more details.
3. ERC20 and SMT (Smart Media Token) Swaps
Since the 70% layoff of Steemit inc., the specs/plans for SMT project have been changed. First of all, the SMT will be launched as a SMT-lite version which won't support the PoB (Proof-of-Brain) and DEX features. It may adopt just a simple token issuance and transfer among users. Also, the testnet is scheduled on March 15, 2019, but the target launching date may be flexible according to the past pattern.
This is why HUNT tokens will be issued as ERC20 first. When we list our token on the exchange market, we will try to have an agreement of the exchange to support the SMT protocol. We will be able to have more detailed plan for the SMT swap when the SMT-lite testnet is revealed (because we need to see the exact specs and capability).
4. Alpha version of Ideahunt
As described on the Hunt Platform website, Ideahunt will become a Kickstarter-like platform where makers run crowdfunding campaigns targeting hunters. However, the main values will be very different.
The crowdfunding market size is huge with over 30 billion USD. There are already many blockchain-based crowdfunding projects. In order to surpass the centralised players (such as Kickstarter or GoFundMe), we believe that the blockchain-powered crowdfunding platform should provide more differentiated values, rather than just the basics of accepting cryptos, reducing accounting cost, using smart contracts, and taking smaller cuts.
Ideahunt will utilise NFT (Non-fungible token) and potentially security token transactions for the crowdfunding/backing activities so that the backer's actions will be linked with the pre-market valuation of the crowdfunding products. More details for the alpha version product will be revealed soon.
5. Outgoing Witness Activities for Exchanges/Companies
As we explained in this article, we have two missions as a Steem witness:
Promote exchange markets to adopt SMT protocol by listing HUNT tokens.
Create an expandable pipeline in our token economy that enables companies/brands participants.
Both activities require for us to build a proper team to approach exchanges/companies, so we will pursue these missions after we finish our funding.


In all we do, Steemhunt will continue to strive to build a place where all geeks, alpha nerds, and product enthusiasts around the world will discover how their geeky passions can become valuable assets on top of our HUNT token economy.
We can't guarantee a promising future, but we can promise that Steemhunt will become more than just a geek community this year!
Wishing you all a prosperous New Year!
January 1, 2019
The Steemhunt Team
...


Please follow @steemhunt account and join our chat channels (Discord is more active):
---
Please vote for Steemhunt - a witness which will take Steem blockchain to the next level in company-wide value stream and scalable user experience (learn more).