Introducing LOL Hunt, Blockchain Service Day | Sponsor Report - #84
LOL Hunt - Daily hunt for funny Youtube clips, powered by Blockstack
Yesterday, the HUNT team launched a new product called LOL Hunt. LOL Hunt is a daily top chart for funny Youtube clips. Anyone can simply share and upvote videos, and user data is stored privately via Blockstack blockchain.
LOL Hunt - https://lol.hunt.town/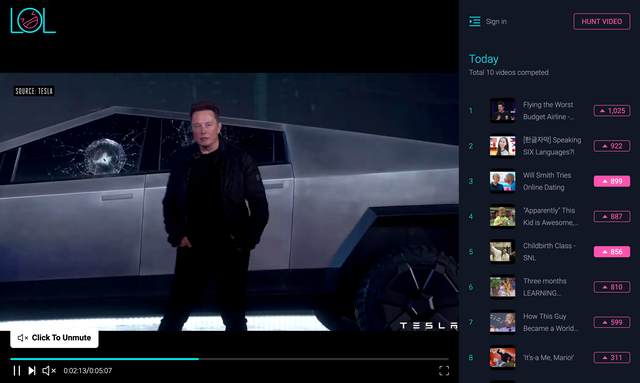 own/*
It is also main featured on Product Hunt, and it ranked no.5 product of the day.
https://www.producthunt.com/posts/lol-hunt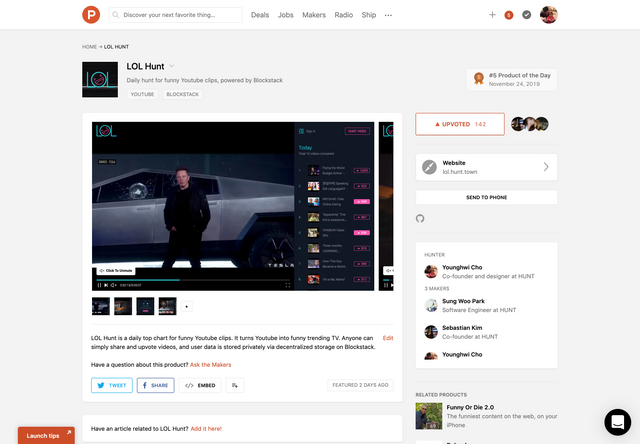 Blockchain Service Day Presentation
@project7, a co-founder at HUNT, had a presentation about HUNT on Blockchain Service Day in Korea yesterday. He explained how the HUNT project was evolved from Steemhunt and Reviewhunt, and introduced the upcoming DApps called Bark, Intime, and Ideahunt. You can find out the presentation below.
https://cyh76507707.github.io/hunt-keynote/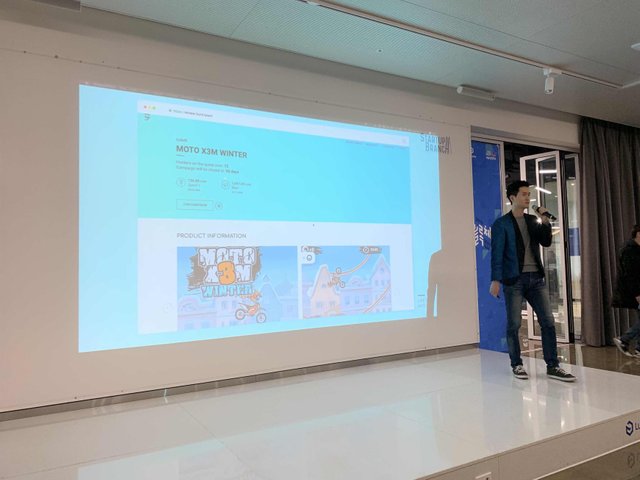 Weekly Sponsor Rewards
Here are the week's STEEM rewards and HUNT tokens reserved for sponsors (the STEEM rewards have already been sent to sponsors from @steemhunt.pay). Sponsors get 20% yearly INTEREST (mixed with STEEM/SBD plus HUNT tokens) to his/her delegation support.
(For more details of HUNT bounty program, please check https://steemit.com/steemhunt/@steemhunt/introducing-market-price-pegged-hunt-bounty-program)
SPONSOR REWARD DISTRIBUTION - WEEK 80
Total: 2,950,046,280.16 VESTS (1,496,239 SP) / 2,035,148,447.84 VESTS OPTED OUT
| User Name | Delegated | Proportion | STEEM / SBD Rewards | HUNT Tokens Reserved |
| --- | --- | --- | --- | --- |
| @misterdelegation | 2,033,154,493 VESTS (1,031,199 SP) | 0 | 0 STEEM + 0 SBD | 0 |
| @freedom | 300,000,000 VESTS (152,158 SP) | 32.79 | 53.649 STEEM + 0.001 SBD | 9,027.0 |
| @goodnewworld | 200,342,693 VESTS (101,612 SP) | 21.9 | 35.827 STEEM + 0.0 SBD | 6,029.0 |
| @tombstone | 50,855,446 VESTS (25,793 SP) | 5.56 | 9.094 STEEM + 0.0 SBD | 1,530.0 |
| @cool191 | 38,704,461 VESTS (19,631 SP) | 4.23 | 6.922 STEEM + 0.0 SBD | 1,165.0 |
| @i-d | 30,510,816 VESTS (15,475 SP) | 3.33 | 5.456 STEEM + 0.0 SBD | 918.0 |
| @bramd | 20,378,685 VESTS (10,336 SP) | 2.23 | 3.644 STEEM + 0.0 SBD | 613.0 |
| @thomasmore | 20,342,062 VESTS (10,317 SP) | 2.22 | 3.638 STEEM + 0.0 SBD | 612.0 |
| @nexgen | 19,769,564 VESTS (10,027 SP) | 2.16 | 3.535 STEEM + 0.0 SBD | 595.0 |
| @orientaledu | 12,181,834 VESTS (6,179 SP) | 1.33 | 2.178 STEEM + 0.0 SBD | 367.0 |
| @roelandp | 10,171,230 VESTS (5,159 SP) | 1.11 | 1.819 STEEM + 0.0 SBD | 306.0 |
| @heeyaa35 | 10,165,219 VESTS (5,156 SP) | 1.11 | 1.818 STEEM + 0.0 SBD | 306.0 |
| @themonetaryfew | 9,906,266 VESTS (5,024 SP) | 1.08 | 1.772 STEEM + 0.0 SBD | 298.0 |
| @gamer00 | 9,874,808 VESTS (5,008 SP) | 1.08 | 1.766 STEEM + 0.0 SBD | 297.0 |
| @heonbros | 9,874,516 VESTS (5,008 SP) | 1.08 | 1.766 STEEM + 0.0 SBD | 297.0 |
| @cyberblock | 9,670,318 VESTS (4,905 SP) | 1.06 | 1.729 STEEM + 0.0 SBD | 291.0 |
| @ys1302 | 9,425,111 VESTS (4,780 SP) | 1.03 | 1.685 STEEM + 0.0 SBD | 284.0 |
| @autorent | 6,233,375 VESTS (3,162 SP) | 0.68 | 1.115 STEEM + 0.0 SBD | 188.0 |
| @warjar | 6,083,197 VESTS (3,085 SP) | 0.66 | 1.088 STEEM + 0.0 SBD | 183.0 |
| @nateaguila | 6,047,115 VESTS (3,067 SP) | 0.66 | 1.081 STEEM + 0.0 SBD | 182.0 |
| @forykw | 5,935,133 VESTS (3,010 SP) | 0.65 | 1.061 STEEM + 0.0 SBD | 179.0 |
| @fruitdaddy | 4,497,322 VESTS (2,281 SP) | 0.49 | 0.804 STEEM + 0.0 SBD | 135.0 |
| @taskmaster4450 | 3,998,223 VESTS (2,028 SP) | 0.44 | 0.715 STEEM + 0.0 SBD | 120.0 |
| @stoodkev | 3,988,951 VESTS (2,023 SP) | 0.44 | 0.713 STEEM + 0.0 SBD | 120.0 |
| @sambillingham | 3,956,692 VESTS (2,007 SP) | 0.43 | 0.708 STEEM + 0.0 SBD | 119.0 |
| @netaterra | 2,998,427 VESTS (1,521 SP) | 0.33 | 0.536 STEEM + 0.0 SBD | 90.0 |
| @anayakhan | 2,563,344 VESTS (1,300 SP) | 0.28 | 0.458 STEEM + 0.0 SBD | 77.0 |
| @howtostartablog | 2,500,000 VESTS (1,268 SP) | 0.27 | 0.447 STEEM + 0.0 SBD | 75.0 |
| @bitrocker2020 | 2,373,748 VESTS (1,204 SP) | 0.26 | 0.424 STEEM + 0.0 SBD | 71.0 |
| @exyle.steemhunt | 2,034,258 VESTS (1,032 SP) | 0.22 | 0.364 STEEM + 0.0 SBD | 61.0 |
| @mastertri | 2,034,183 VESTS (1,032 SP) | 0.22 | 0.364 STEEM + 0.0 SBD | 61.0 |
| @zet | 2,033,378 VESTS (1,031 SP) | 0.22 | 0.364 STEEM + 0.0 SBD | 61.0 |
| @aromi | 2,032,572 VESTS (1,031 SP) | 0.22 | 0.363 STEEM + 0.0 SBD | 61.0 |
| @kview | 2,032,327 VESTS (1,031 SP) | 0.22 | 0.363 STEEM + 0.0 SBD | 61.0 |
| @thegreatgatsby | 2,031,709 VESTS (1,030 SP) | 0.22 | 0.363 STEEM + 0.0 SBD | 61.0 |
| @helix | 2,029,278 VESTS (1,029 SP) | 0.22 | 0.363 STEEM + 0.0 SBD | 61.0 |
| @futile | 2,027,721 VESTS (1,028 SP) | 0.22 | 0.363 STEEM + 0.0 SBD | 61.0 |
| @yangpankil27 | 2,018,715 VESTS (1,024 SP) | 0.22 | 0.361 STEEM + 0.0 SBD | 61.0 |
| @storysharing | 2,018,492 VESTS (1,024 SP) | 0.22 | 0.361 STEEM + 0.0 SBD | 61.0 |
| @vimva | 2,009,170 VESTS (1,019 SP) | 0.22 | 0.359 STEEM + 0.0 SBD | 60.0 |
| @zainenn | 1,998,792 VESTS (1,014 SP) | 0.22 | 0.357 STEEM + 0.0 SBD | 60.0 |
| @xabi | 1,998,742 VESTS (1,014 SP) | 0.22 | 0.357 STEEM + 0.0 SBD | 60.0 |
| @arcange | 1,997,863 VESTS (1,013 SP) | 0.22 | 0.357 STEEM + 0.0 SBD | 60.0 |
| @gungunkrishu | 1,997,785 VESTS (1,013 SP) | 0.22 | 0.357 STEEM + 0.0 SBD | 60.0 |
| @gentleshaid | 1,996,810 VESTS (1,013 SP) | 0.22 | 0.357 STEEM + 0.0 SBD | 60.0 |
| @cryptocurator | 1,996,606 VESTS (1,013 SP) | 0.22 | 0.357 STEEM + 0.0 SBD | 60.0 |
| @cryptospa | 1,994,060 VESTS (1,011 SP) | 0.22 | 0.357 STEEM + 0.0 SBD | 60.0 |
| @project7 | 1,993,955 VESTS (1,011 SP) | 0 | 0 STEEM + 0 SBD | 0 |
| @toocurious | 1,993,668 VESTS (1,011 SP) | 0.22 | 0.357 STEEM + 0.0 SBD | 60.0 |
| @waybeyondpadthai | 1,981,410 VESTS (1,005 SP) | 0.22 | 0.354 STEEM + 0.0 SBD | 60.0 |
| @michelios | 1,978,785 VESTS (1,004 SP) | 0.22 | 0.354 STEEM + 0.0 SBD | 60.0 |
| @mawahab | 1,975,762 VESTS (1,002 SP) | 0.22 | 0.353 STEEM + 0.0 SBD | 59.0 |
| @funworlding | 1,974,398 VESTS (1,001 SP) | 0.22 | 0.353 STEEM + 0.0 SBD | 59.0 |
| @teoit | 1,854,074 VESTS (940 SP) | 0.2 | 0.332 STEEM + 0.0 SBD | 56.0 |
| @khimgoh | 1,422,023 VESTS (721 SP) | 0.16 | 0.254 STEEM + 0.0 SBD | 43.0 |
| @felander | 1,197,650 VESTS (607 SP) | 0.13 | 0.214 STEEM + 0.0 SBD | 36.0 |
| @rangertx | 1,188,997 VESTS (603 SP) | 0.13 | 0.213 STEEM + 0.0 SBD | 36.0 |
| @arvindkumar | 1,185,691 VESTS (601 SP) | 0.13 | 0.212 STEEM + 0.0 SBD | 36.0 |
| @pandafam | 1,016,436 VESTS (516 SP) | 0.11 | 0.182 STEEM + 0.0 SBD | 31.0 |
| @remnant39 | 1,016,375 VESTS (515 SP) | 0.11 | 0.182 STEEM + 0.0 SBD | 31.0 |
| @dragonticketer | 1,016,295 VESTS (515 SP) | 0.11 | 0.182 STEEM + 0.0 SBD | 31.0 |
| @kibumh | 1,016,269 VESTS (515 SP) | 0.11 | 0.182 STEEM + 0.0 SBD | 31.0 |
| @kgbinternational | 1,016,097 VESTS (515 SP) | 0.11 | 0.182 STEEM + 0.0 SBD | 31.0 |
| @itshim | 1,012,460 VESTS (514 SP) | 0.11 | 0.181 STEEM + 0.0 SBD | 30.0 |
| @freedomno1 | 1,011,668 VESTS (513 SP) | 0.11 | 0.181 STEEM + 0.0 SBD | 30.0 |
| @gwoo | 1,011,347 VESTS (513 SP) | 0.11 | 0.181 STEEM + 0.0 SBD | 30.0 |
| @jznsamuel | 1,007,001 VESTS (511 SP) | 0.11 | 0.18 STEEM + 0.0 SBD | 30.0 |
| @dmsqlc0303 | 1,001,732 VESTS (508 SP) | 0.11 | 0.179 STEEM + 0.0 SBD | 30.0 |
| @da-dawn | 1,000,911 VESTS (508 SP) | 0.11 | 0.179 STEEM + 0.0 SBD | 30.0 |
| @hope-on-fire | 1,000,911 VESTS (508 SP) | 0.11 | 0.179 STEEM + 0.0 SBD | 30.0 |
| @bryan-imhoff | 999,588 VESTS (507 SP) | 0.11 | 0.179 STEEM + 0.0 SBD | 30.0 |
| @steemprotect | 999,509 VESTS (507 SP) | 0.11 | 0.179 STEEM + 0.0 SBD | 30.0 |
| @raphaelle | 999,509 VESTS (507 SP) | 0.11 | 0.179 STEEM + 0.0 SBD | 30.0 |
| @abh12345 | 999,387 VESTS (507 SP) | 0.11 | 0.179 STEEM + 0.0 SBD | 30.0 |
| @jongolson | 998,245 VESTS (506 SP) | 0.11 | 0.179 STEEM + 0.0 SBD | 30.0 |
| @jahangirwifii | 992,812 VESTS (504 SP) | 0.11 | 0.178 STEEM + 0.0 SBD | 30.0 |
| @meher04 | 989,517 VESTS (502 SP) | 0.11 | 0.177 STEEM + 0.0 SBD | 30.0 |
| @farizal | 987,084 VESTS (501 SP) | 0.11 | 0.177 STEEM + 0.0 SBD | 30.0 |
| @armdown | 813,662 VESTS (413 SP) | 0.09 | 0.146 STEEM + 0.0 SBD | 24.0 |
| @superoo7 | 809,067 VESTS (410 SP) | 0.09 | 0.145 STEEM + 0.0 SBD | 24.0 |
| @yuriks2000 | 618,616 VESTS (314 SP) | 0.07 | 0.111 STEEM + 0.0 SBD | 19.0 |
| @yoon | 614,281 VESTS (312 SP) | 0.07 | 0.11 STEEM + 0.0 SBD | 18.0 |
| @dreamien | 610,234 VESTS (310 SP) | 0.07 | 0.109 STEEM + 0.0 SBD | 18.0 |
| @japanguide | 610,098 VESTS (309 SP) | 0.07 | 0.109 STEEM + 0.0 SBD | 18.0 |
| @zorba | 609,761 VESTS (309 SP) | 0.07 | 0.109 STEEM + 0.0 SBD | 18.0 |
| @hamismsf | 601,252 VESTS (305 SP) | 0.07 | 0.108 STEEM + 0.0 SBD | 18.0 |
| @samminator | 596,902 VESTS (303 SP) | 0.07 | 0.107 STEEM + 0.0 SBD | 18.0 |
| @krevasilis | 513,487 VESTS (260 SP) | 0.06 | 0.092 STEEM + 0.0 SBD | 15.0 |
| @mcfarhat | 508,534 VESTS (258 SP) | 0.06 | 0.091 STEEM + 0.0 SBD | 15.0 |
| @kevinli | 497,928 VESTS (253 SP) | 0.05 | 0.089 STEEM + 0.0 SBD | 15.0 |
| @joannewong | 494,518 VESTS (251 SP) | 0.05 | 0.088 STEEM + 0.0 SBD | 15.0 |
| @ziscad | 406,833 VESTS (206 SP) | 0.04 | 0.073 STEEM + 0.0 SBD | 12.0 |
| @romankibo | 406,823 VESTS (206 SP) | 0.04 | 0.073 STEEM + 0.0 SBD | 12.0 |
| @deuksoo84 | 406,815 VESTS (206 SP) | 0.04 | 0.073 STEEM + 0.0 SBD | 12.0 |
| @thomas-bm | 406,795 VESTS (206 SP) | 0.04 | 0.073 STEEM + 0.0 SBD | 12.0 |
| @revisesociology | 406,759 VESTS (206 SP) | 0.04 | 0.073 STEEM + 0.0 SBD | 12.0 |
| @rimowa | 406,382 VESTS (206 SP) | 0.04 | 0.073 STEEM + 0.0 SBD | 12.0 |
| @espoem | 404,937 VESTS (205 SP) | 0.04 | 0.072 STEEM + 0.0 SBD | 12.0 |
| @acdevan | 404,024 VESTS (205 SP) | 0.04 | 0.072 STEEM + 0.0 SBD | 12.0 |
| @lcc3108 | 403,583 VESTS (205 SP) | 0.04 | 0.072 STEEM + 0.0 SBD | 12.0 |
| @thethreehugs | 403,364 VESTS (205 SP) | 0.04 | 0.072 STEEM + 0.0 SBD | 12.0 |
| @pialejoana | 402,948 VESTS (204 SP) | 0.04 | 0.072 STEEM + 0.0 SBD | 12.0 |
| @preparedwombat | 401,534 VESTS (204 SP) | 0.04 | 0.072 STEEM + 0.0 SBD | 12.0 |
| @conradt | 399,961 VESTS (203 SP) | 0.04 | 0.072 STEEM + 0.0 SBD | 12.0 |
| @jeronimorubio | 399,843 VESTS (203 SP) | 0.04 | 0.072 STEEM + 0.0 SBD | 12.0 |
| @hctg85 | 399,591 VESTS (203 SP) | 0.04 | 0.071 STEEM + 0.0 SBD | 12.0 |
| @eastmael | 397,353 VESTS (202 SP) | 0.04 | 0.071 STEEM + 0.0 SBD | 12.0 |
| @elfman2018 | 349,843 VESTS (177 SP) | 0.04 | 0.063 STEEM + 0.0 SBD | 11.0 |
| @enolife | 321,432 VESTS (163 SP) | 0.04 | 0.057 STEEM + 0.0 SBD | 10.0 |
| @stans | 303,675 VESTS (154 SP) | 0.03 | 0.054 STEEM + 0.0 SBD | 9.0 |
| @gattino | 299,866 VESTS (152 SP) | 0.03 | 0.054 STEEM + 0.0 SBD | 9.0 |
| @flash07 | 297,057 VESTS (151 SP) | 0.03 | 0.053 STEEM + 0.0 SBD | 9.0 |
| @ted7 | 284,633 VESTS (144 SP) | 0.03 | 0.051 STEEM + 0.0 SBD | 9.0 |
| @celinavisaez | 237,903 VESTS (121 SP) | 0.03 | 0.043 STEEM + 0.0 SBD | 7.0 |
| @valth | 223,766 VESTS (113 SP) | 0.02 | 0.04 STEEM + 0.0 SBD | 7.0 |
| @monkeydoo | 213,477 VESTS (108 SP) | 0.02 | 0.038 STEEM + 0.0 SBD | 6.0 |
| @stokjockey | 213,128 VESTS (108 SP) | 0.02 | 0.038 STEEM + 0.0 SBD | 6.0 |
| @chungjh | 211,692 VESTS (107 SP) | 0.02 | 0.038 STEEM + 0.0 SBD | 6.0 |
| @leesongyi | 203,784 VESTS (103 SP) | 0.02 | 0.036 STEEM + 0.0 SBD | 6.0 |
| @smartbear | 203,426 VESTS (103 SP) | 0.02 | 0.036 STEEM + 0.0 SBD | 6.0 |
| @mellissaying | 203,423 VESTS (103 SP) | 0.02 | 0.036 STEEM + 0.0 SBD | 6.0 |
| @kr-ebook | 203,417 VESTS (103 SP) | 0.02 | 0.036 STEEM + 0.0 SBD | 6.0 |
| @wony | 203,416 VESTS (103 SP) | 0.02 | 0.036 STEEM + 0.0 SBD | 6.0 |
| @dakeshi | 203,416 VESTS (103 SP) | 0.02 | 0.036 STEEM + 0.0 SBD | 6.0 |
| @zaedol | 203,413 VESTS (103 SP) | 0.02 | 0.036 STEEM + 0.0 SBD | 6.0 |
| @gidung | 203,406 VESTS (103 SP) | 0.02 | 0.036 STEEM + 0.0 SBD | 6.0 |
| @room9 | 203,404 VESTS (103 SP) | 0.02 | 0.036 STEEM + 0.0 SBD | 6.0 |
| @matildah | 203,402 VESTS (103 SP) | 0.02 | 0.036 STEEM + 0.0 SBD | 6.0 |
| @hanen | 203,392 VESTS (103 SP) | 0.02 | 0.036 STEEM + 0.0 SBD | 6.0 |
| @yann03 | 203,319 VESTS (103 SP) | 0.02 | 0.036 STEEM + 0.0 SBD | 6.0 |
| @kuberaleez | 203,299 VESTS (103 SP) | 0.02 | 0.036 STEEM + 0.0 SBD | 6.0 |
| @ab7b13 | 203,287 VESTS (103 SP) | 0.02 | 0.036 STEEM + 0.0 SBD | 6.0 |
| @team101 | 203,228 VESTS (103 SP) | 0.02 | 0.036 STEEM + 0.0 SBD | 6.0 |
| @didic | 202,944 VESTS (103 SP) | 0.02 | 0.036 STEEM + 0.0 SBD | 6.0 |
| @zoltarian | 202,924 VESTS (103 SP) | 0.02 | 0.036 STEEM + 0.0 SBD | 6.0 |
| @sambasambo | 202,444 VESTS (103 SP) | 0.02 | 0.036 STEEM + 0.0 SBD | 6.0 |
| @humptydumpty1 | 202,388 VESTS (103 SP) | 0.02 | 0.036 STEEM + 0.0 SBD | 6.0 |
| @mermaidvampire | 202,387 VESTS (103 SP) | 0.02 | 0.036 STEEM + 0.0 SBD | 6.0 |
| @aurorax | 202,171 VESTS (103 SP) | 0.02 | 0.036 STEEM + 0.0 SBD | 6.0 |
| @jibupune | 202,151 VESTS (103 SP) | 0.02 | 0.036 STEEM + 0.0 SBD | 6.0 |
| @cryptouru | 202,150 VESTS (103 SP) | 0.02 | 0.036 STEEM + 0.0 SBD | 6.0 |
| @parisfoodhunter | 201,671 VESTS (102 SP) | 0.02 | 0.036 STEEM + 0.0 SBD | 6.0 |
| @normalbro | 201,494 VESTS (102 SP) | 0.02 | 0.036 STEEM + 0.0 SBD | 6.0 |
| @jccr | 201,479 VESTS (102 SP) | 0.02 | 0.036 STEEM + 0.0 SBD | 6.0 |
| @lobinia | 201,476 VESTS (102 SP) | 0.02 | 0.036 STEEM + 0.0 SBD | 6.0 |
| @dwiitavita | 201,472 VESTS (102 SP) | 0.02 | 0.036 STEEM + 0.0 SBD | 6.0 |
| @jpphotography | 200,866 VESTS (102 SP) | 0.02 | 0.036 STEEM + 0.0 SBD | 6.0 |
| @jeffjagoe | 200,848 VESTS (102 SP) | 0.02 | 0.036 STEEM + 0.0 SBD | 6.0 |
| @lucious | 200,727 VESTS (102 SP) | 0.02 | 0.036 STEEM + 0.0 SBD | 6.0 |
| @rainieraveradio | 200,727 VESTS (102 SP) | 0.02 | 0.036 STEEM + 0.0 SBD | 6.0 |
| @replayphoto | 200,133 VESTS (102 SP) | 0.02 | 0.036 STEEM + 0.0 SBD | 6.0 |
| @torrey.blog | 199,921 VESTS (101 SP) | 0.02 | 0.036 STEEM + 0.0 SBD | 6.0 |
| @nataboo | 199,910 VESTS (101 SP) | 0.02 | 0.036 STEEM + 0.0 SBD | 6.0 |
| @shellyduncan | 199,730 VESTS (101 SP) | 0.02 | 0.036 STEEM + 0.0 SBD | 6.0 |
| @d-zero | 199,675 VESTS (101 SP) | 0.02 | 0.036 STEEM + 0.0 SBD | 6.0 |
| @paradigmprospect | 199,649 VESTS (101 SP) | 0.02 | 0.036 STEEM + 0.0 SBD | 6.0 |
| @absolutefive | 199,271 VESTS (101 SP) | 0.02 | 0.036 STEEM + 0.0 SBD | 6.0 |
| @julietisrael | 199,061 VESTS (101 SP) | 0.02 | 0.036 STEEM + 0.0 SBD | 6.0 |
| @mehdicrypto | 198,773 VESTS (101 SP) | 0.02 | 0.036 STEEM + 0.0 SBD | 6.0 |
| @michealb | 197,970 VESTS (100 SP) | 0.02 | 0.035 STEEM + 0.0 SBD | 6.0 |
| @mobi72 | 171,233 VESTS (87 SP) | 0.02 | 0.031 STEEM + 0.0 SBD | 5.0 |
| @chrisli | 151,915 VESTS (77 SP) | 0.02 | 0.027 STEEM + 0.0 SBD | 5.0 |
| @wilhb81 | 132,034 VESTS (67 SP) | 0.01 | 0.024 STEEM + 0.0 SBD | 4.0 |
| @daan007 | 121,754 VESTS (62 SP) | 0.01 | 0.022 STEEM + 0.0 SBD | 4.0 |
| @team2dev | 101,541 VESTS (52 SP) | 0.01 | 0.018 STEEM + 0.0 SBD | 3.0 |
| @freyman | 101,305 VESTS (51 SP) | 0.01 | 0.018 STEEM + 0.0 SBD | 3.0 |
| @ericwilson | 101,195 VESTS (51 SP) | 0.01 | 0.018 STEEM + 0.0 SBD | 3.0 |
| @itsravi | 101,031 VESTS (51 SP) | 0.01 | 0.018 STEEM + 0.0 SBD | 3.0 |
| @moneyhacks | 100,871 VESTS (51 SP) | 0.01 | 0.018 STEEM + 0.0 SBD | 3.0 |
| @bjornb | 100,844 VESTS (51 SP) | 0.01 | 0.018 STEEM + 0.0 SBD | 3.0 |
| @lemmybe | 100,783 VESTS (51 SP) | 0.01 | 0.018 STEEM + 0.0 SBD | 3.0 |
| @elihs | 100,698 VESTS (51 SP) | 0.01 | 0.018 STEEM + 0.0 SBD | 3.0 |
| @okahjul | 100,031 VESTS (51 SP) | 0.01 | 0.018 STEEM + 0.0 SBD | 3.0 |
| @rehan12 | 99,718 VESTS (51 SP) | 0.01 | 0.018 STEEM + 0.0 SBD | 3.0 |
| @fillow | 99,698 VESTS (51 SP) | 0.01 | 0.018 STEEM + 0.0 SBD | 3.0 |
| @bozz | 98,942 VESTS (50 SP) | 0.01 | 0.018 STEEM + 0.0 SBD | 3.0 |
| @yanipetkov | 98,918 VESTS (50 SP) | 0.01 | 0.018 STEEM + 0.0 SBD | 3.0 |
| @dumnebari | 80,655 VESTS (41 SP) | 0.01 | 0.014 STEEM + 0.0 SBD | 2.0 |
| @randomgoodstuff | 60,851 VESTS (31 SP) | 0.01 | 0.011 STEEM + 0.0 SBD | 2.0 |
| @shookriya | 60,474 VESTS (31 SP) | 0.01 | 0.011 STEEM + 0.0 SBD | 2.0 |
| @steeemlover | 60,370 VESTS (31 SP) | 0.01 | 0.011 STEEM + 0.0 SBD | 2.0 |
| @dray91eu | 59,795 VESTS (30 SP) | 0.01 | 0.011 STEEM + 0.0 SBD | 2.0 |
| @michelmake | 59,273 VESTS (30 SP) | 0.01 | 0.011 STEEM + 0.0 SBD | 2.0 |
| @onlyforyou | 40,339 VESTS (20 SP) | 0.0 | 0.007 STEEM + 0.0 SBD | 1.0 |
| @xomegax | 40,244 VESTS (20 SP) | 0.0 | 0.007 STEEM + 0.0 SBD | 1.0 |
| @earlmonk | 39,941 VESTS (20 SP) | 0.0 | 0.007 STEEM + 0.0 SBD | 1.0 |
| @unicron | 39,727 VESTS (20 SP) | 0.0 | 0.007 STEEM + 0.0 SBD | 1.0 |
| @tim3w4rp | 30,512 VESTS (15 SP) | 0.0 | 0.005 STEEM + 0.0 SBD | 1.0 |
| @schroders | 30,512 VESTS (15 SP) | 0.0 | 0.005 STEEM + 0.0 SBD | 1.0 |
| @ederaleng | 22,144 VESTS (11 SP) | 0.0 | 0.004 STEEM + 0.0 SBD | 1.0 |
| @sal.tedder | 19,967 VESTS (10 SP) | 0.0 | 0.004 STEEM + 0.0 SBD | 1.0 |
| @anomalogy | 19,782 VESTS (10 SP) | 0.0 | 0.004 STEEM + 0.0 SBD | 1.0 |
| @direwolf | 10,601 VESTS (5 SP) | 0.0 | 0.002 STEEM + 0.0 SBD | 0.0 |
| @okekemmichael | 10,169 VESTS (5 SP) | 0.0 | 0.002 STEEM + 0.0 SBD | 0.0 |
| @streetsmart | 10,164 VESTS (5 SP) | 0.0 | 0.002 STEEM + 0.0 SBD | 0.0 |
| @doodleman | 10,112 VESTS (5 SP) | 0.0 | 0.002 STEEM + 0.0 SBD | 0.0 |
| @coolguy222 | 10,002 VESTS (5 SP) | 0.0 | 0.002 STEEM + 0.0 SBD | 0.0 |
| @walterben | 9,964 VESTS (5 SP) | 0.0 | 0.002 STEEM + 0.0 SBD | 0.0 |
| @thewhiter4bbitt | 7,993 VESTS (4 SP) | 0.0 | 0.001 STEEM + 0.0 SBD | 0.0 |
| @anutta | 4,197 VESTS (2 SP) | 0.0 | 0.001 STEEM + 0.0 SBD | 0.0 |
| @hensey | 4,050 VESTS (2 SP) | 0.0 | 0.001 STEEM + 0.0 SBD | 0.0 |
| @fashionsteemit | 3,044 VESTS (2 SP) | 0.0 | 0.001 STEEM + 0.0 SBD | 0.0 |
| @ciontheemrald | 2,017 VESTS (1 SP) | 0.0 | 0.0 STEEM + 0.0 SBD | 0.0 |
| @aknirob | 2,002 VESTS (1 SP) | 0.0 | 0.0 STEEM + 0.0 SBD | 0.0 |
| @just2random | 1,993 VESTS (1 SP) | 0.0 | 0.0 STEEM + 0.0 SBD | 0.0 |
| Total | 2,950,046,280.16 VESTS (1,496,239 SP) | 100.0% | 163.611 STEEM + 0.002 SBD | 27,531.0 |
==========
SEND 163.611 STEEM and 0.002 SBD TO 197 SPONSORS (omitted less than 0.001)
==========
(If your name is not in this report, you may have been delegated SP after we sent STEEM rewards. In this case, your rewards will be calculated next week.)
---
Connect with Steemhunt:
Discord | Telegram | Twitter
Delegate Steem Power and Get HUNT Tokens:
1000 SP |5000 SP |10K SP |20K SP
Steemhunt as a witness - Vote Now
Join Reviewhunt Now - https://review.hunt.town