Reviewing Reviewhunt!
The Problem - Influencer Marketing
Very often small influencers like me face a huge problem - How to find sponsorship during the initial days of our social media startup. Most of these influencers fail to survive due to lack of exposure which affects their income. For example: I only have 600+ subscribers on YouTube, 500+ followers on Instagram and 150 on STEEM. Most brands do not realize the power of influence they can have by connecting with 1000 small influencers or 100 big ones. Instead of spending thousands of dollars in marketing budget given to Digital Media companies they can utilize the money to reward micro influencers.
"Conversion rate of Influencer Marketing is higher than the conventional Marketing Techniques."
Source: Is influencer marketing taking over traditional marketing?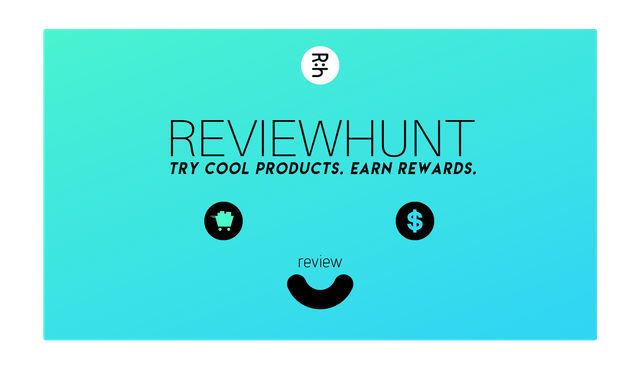 Solution - Reviewhunt
Reviewhunt is a platform where influencers can try new and cool products, review them and get rewards in the form of HUNT tokens. Makers or Product Owners can build early users, lots of buzz and quality reviews. The feedback from these influencers can help makers to improve the service and position the Brand in the market.
"Makers/companies spend an enormous amount of time/efforts to raise attention from early adopters because their word of mouth impact is exceptionally high. With Reviewhunt, it's never been easier for makers to attract early-adopters by offering newly launched products with large discounts or bounties in return for quality reviews that will boost up their launching buzz."
- Source: Reviewhunt

Getting Started - Hunter's POV
Since I am an Influencer, I will explain how Hunters can earn rewards by completing the campaign quests. Most of it is self explanatory but in case you have doubts, you can ask in comments or drop by Steemhunt's discord server.
Signup & Setup
Go to Reviewhunt and click on JOIN.


Sign up with the following details and confirm your account.


Login with your credentials and following is the screen you are going to see. Basically the campaigns listed by various makers are showcased along with the completed campaigns. You can surf and choose any of them to join and perform the quests.


When you click any of the campaigns above, you will find product information, types of quests and reviews and rules/guidelines.


Before starting any campaign, I would suggest you to setup your buzz channels from the dashboard. This simply means that you can add multiple social media channels where you can share your reviews about the products under various campaigns. As per my experience, youtube can become your biggest promotional channel. I have tried instagram and this blog on STEEM for my first campaign which is REVIEWHUNT (ONBOARDING QUEST).

First Campaign
You can choose to open any campaign and get started with the quests.
On the campaign page, when you click on Join, you can do your first quest to move forward. This one is generally very simple and quick.

You can see the status of your progress under Dashboard > Quest Dashboard.

In every quest you need to submit proof of your activity in the form of links and screenshots. Once they are submitted and approved, you can move to next one.

"Introduce this product via your social/community channel." This is the quest where HUNTERs generally make more HUNT Tokens. This blog review is a part of this quest for Reviewhunt's Onboarding campaign as mentioned above.

For example: I made this post on Instagram for Reviewhunt: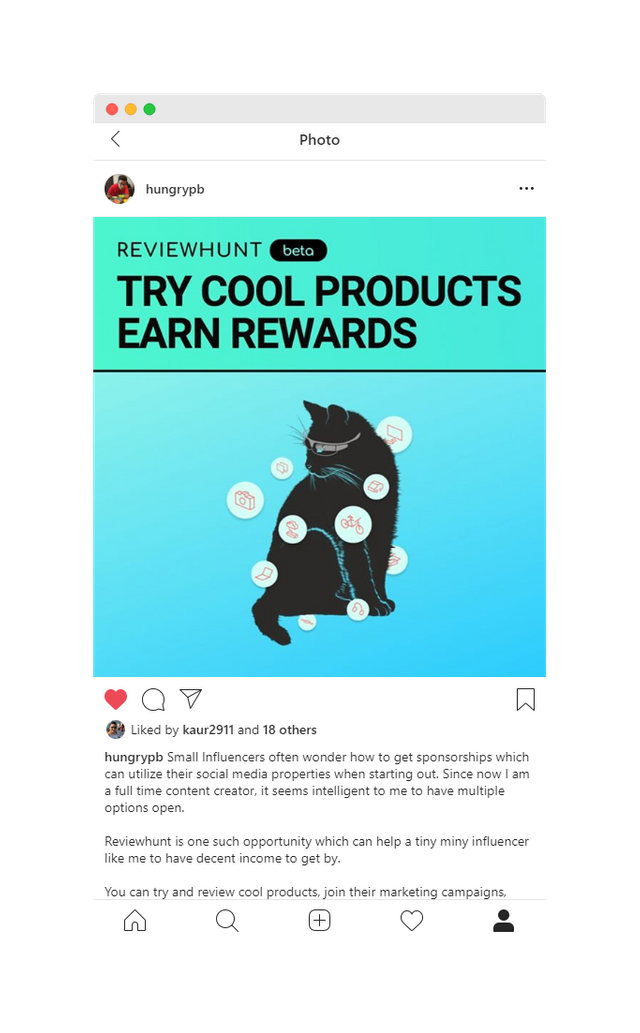 Kickass Referral Rewards Too
Sign up on Reviewhunt through my referral link: https://review.hunt.town/i/319
You can sign up as a hunter or a maker.
Their referral program provides an extra source of passive income. Check out the terms in DASHBOARD > REFERRAL. I already have two referrals. Hopefully they will start reviewing products soon. ;)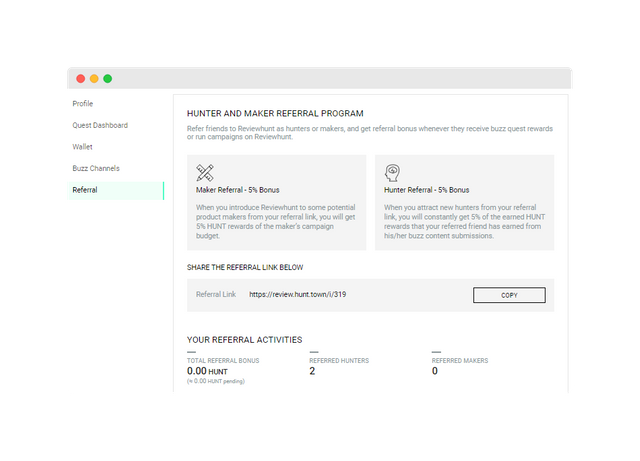 Feedback
Good Stuff
I love how neatly they have designed the website and all of its components. Makers can easily create the campaigns by filling up all the details and hunters can easily scan through all the quests. 100 marks to the UI.
Since they are accepting links and screenshots both, it reduces the time taken to approve the submission. Which means you can quickly move ahead and do other quest well within time.
I have to mention this, rewards are pretty decent current crypto market.
There are various product campaigns to choose from. Onboarding of new clients and availability of new campaigns is frequent so far. There is a piece for everyone. ;)
Did you try "How many Big Macs is your social media post worth? - https://review.hunt.town/bigmac/en
You can easily get your HUNT tokens in Ether wallet.
Ideas of Improvement
Campaign results should be published on the Reviewhunt website so that we can see what other's are doing to in order to win. Other hunters can learn great tactics to produce better reviews.
Another extended solution to the above problem is to create a page called featured reviews where you can showcase top blogs, videos and social media posts created by hunters.
Please provide media kit for Reviewhunt somewhere on the website. I had a hard time looking for the high res logo and font I used in the main image is not correct.
Can we also submit multiple buzz posts from the same social media account. Some people are only on Instagram or Twitter. Probably they can submit proof of multiple posts published on the same website. Because every social media post will have different impact depending upon the time and location of the audience.

I would rate this product 4/5.
I hope this review helps you to understand how Reviewhunt works. If you are an influencer on social media or a maker, please do check out the website and sign up - https://review.hunt.town/i/319. You can comment below to ask any questions and I will try my best to answer them. I will be doing more campaigns and I will keep on sharing my experiences with you. An outstanding product overall. So slick!

Disclaimer:
There are referral links on the above review. You can choose to sign up from them and yet you lose nothing but I might earn a small share of HUNT Tokens. This review in no way assures anyone proper income. Reviewhunt reserves the right to change the rules, reward percentages, payout period, and any operational matters. I hold no official affiliation with the owners or team members of Reviewhunt. I made this as a part of the campaign I am doing on the platform. Cheers! Everything's cool now. ;)