Steemgigs.org (The Freelancing & Dream-Building Marketplace On Steem - Latest Development Update.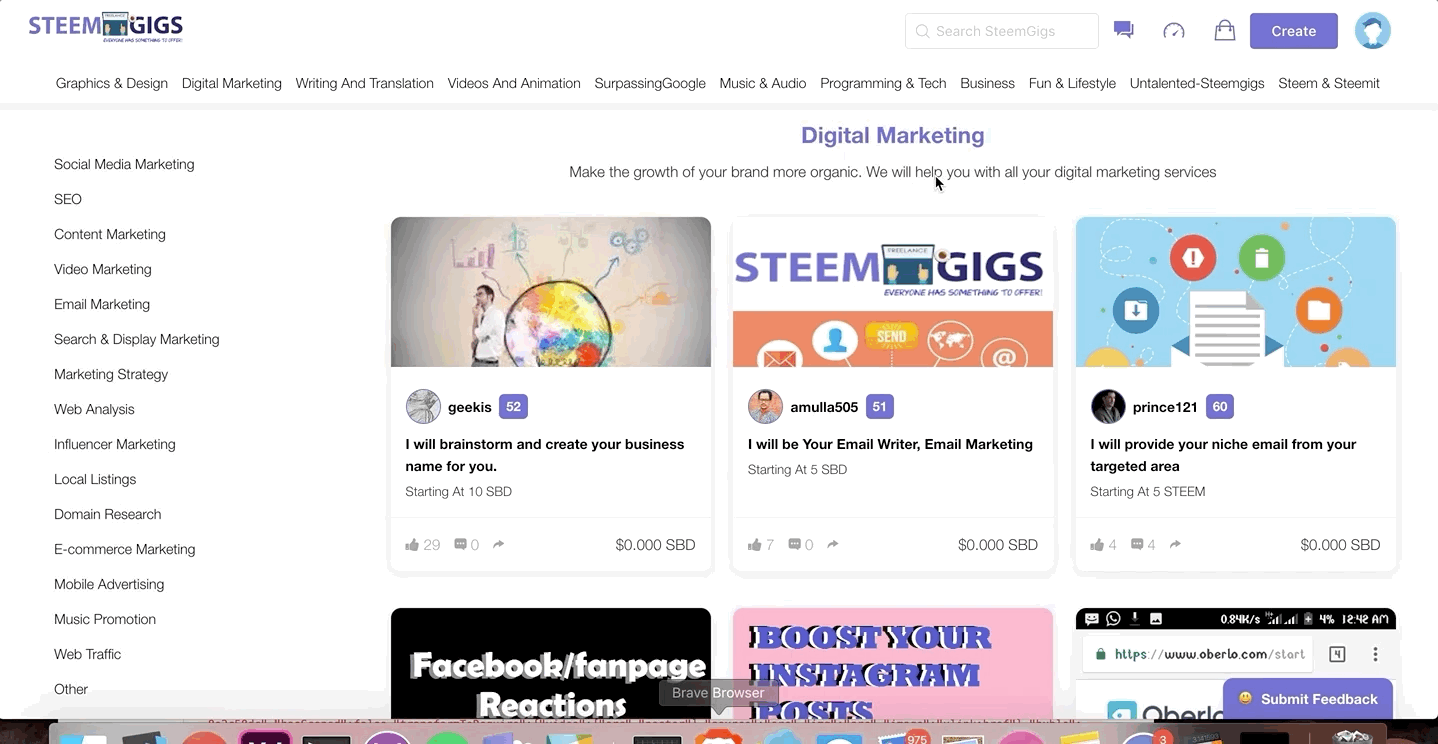 SteemGigs.org
A revolutionary steem-based freelance marketplace & dream-building ecosystem, with its own knowledge-base, community and 'an untalented paradigm'. 
All aspects of the code is open-source:
If you want to read everything about https://steemgigs.org and its grand picture, below is a post written some 8 months ago, containing some 10,000 words: 
"Steemgigs.org" is dedicated to my mum who passed away last year and i had let it die but in the last few days, we have worked on restoring steemgigs.org and we will begin its active development henceforth.
If You Didn't Know About SteemGigs, Here Is Quick Summary.
#steemgigs start more than 2 years ago.
The first #steemgigs task request was created by @kus-knee more than 2 years ago.
The first successful SteemGig happened more than 2 years ago
The first SteemGigs testimonial post happened more than 2 years ago.
SteemGigs has a community on discord with more than 5000 steemians
Steemgigs.org Alpha began some 9 months ago
Steemgigs.org is a freelancing marketplace built around the steem protocol
The steemgigs.org slogan is "everyone has something to offer".
SteemGigs has a witness called "steemgigs" to support steem
Steemgigs witness used to provide a public RPC node (It stopped doing so months ago, when 256GB RAM requirements was becoming insufficient and it was becoming necessary to upgrade to 512GB RAM)
etc
Past/Recent Interest (By Steemians) In SteemGigs
Here is an old comment by @andrarchy (made some 2 years ago), where he reacted to the potential beauty of SteemGigs: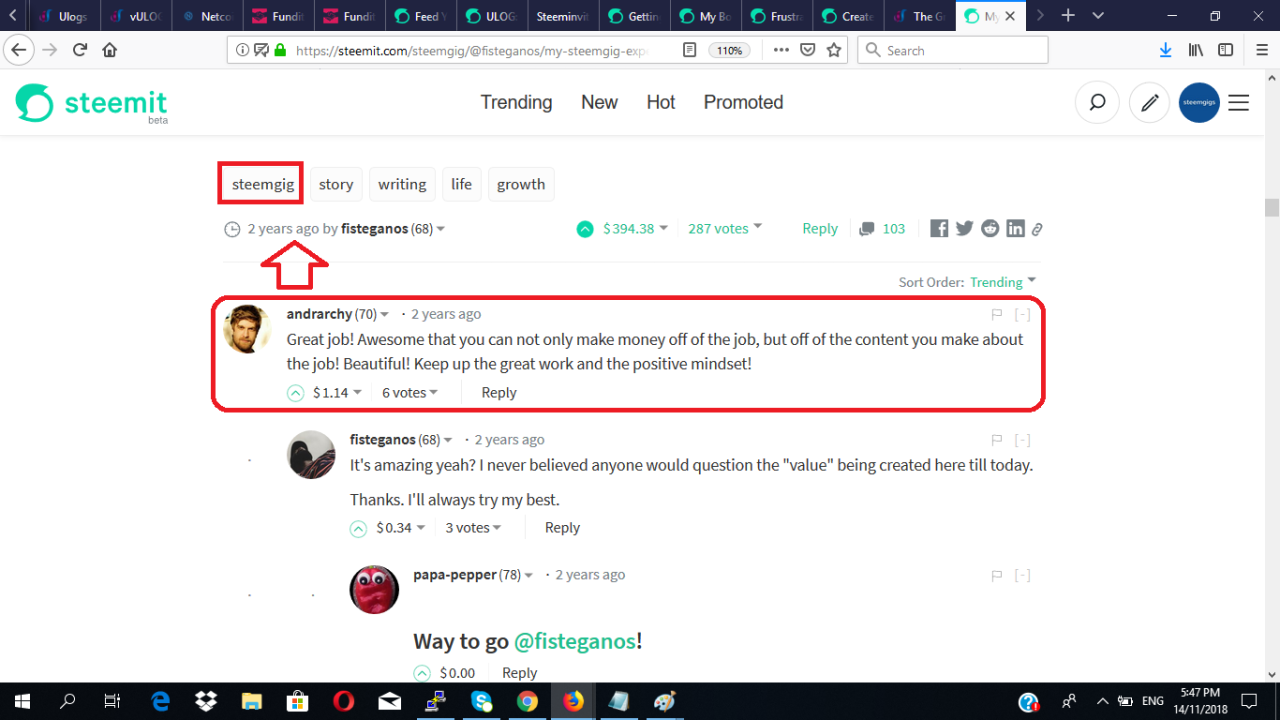 Did  you notice that a successful steemGIG happened some 2 years ago? 
@kus-knee had created a custom request at the time, to which @fisteganos offered his service. @fisteganos got  paid in SBD and then went on to earn an additional 394 $ from his eventual SteemGig Testimonial post.
If you would like to read some more about how grand steemgigs.org can be, @stellabelle wrote this article about SteemGigs some two years ago: 
More recently, @acidyo brought a similar topic up in his post here: Why VoiceOverPete should join Steem! Looking at the comment section of the post, you will notice that steemians still remembered SteemGigs. 
See these screenshots: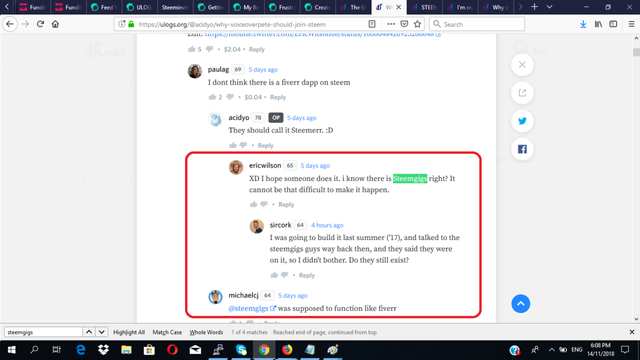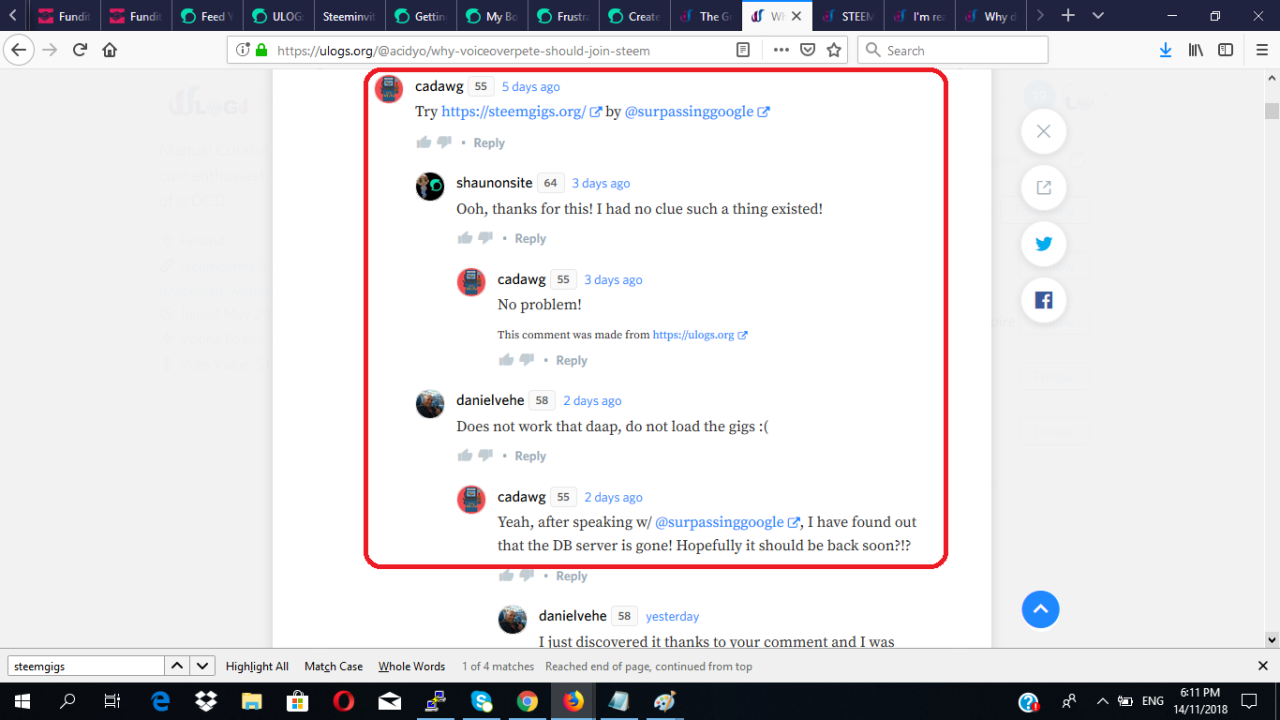 And here is some passionate video(s) evidence.
You can support the 'steemgigs' witness. 
My witness is called 'steemgigs' to represent instead of 'surpassinggoogle' to represent 'everyone
Please visit https://steemit.com/~witnesses and vote on 'steemgigs'. It is currently ranked #60.
Latest 'Development' Update
This post covers recent development endeavor that has occurred on steemgigs.org, in relation to our plans for the month of January 2019
Our recent task request spans across 14 micro-programming issues and @tobias-g has tended to some of these issues. 
Below, i will expand on some of the tasks that @tobias-g has completed so far as well as additional development tasks that he worked, on his own loving volition.
Recall that, that steemgigs.org has a knowledge-bank; meaning that it is very content-based (steemgigs.org has a surpassinggoogle paradigm). To this effect, we have '18 specialized posting editors' across steemgigs.org 
Our aim is to use these editors to incite users to 'serve the search engines'. Each of these editors thus, have to be simplistic, interactive and intuitive.
In the last few days, @tobias-g took it upon himself, to re-create each of these editors. Starting with the 'create-a-gig' editor, the screenshot below depicts how it currently looks: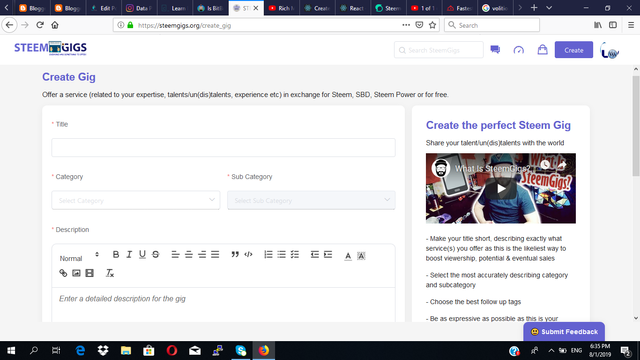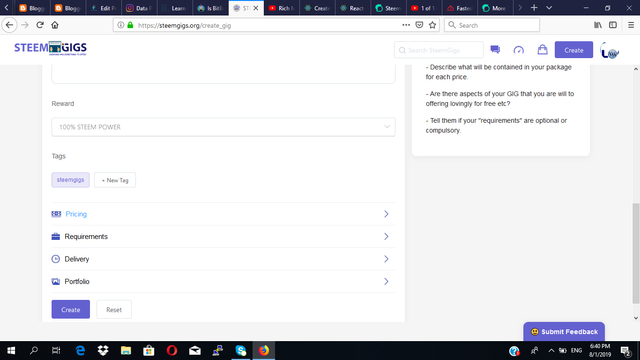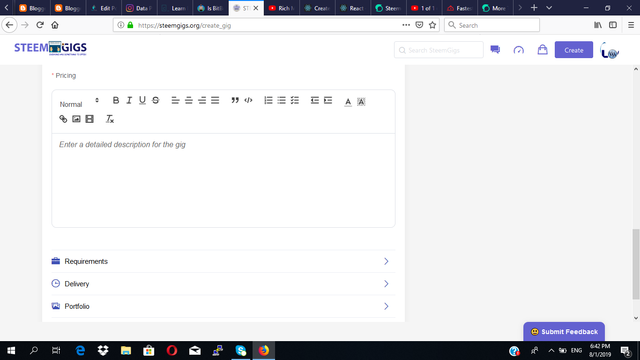 In the past, the 'create-a-gig' editor was made up of multi-pages. Users had to pass through several pages to complete each segment of the editor (i.e Title > Description > Pricing > Requirements > Delivery > Portfolio). This must have created a measure of hassle for users. 
Now users can have a general overview of what input the 'create a gig' editor, will require of them, all on one page, making them better inclined to complete their gig-posts. Where they have made an error, they can now correct errors on the same page. 
To keep the editor less bogus, @tobias-g added a collapse component to each segment of the editor. Users can collapse/expand these areas at will.
Looking closely, you will also notice the stamp of @tobias-g, on the general styling of side-text-box that characterizes all our editors. 
This was how it looked before: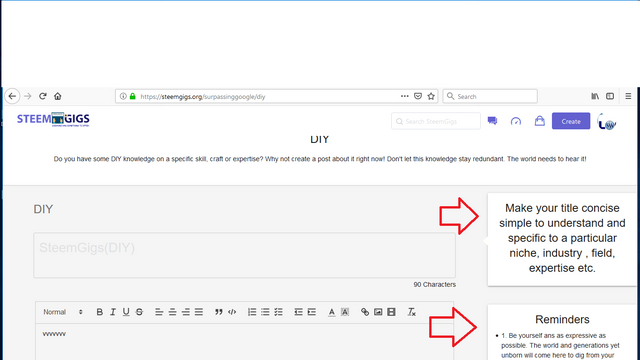 He also added a video embed area, which will eventual host tutorials. (Note: steemgigs.org is very community-based. To this effect, all video tutorials will be created by 'certified uloggers', to showcase our community and to give these 'certified uloggers' extra limelight on our interfaces.)
@tobias-g has revamped all existing editors across SteemGigs, with further enhancement to come over the course of time
Next, he improved the metadata for steemgigs.org to improve how the website gets indexed in the search engines and to make steemgigs.org more presentable in search results.
This how we now look in google search results: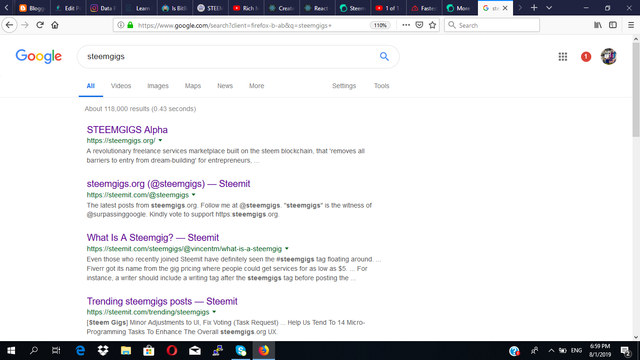 @tobias-g, then went on to adding social-share-buttons at the bottom of posts (across steemgigs.org). This will allow you to share your gigs etc on the likes of Facebook, Twitter, Reddit etc
This is how it looks: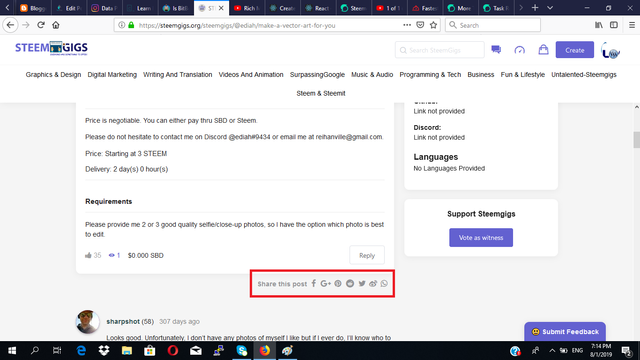 He also worked on post-payout-display, post-7days. Prior to now, posts displayed a payout of 0.00$, post-7 days as seen below: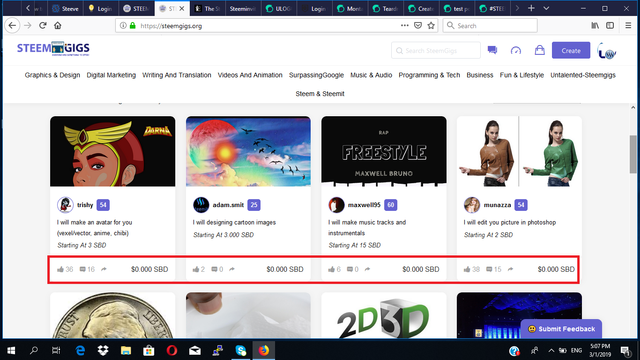 It currently displays actual post-payout independent of post-age as seen below: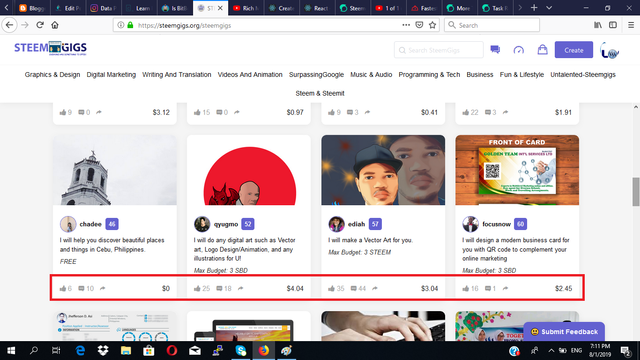 @tobias-g also fixed a bug on our homepage (prior to login), that prevent users from navigating the page.
In summary, this was covered in the last two days:

In the coming days, we will start working on the more complex/core tasks. We will like to enhance our search portal, by improving on categorization and add a 'sorting' mechanism. 
Then we will work on enhancing our landing page, adding an optional escrow functionality and private message. 
We plan to work the hardest within the month of January. 
We will begin to invite users to test steemgigs.org once again, once we have completed the search and categorization functionality. Then, we will seek to re-open steemgigs.org to public use just thereafter.
We invite interested developers to join in, in helping us build steemgigs.org
Steemgigs.org will make use of the teardrops SMT. Altogether, the teardrops SMT will be used across 3 steem-based interfaces i.e steemgigs.org, ulogs.org and Macrohard
While i am not usually very frontal with asking support, you may decide to support my efforts at this point as i really need support. 
To do so, @steemgigs is now open to delegation and where you see fit, "donations".
Within the next few months, 'delegation' will be focused towards supporting contributors, especially to the development of steemgigs. This will help us speed development, to where steemgigs.org primary functions are ready within a month or two.
Regardless, i will keep using my resources, financial and otherwise, however limited, to bring steemgigs.org to full-blown life. This is a slower route but my healing lies in, "gifting the world with some awesomeness via my projects".
You can delegate a custom amount of steem power to @steemgigs using this tool
If you would like to donate steem or SBD, kindly send donations to @steemgigs
To donate FIAT directly with credit/debit card, click HERE 
My PayPal Email: [email protected]
Bitcoin: 34qnjNrdw3jLMPBN9UWHEWN6zsrfZsC7Ra 
Ethereum: 0xfd5c4f2fe8da3eda1025681f0f86570849249d63 
LTC: LdJQWRPmRWup7YX3AFz5pHSBmMeuAjcgA2 
Donations will be applied towards the development of steemgigs.org
Read some more about steemgigs.org
Find Me 
Special Note
If you are a developer or anyone who passionately loves these projects e.g ulogs.org, steemgigs.org the teardrops SMT etc and would like to help build it and see that it comes to life, kindly send an email to [email protected]
There is a lot to build.
If you are a potential advisor and one who can help with directions, suggestions and connections, please join in too by sending an email to [email protected] 
Kindly vote for the "steemgigs" witness. 
Dedicating My Entire Steem/Steemit Journey To My Mum
If you want to support an extra witness and you support mine "steemgigs", it will be really helpful.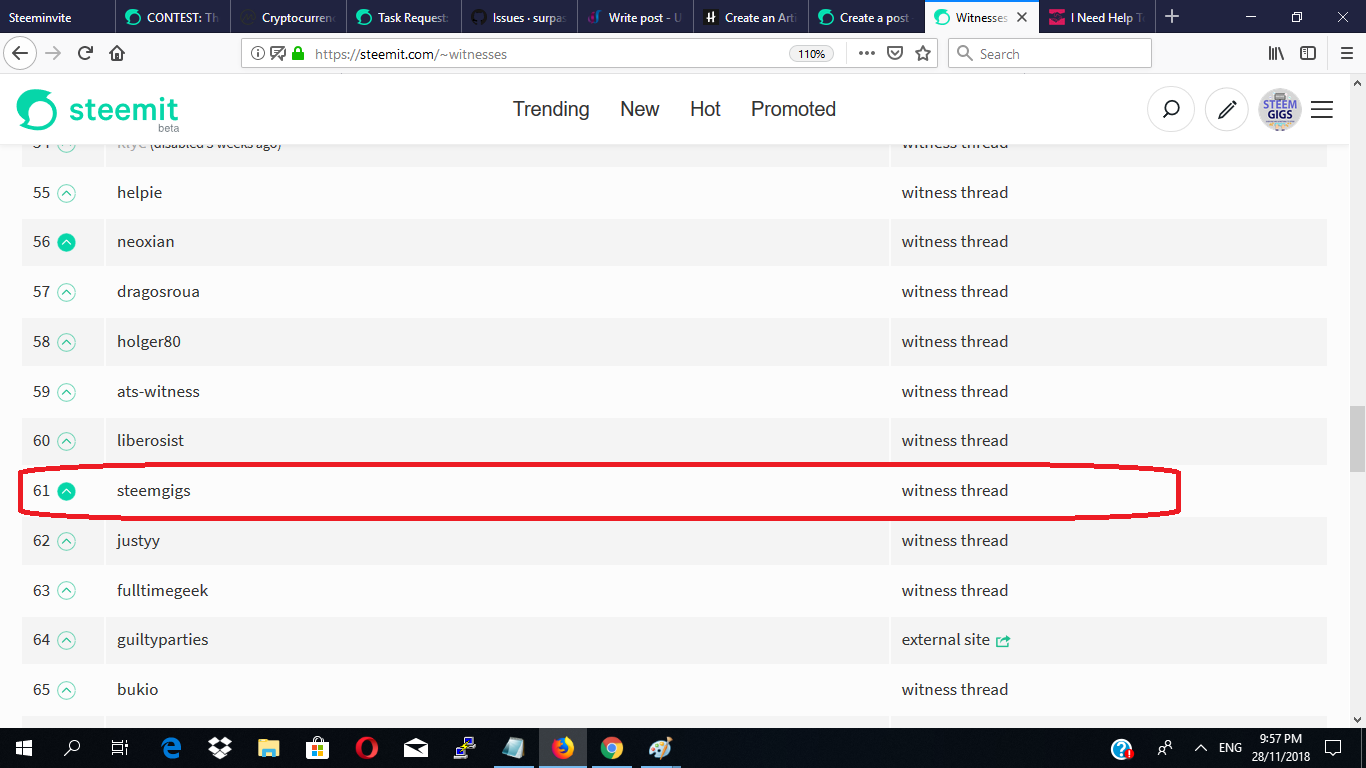 To vote my witness, simply visit https://steemit.com/~witnesses and upvote "steemgigs" or simply click Here to do it on one click!  
If you want me to make witness voting decisions on your behalf, simply visit https://steemit.com/~witnesses and type in "surpassinggoogle" in the second box for proxy.  
You can delegate a custom amount of steem power to @steemgigs using this tool