Steemgigs Development Updates: Addition Of A Knowledge Bank To Our Freelancing Marketplace.
It is true that the development pace has been slow so far, with https://steemgigs.org but lately we have added money to the budget-pool, to hasten its development and complete it within 2 or 3 weeks and place it in beta stage. 
This upcoming phase of development will cover and complete core features of our website, like internal messaging, optional escrow service, refined search and categorization, filters and moderator portal. We will also enhance the editors across the website, with HTML and markdown capabilities and we will enhance the overall reputation model as well. Then, we will add many more categories and subcategories. 
The framework of how we want SteemGigs to be, is already set. Now, what's left is enhancement and addition of other of above mentioned core features.
We will want escrow to be an opt-in feature for a start as we want to exploit fully the beauty of the steem blockchain, trying to reduce the need for third party.
SteemGigs has a model that is designed to enhance and grow steem, by improving content creation, discovery and curation; by enhancing the general reputation model of steem as well as adding other paradigms to the steem blockchain, by incentivizing and mining other virtues apart from reputation thus, evolving each human into eventual SteemGiggers (Dream-Builders).
To do this, we have to allow room for everyone, not just experts, gig creators or freelancers.
SteemGigs will thus, allow contributions from "everyone", incentivizing niche-based learning and contributions. The incentive offered will not only be "potential financial rewards". We create "reasons to learn and enhance niche-based knowledge" e.g by means of creative contests etc. We will create a culture of "not letting a day emptily slip by".
Thus, beyond just a freelancing marketplace, we now have a core segment of SteemGigs called "SurpassingGoogle".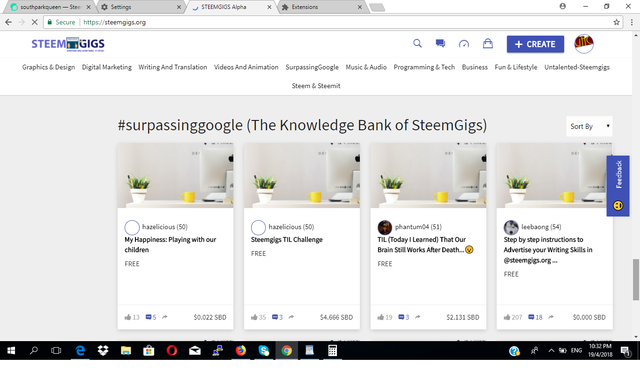 This is the knowledge bank of SteemGigs. It will form the most dynamic knowledge bank in the freelancing industry, courtesy of the minds and experiences of reputable steemians.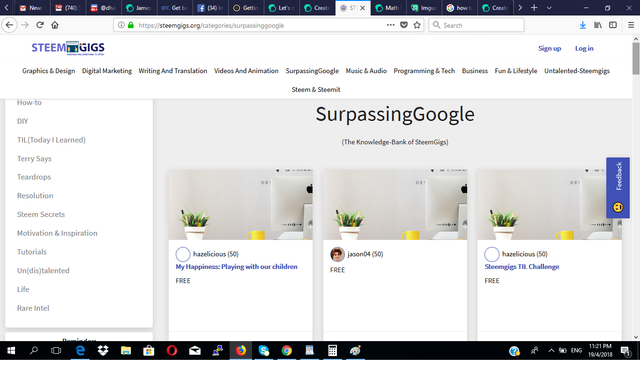 This is a very important segment of SteemGigs. On SteemGigs, "everyone has something to offer". "Everyone" will eventually become a "dream-builder" (SteemGigger), building their dreams and those of others. 
To accomplish this, we create a bank, for "deposits & withdrawals" of all the bits & bytes that we will ever need to build any dream (however limitless). We will vault all this knowledge in our bank, in the form of unadulterated excerpts from the brains, lives, experiences etc of "reputable great minds", specific to every niche, field, industry, expertise etc. 
"By means of your incessant contributions, we will surpass Google (attain limitlessness); reshaping the worldwide web with the freshness of our awesomeness".@surpassinggoogle 
The "SurpassingGoogle" segment comprises of several categories, which are enlisted below:
Note that each of these categories allows you to withdraw or deposit specialized knowledge.
How-to: Teach us step by step, in your own perspective "how to" knowledge. Make sure it is specific to a niche, expertise or industry. Else, visit our "how to" post catalog to read, learn, engage and curate. 
DIY: Do you have some DIY knowledge on a specific skill, craft or expertise? Why not create a post about it right now! Don't let this knowledge stay redundant. The world needs to hear it! You can also learn from the DIY knowledge shared by others. Visit our catalog!
TIL(Today I Learned):  "Don't let today emptily slip by!" Did you learn something today; anything? Can you explain it bit by bit using your own perspective? Share it with us, for the sake of "everyone".  Else, visit our "how to" post catalog to read, learn, engage and curate. 
Terry Says: Are you mentor-like? Have you climbed that ladder? Have you attained "breakthrough success" in a particular field, niche, expertise or industry? Kindly, tell you us about. "The world seeks this very knowledge!" Else read, learn, curate and engage from our ever-growing catalog of posts.
Teardrops: Have you attained breakthrough in a specific niche, field or industry? Was it back-breaking? Did you pull through? Did you retire? Did you tire out? Share your teardrops (moments) with us, related to a specific niche, field or industry. This will inspire others and direct potential helpers you way. You can also visit our catalog of posts to learn from others.
Resolution: "Dreams are buildable but aren't that buildable in a day". @surpassinggoogle. You will need to start with today, with a tiny but very specific resolution e.g "Today, i resolve to learn module 20 of Photoshop". Share your resolution with us now and tell us when you meet it or fail to meet it. Else, visit our catalog of posts to read and learn from the resolutions of others.
Steem Secrets: Have you considered integrating "steem" (even if only in your mind's eye) into every field, niche or industry? Why not try it now, using your next SteemGigs post? "You just may create the next use-case for steem". Try it now! Else, visit our catalog to read, learn, engage and curate.
Motivation & Inspiration: Yes, there is general "motivation" and there is general "inspiration". However, do you know how to create "specialized motivation or inspiration", related to a specific niche,field, expertise, industry etc? Why not share that with us or at least try. Otherwise, draw some of such inspiration or motivation from our catalog of posts. Don't forget to engage and curate too! 
Tutorials:  On SteemGigs, there is room for "everyone" but not "everyone" is an expert yet. However, we want "everyone" to become a dream-builder (SteemGigger). Thus, kindly share. Else, visit our "how to" post catalog to read, learn, engage and curate.   
Un(dis)talented:  If we eliminate bum, average or smart; "we are genius". @surpassinggoogle. Do you have limited confidence yet want to express yourself freely about any niche, field, expertise or industry etc? Relegate "reservations" when you are on SteemGigs. Just speak! Else, visit our "how to" post catalog to read, learn, engage and curate.  
Life:  Many times, when it comes to attaining "real greatness", the only thing that was missing was "unadulterated INTEL from the school of life". @surpassinggoogle. Share with us "life" knowledge, related to a specific field, niche, industry or expertise. Else, visit our "how to" post catalog to read, learn, engage and curate.  
Rare Intel: Do you know something that isn't very common knowledge? Has it stayed redundant in your head? Kindly share it with us, for the sake of everyone. You just may reveal the ever-missing piece of someone's puzzle. Else, visit our catalog of posts, to read, learn, engage and curate.
Each of the categories above has its own specialized editor with style guides, allowing you to contribute your knowledge specific to niche, expertise, field or industry.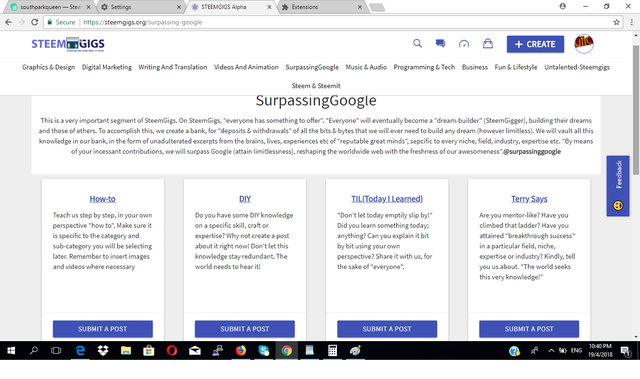 Before submitting a post, you will be expected to chose a category and subcategory, related to a specific niche or industry, as is existent across SteemGigs e.g if you chose to contribute content under TIL (today i learned) and you chose the subcategory "logo design", then the knowledge you will contribute, has to be related to "logo design" either based on your experience, expertise etc. 
If you are not an expert on the topic e.g "logo design", then, you have an additional incentive to learn something new, through research and add your contribution. Going through this fun endeavor will help you enhance your learning but in this case, it will be specialized knowledge related to dream-building, steering you into becoming a better dream-builder (SteemGigger), plus, you would have deposited specialized knowledge into our SteemGigs knowledge-bank, for the sake of everyone.
We want to gradually attain a stage where our knowledge-bank contains every knowledge that you will ever need to become an expert, dream-builder; "an eventual SteemGigger" capable of offering your gigs or services in exchange for steem, SBD or steem power.
Too, we will reshape the entire internet with fresh content daily and enhance general content across the steem blockchain, becoming the face of the internet and attracting the elites of the world who constantly seek specialized knowledge. The amazing thing is; "they will find this knowledge for free".
There will never be lack of posting ideas for steemians too. Whenever, you don't know what to post about, you simply will need to visit https://steemgigs.org; scan through the countless categories and subcategories; do research to learn something on your chosen niche e.g TIL or How-to style, then contribute a post in your own words and perspective.
The "SurpassingGoogle" segment will continue to store a database of these contributions and display a searchable and categorized catalog of these posts, becoming a home for learners, enthusiasts, researchers and aspiring SteemGiggers (Dream-Builders).
The Gig segment (Freelance Marketplace) of SteemGigs will be the core segment of SteemGigs and its face.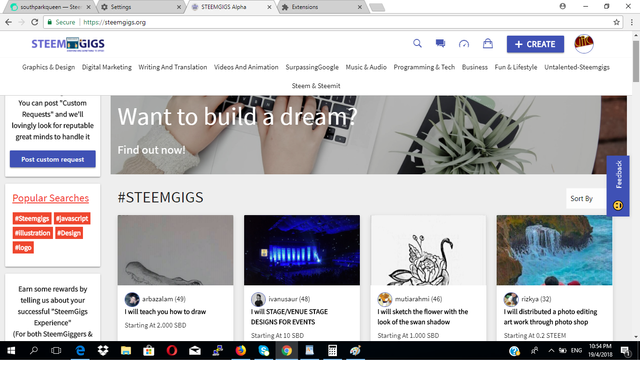 Basically, we will present SteemGigs as: A Revolutionary Decentralized Freelance Marketplace With Its Own Knowledge-Bank. 
Ultimately, we are in the Dream-Building business.        
The Gig segment or Freelance Marketplace of SteemGigs is the actual center where dream-building takes place. Thus, we will concentrate manual moderation here, to ensure that reputation is maintained and gigs created are "really offer-able (valid) gigs". 
Thus, the GIG create editor will have certain limitations and we will have a moderation portal for moderators to help us decide what will constitute valid GIGs. 
Exemplary Gigs will be featured and promoted to further visibility by means of the @steemgigs account.
More aspects of SteemGigs will continue to unfolding over the course of time. Our strong point is community and this makes SteemGigs bigger than simply a freelancing marketplace. With our community, we can build each noble dream.
We are seeking coders/developers to help, by means  of utopian or direct contributions. I would like to invite all     coders/developers,  to show up on our SteemGigs development channel. 
Kindly visit and use our steem-based website today
https://steemgigs.org
Note that on SteemGigs, "everyone has something to offer". At the very least, you can update your profile on our website to open yourself up to more potential possibilities and improve your  general reputation even within the steemit community.  
To create awesome steemit posts, try our "Un(dis)talented Editor". 
Read our detailed FAQ & Answers  
I do need strength
Dedicating My Entire Steem/Steemit Journey To My Mum
If you want to support an extra witness and you support mine "steemgigs", it will be really helpful. 
To vote my witness, simply visit https://steemit.com/~witnesses and type in "steemgigs" into the first search box for witnesses or simply click Here to do it on one click! 
If you want me to make witness voting decisions on your behalf, simply visit https://steemit.com/~witnesses and type in "surpassinggoogle" in the second box for proxy.            
Let's Go!!!
Offer a service under hashtag "steemgigs". Attempt out-of-the-boxness on hashtag (untalented). 
Join the Steemgigs Community on discord: https://discord.gg/CGuPyyT  
"Everyone has something to offer!" Why not?