In previous episodes of SteemFit, I introduced you to different parts of a healthy lifestyle, here is a quick recap:1. Introducing SteemFit // 2. Yoga - Sun Salutation // 3. Nutrition - Healthy Breakfast  // 4. 20 min. Workout Routine // 5. Nutrition - Healthy Snacks //  6. SteemFit - Nutrition #2 // 7. Steemfit - Brain Training #1 // 8. SteemFit - Cardio Partner Workout! // 9. SteemFit - Tennis Time! // 10. SteemFit - Intense Workout Routine // 11. SteemFit - Full Body Partner Workout
STEEMFIT  
Optimum health requires the mind, physical body and spirit to be in balance. SteemFit is focused on taking care of your health, your well-being and a concept for busy people with limited time. SteemFit stands for a balanced health and work life. Today's episode is different from all other workout routine episodes, because this time I'm not at a regular gym, but at a hotel in Barcelona.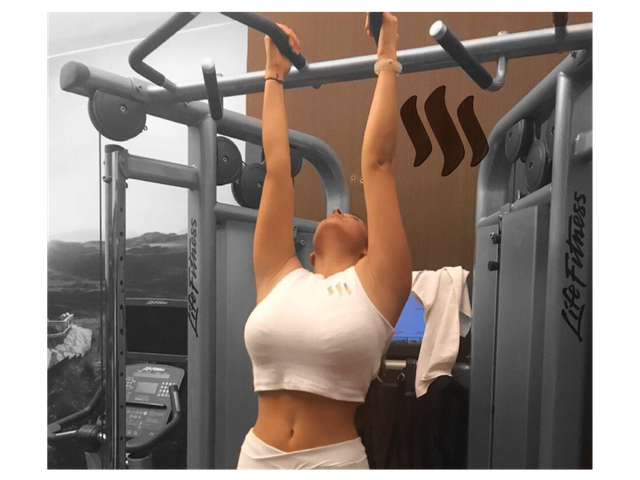 (obviously repping Steemit gear)
Staying Fit During Travels
Maintaining a healthy lifestyle is not the easiest (in general), but it's even harder when you're out in the world, somewhere in a different country, without your gym, no dance class in my case, amazing food and a lot more distractions around. Even though I am consistent when it comes to working out, the first days in Barcelona I did not think about it one and that is OK. It's important to enjoy yourself sometimes and get a break, but after a few days and especially after eating many lovely treats and only little walking, it was time to get back to work!
So @soldier and I decided to check out our hotel's gym. In the case you don't have a gym hotel while traveling, no worries, there are plenty more options! 
Cardio first! 


There are many workouts you can do, without a gym or equipment. For example, the "spider-man" for Abs:

I always recommend starting with body-weight to wake up your muscles and then add some weight:

No shoes? No problem.. The great part about a small hotel fitness gym is that there nobody cares what you are wearing. So if you feel like wearing slippers like @soldier feel free..

Maybe you could tell that under my workout gear, I was wearing a biking so that after our workout we could go straight to the pool area..



And without hesitation I dropped in the cold water

Swimming is an amazing way to work out while having fun!

As a cool down I did some water floating..

More Pool Fun..


And when we got back to the hotel I realized how great I felt! I love to feel strong, feel my muscles working and growing and especially if you have a beach or pool, the reward afterwards of going in the water is the best! Instead of laying in the sun, not moving, go for a run on the beach or go swimming.. and if you don't have a beach, pool or even gym around you can still go outside to the 
There are many ways to get your workout in, while traveling. Wherever you are, you can always run and do exercises. Especially on the beach, it's tough, but fun at the same time.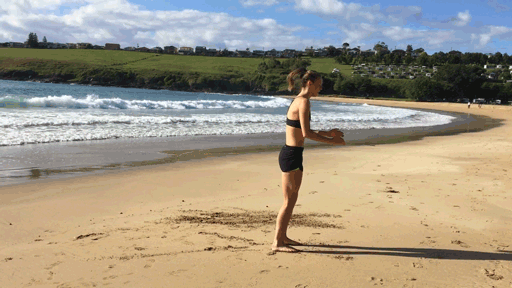 I hope you enjoyed this Episode and use it as a reminder to stay fit on your next trip. No excuses!
Question OTD: What's your favorite exercise that you can do on the spot, no gym needed?
Much love,
- Mrs.Steemit