I want to start with that this was a difficult decision and I took it very seriously because I know it means a lot to the people who entered the contest. Although I would love to just give every one of my finalists a ticket, I had to make a choice. Although I did say I would be giving two tickets away, that just wasn't going to work... so I'm making it three 😉 😱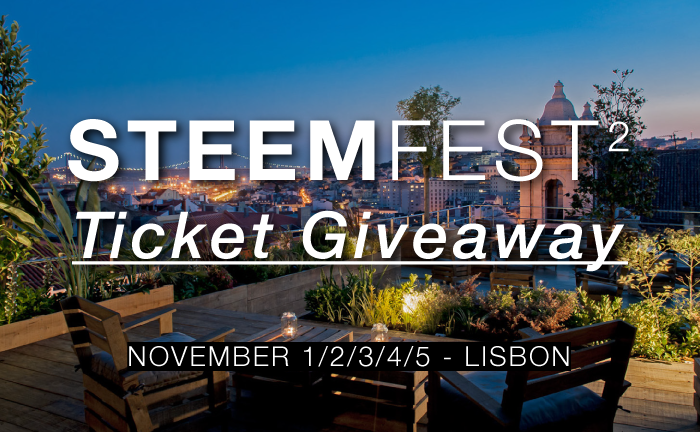 Yes You Heard Right 3 Winners!
And yet by expanding it to 3 I still had a difficult time selecting so without further ado, the winners are:
I am determined to attend SteemFest2 no matter what! - But I need a bit of your help
Your story was inspiring and you really blew me away with your devotion and great attitude towards life! I am very happy to be awarding you with a ticket to STEEMFEST 2, its well deserved and if you do half of what you say you will, I will be honored to have help sponsor your determined restless nomad journey to STEEMFEST 2 👍 Cant wait to see you in Lisbon!
Make Mine & @dayleeo dream come true
Lets start with the... here it goes.. honesty 😉 but seriously always a big plus in my book! I can see from your passion that you would 100% be a great addition to STEEMFEST 2! I would be honored to support your big endeavor by awarding you a ticket! That being said this will only be for one ticket, I thought hard about giving both of you and @dayleeo a ticket, but I had several other finalist and it was hard to exclude all of them. I also know that you both will be at STEEMFEST 2, there is no doubt in my mind! I didn't want to miss out in helping you guys close the loop 😀 ! Will be great to see you both in Lisbon!
❤️ Entry for BlueOrgy's Steemfest competition (My First DTube VIDEO! 📹) ❤️
You guys are very positive and I absolutely loved the video! You seem to have had a lot of fun making it and your attitude is just refreshing! I would love to see you both you and @acromott at STEEMFEST 2. Sadly I can not award you both a ticket, but I hope this doesn't deter you from making your way to Lisbon. I know you both would be a great addition and with that acroyoga class bring something unique to the table! I know that @saramiller, @everlove and the group would love you guys ;), maybe a duel class is in order?!? Hopefully see you both in Lisbon!!
---
☞ You guys truly made it a difficult decision with so many great entries into the contest and I'm sorry that I could not award you all a ticket! If you are one of those selected above please comment below (which you obviously will be doing anyway 😜) and we can make contact to figure out your current plan and the ticket logistics 👍
---
Other Finalists
Damn did they make it a tough choice! Thank you so much for you entries!
@virtualgrowth
https://steemit.com/steemfest2-giveaway/@virtualgrowth/my-steemfest-2-ticket-giveaway-nomination-and-entry
@luzcypher
https://steemit.com/steemfest2-giveaway/@luzcypher/help-send-steemit-open-mic-to-steemfest-2
@art-universe
https://steemit.com/steemfest2-giveaway/@art-universe/looking-for-some-support-to-go-to-steemfest-2-and-why-i-wanna-participate
---
Don't Give Up
Just because you didn't win this contest doesn't mean you shouldn't go to STEEMFEST 2 its truly going to be epic just take a peak at @roelandp's video below , trust me... it really will be...
Creamy and Delicious!
I want to thank all of you who supported the giveaway posts and hopefully before STEEMFEST is upon us I can do this one more time! Wouldn't that be awesome? ummm Yes!
---

---


1. Go to the Witness Voting Page on Steemit.com
2. Scroll down to #46 blueorgy
3. Simply Click the UpVote Button!