So, 'someone' wants us share how to budget our Roads to SteemFest! Money is part of life, and certainly part of The Road to SteemFest - but it's never my favourite topic to talk about. For now I'm job hunting and most readers that have been following me a while longer know how the past few years haven't been easy for me health-wise - which has put a big dent in my financial planning and savings.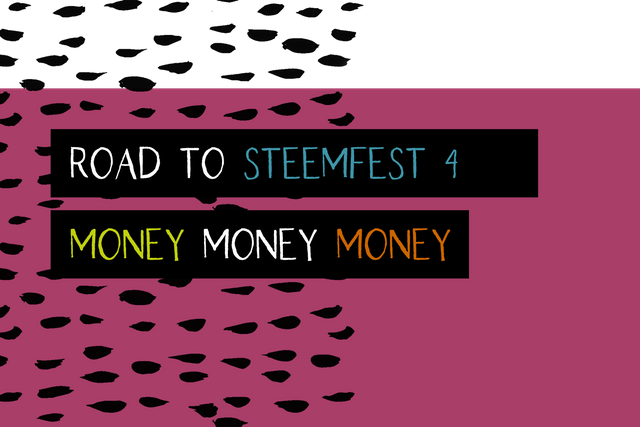 A trip all the way to Bangkok is therefore absolutely not a logical thing for me to do at this moment in time.
But here we go.
As I'm still hopeful for some sort of good things happening in the coming months and I also sort of can't imagine myself not being there as it was so amazing and uplifting last year.
Simplified budget: flight, hotel, conference ticket
---
Figuring out costs for this thing is actually pretty simple: I need a flight, a hotel, and a conference ticket.
Of course there's the smaller expenses, like some drinks and food, some transfers both in my own expensive country as well as in significantly cheaper Thailand. For simplicity I'll just keep those out of the 'budget' as it's mostly costs I would probably make in some way or another when staying at home as well - plus a little but more but that's probably going to be manageable if I can make it through the first part of expenses.
Flight to Bangkok: 3339 STEEM
---
The biggest chunk of the budget will go to the flight from The Netherlands to Bangkok. I know I know I can probably make this a little cheaper by adding a few more stops. But since I travel with medical assistance, meaning someone is picking me up from and to the gates with a wheelchair, transfers to me are pretty much really boring as I'm always at the gate way too early and I have nothing else to do but wait.
It's also pretty annoying to be dependent on another person to get you to a certain place in time. So forgive me for minimizing the amount of transfers I want to make to one (1): it halves the cost of the flight to add one stop, but adding another stop will not halve it again. So one (1) stop is pretty much the optimum for both cutting costs and not adding too much extra hassle to an already big trip.
With all of this taken into account I can find a flight ticket for about 540 euros, which translates to 3339 STEEM as I'm writing this post.
Hotel in Bangkok: 1664 STEEM
---
Staying at the conference hotel is super convenient, and although I did stay in an Airbnb apartment at SteemFest 3 which is pretty much the best thing to do if you are an introvert like me and want to have some alone time during breakfast (haha), I would want to stay at the conference hotel this year. This has much to do with my suspicion that Bangkok is a lot less easy to navigate for me while I walk with my walking support and I don't want to spend this very scarce 'foot power' on just getting from and to the conference location. So there. I could save some money by not staying in the hotel but I'll probably gain a lot more fun and save some pain by staying in one of their reasonably priced rooms.
All in all the hotel room will cost me 1664 STEEM for the stay if all works out with flights and stuff, if not and I have to arrive a bit earlier or later then one or two more nights would be necessary.
Ticket for SteemFest entrance: 2946 STEEM
---
Well, that's pretty much straightforward as @roelandp made a nice widget on his website where you type in your name and based on your current Steem Power it shows which 'class' of Steem Fish you are and what your ticket will cost you. After generating payment links it will also show you how much SBD or STEEM the ticket will be.
645 SBD or 2946 STEEM is what I'd need to pay for a regular SteemFest ticket. Now I know I can choose for a Minnow or Plankton ticket and Roelandp leaves this decision entirely up to you. But I did buy a plankton ticket last year when I had only 3000 Steem Power and felt I really was a tiny fish in the sea. One year later I'm a bigger fish though, and after I experienced what is included in the SteemFest ticket it really wouldn't sit right with me to not pay the regular ticket price.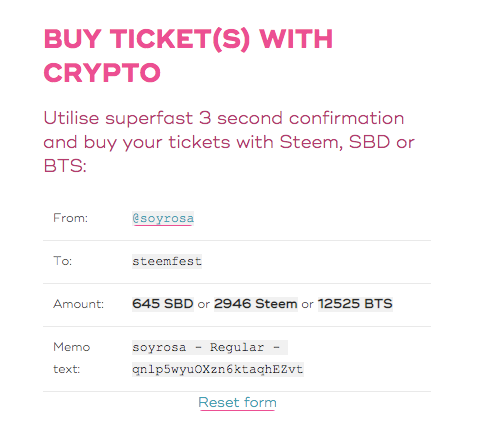 ---
There's a difference between 'expensive' and 'a lot of money', in this case a ticket is a lot of money, but for what you get in return it's not expensive.
Seeing from the @steemfest wallet transfers only 3 people so far have paid their tickets in STEEM, which makes sense as it's an incredible amount of STEEM to pay if you're 'just' an author/curator. Most don't earn that in a year from authoring and/or curating :-)
To sum it up:
---
7949 STEEM is what I need to attend SteemFest. This is the minimum though. As I said I didn't factor in 'other expenses', and also: these are the prices if I book TODAY. Which I can't. If I wait longer then the SteemFest ticket price will go up (after the end of this month). By then, flights will be more expensive too as November is a hugely popular month to fly to Bangkok. And what's worse: maybe the hotel rooms will not be available anymore because these rooms are limited, of course.
I don't know if I will go at all if I had to stay further away from the conference location, for reasons I shared above.
That does mean that at this moment in time I don't see myself going to SteemFest. And if I'd have any chance of making it I'll have to make it work in the next two weeks.
So let's see.
How to make 8000 STEEM in two weeks? :')
Tips are welcome :D
I do have 113 STEEM in my savings balance from my RoadtoSteemFest post payouts, so at least there's a start :D

---
It sort of calms me writing this down. It suddenly made it real for me and shows that it's really out-of-reach for me to go at this moment in time. It will sadden me immensely if I can't join all the awesome Steem peepz but either something incredible happens in the next few weeks, or I'll just have to stay back home and trust that that's what's best for me, for now.
IF I somehow got my hands on the amount of money needed to go I'd go in an instant.
Who knows, miracles do happen, sometimes.