SteemFest: An experience that changed my life forever & how we can strengthen the Steemit community (Part 1)
Can I just say... WOW. Saturday was an unparalleled experience that will not soon be forgotten. This post doesn't do the day justice, but hopefully, it still captures some of the magic.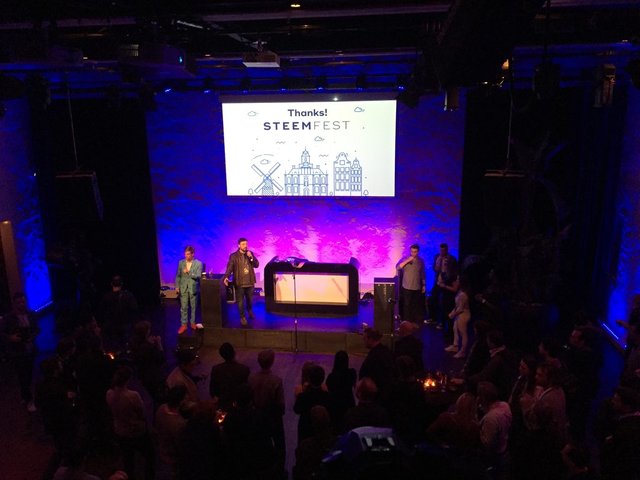 The gang is up and on the boats at 8:30am.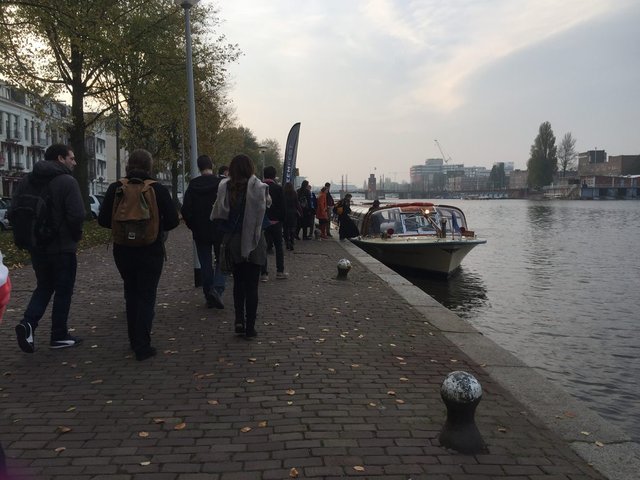 Despite the early morning, nothing could rain on the Steemit Parade. (Even the actual rain.) This was my first time seeing Amsterdam from the water since arriving on Wednesday. I'm still amazed at the elaborate houseboats, which, according to a taxi driver, are only owned by the richest people in Amsterdam. The tour guide also shared that the houses themselves might not be worth much, but the space on the river costs millions of euros.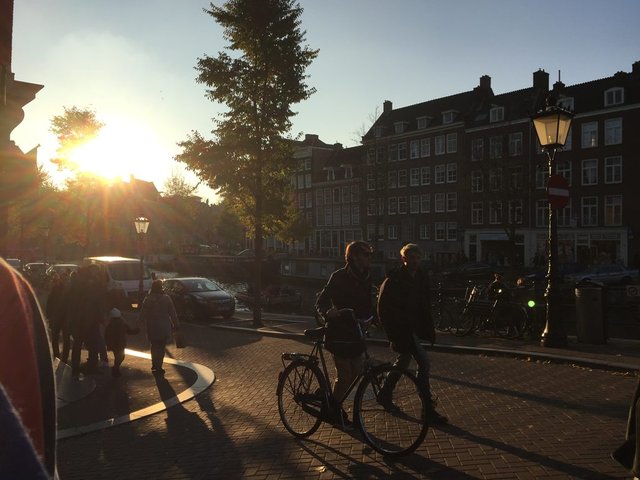 Did you know?
There are about two bikes per person in Amsterdam. 15,000 bikes have to be fished out of the canals every year! Also, if I were a bicyclist here, I'd be scared out of my mind! There seem to be no rules whatsoever. Cars, pedestrians, cyclists, and moped riders move around the narrow streets in total chaos. Quite fearlessly too, I might add. As tourists,
@shenanigator
and I looked both ways five or six times before darting across streets. Locals, however, just go for it -- cars, trains, and cyclists be damned. 😂😳
Amsterdam, you are beautiful.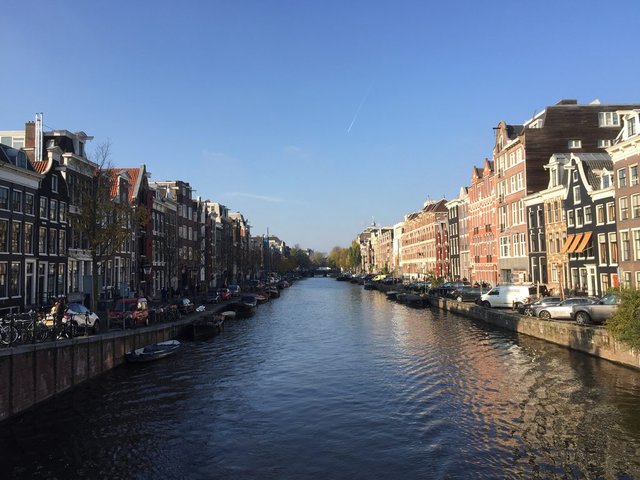 Everyone is so incredibly peaceful and carefree in this town. There doesn't seem to be an overwhelming amount of stressful energy coming from every person like I'm used to feeling in Phoenix. (It makes me never want to go back, honestly.) If I got to wake up to this every day, though, it would probably be hard to be stressed. The city is stunning. After being here for 9 days, I can say without a shadow of a doubt that:
I need to travel more and experience other cultures. Being in Amsterdam has been eye-opening to say the least.
I was born and raised in Phoenix, Arizona and haven't lived anywhere else, but I'm ready and anxious to leave my home state once and for all. When I was 13, I went to visit my best friend in Portland and made up my mind that I'd move there. This was confirmed when I traveled the US for a year in 2013 and visited again, but situations changed and I've needed to stay in AZ after graduating college. This week made it clear to me that my time in Phoenix (possibly even the US) has expired. @shenanigator and I are currently learning Spanish, so it's likely we'll move to a Spanish-speaking country, but nothing is comfirmed yet. (Open to suggestions!!)
SteemFest Day 1 begins! Kicking off the day at the Tobacco Theater, the one and only, @roelandp!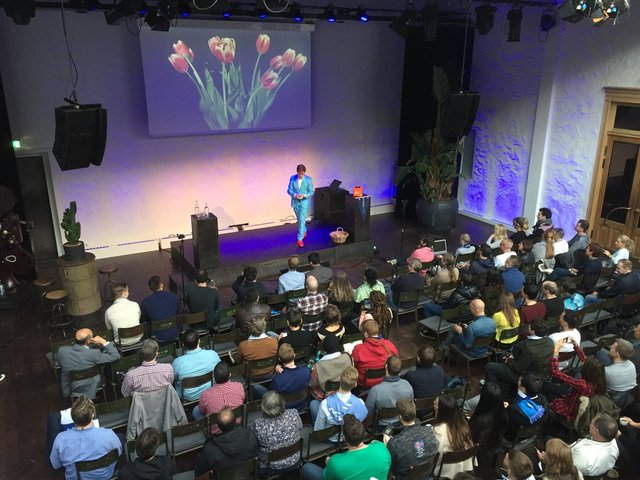 Hard to see in this picture, but he's rocking at brightly colored tulip suit! All his little one-liners throughout the day had everyone laughing and in good spirits. Little did we know, he's actually a wizard... I say this because throughout the day he was:
The event organizer/coordinator (a phenomenal feat on its own);
The MC the entire day, announcing the presenters and keeping everyone on track;
A panelist for the developers;
A standup comedian;
A father, running his own personal "daddy day care" for a portion of the day;
Is there anything you can't do @roelandp?? YOU ROCK!!
The long-awaited speech by @ned.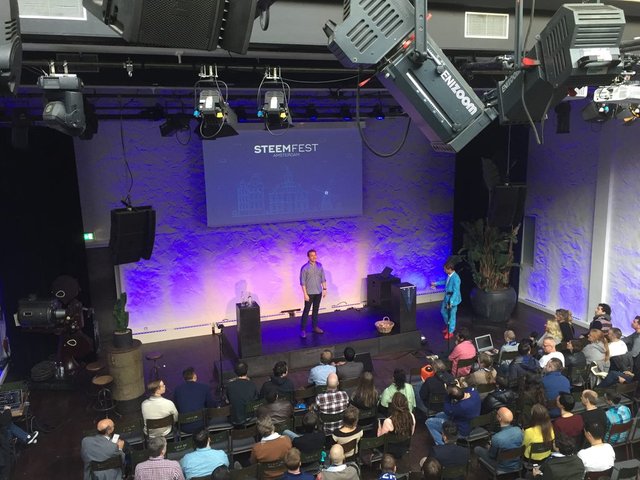 I'm sure everyone can agree that this talk has everyone fired up about being at SteemFest and, more importantly, being part of the early adopters of Steemit. One of the most powerful statements was,
"This is what it's all about." 200+ people at SteemFest who are dreamers & believers in creating something better.
He also shared that in the beginnings, it was just a group bootstrapping in the basement, but none of that mattered. You do what you need to for a greater purpose, and sometimes that means getting scrappy. It's all about the "why." (One of my favorite concepts to live by, originally learned from the book "Start With Why.")
One of @ned's closing statements was, "When we work together as a cohesive group, we can be strong." To which I say, HELL YEAH! With the power of community, anything is possible!
With every passing moment at SteemFest, I become more sure that this is a cause that I want to dedicate my own passions and talents to.
@ned
and
@dantheman
, are there any "holes" that need filling at Steemit HQ? I briefly talked to
@sneak
about donating my time to help with social media, but I'm sure there are other opportunities with alignment. Personal chef, anyone? ;)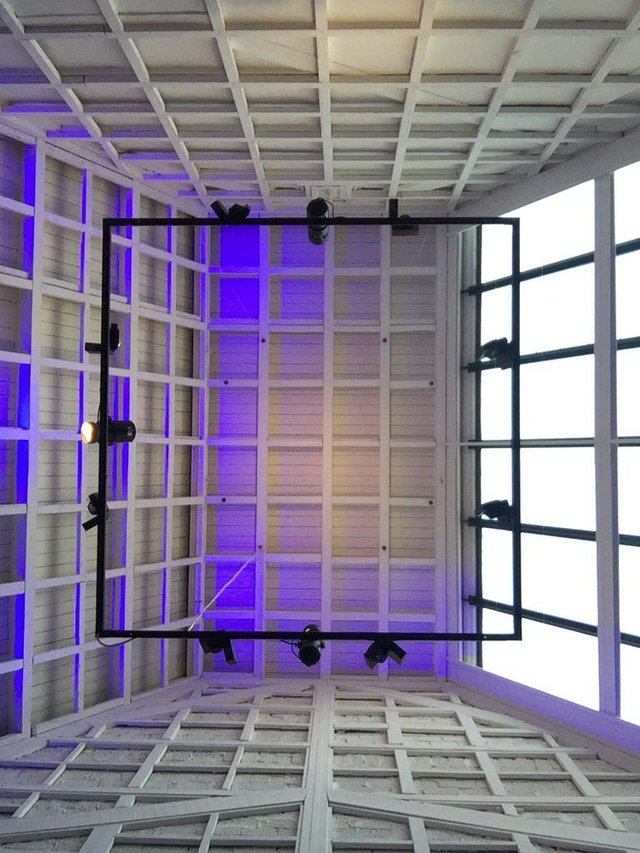 Random perspective of the Tobacco Theater during @xeroc's "Blockchain 101" presentation.
It was here that I learned for the first time that Steemit is on
a
blockchain, not
the
blockchain, which blew my mind a little bit. (Still does.) For some, these might be really basic concepts, but joining Steemit in August was the first run-in I've ever had with
a
blockchain, crypto currency, and other related concepts. Less than 4 months later, I'm starting to feel much more comfortable with it, which is a really awesome thing. Steemit did that! And it's going to bridge the gap for more people in the near future. That's a ridiculously cool thing!
My favorite talk of the day by @neilstrauss: 15 Secrets to Addictive Writing.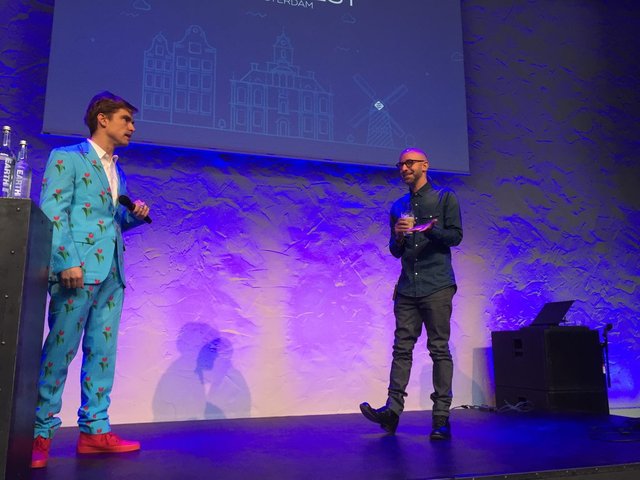 As a Content Strategist myself, I gained a lot from this talk. Some concepts were familiar, but a nice reminder, and others were brand new but enforced useful and strong beliefs. A few of the biggest takeaways:
What's your passion? It's usually what you did as a child that your parents or teachers never asked you to do. It's also the thing you'd always keep doing even if there was no money or reward involved.
Assume no one gives a shit. It's your job to make them care. (A difficult pill to swallow, but one of the best reminders to always add value through writing/actions. He later added to always listen to your audience, since they will help guide you.)
Create open loops when writing to keep readers intrigued. More on this later.
Be authentic and don't hold back emotions. This is huge. Many, including myself, try to paint perfect pictures of life and situations, but that's not "real."
In a tweet, I wrote, "Stellar advice from @neilstrauss: Do creative work in the morning, save emails & "reactive work" for 4 hours later. YES." This is one I've learned before, but was glad to hear again. After the brain has sorted out problems during a good night's rest, the worst thing to do is pick up your phone and start scrolling through social media feeds, responding to texts, etc. Instead, it's better to exercise the creative muscles when those "reactive" stresses aren't hindering you. LOVE. THIS. CONCEPT.
(There were 10 more of these concepts, but in abiding by another nugget of advice from Neil, I'm going to cut out as much as possible and exercise attempt some brevity.)
The Steemit Witness Panel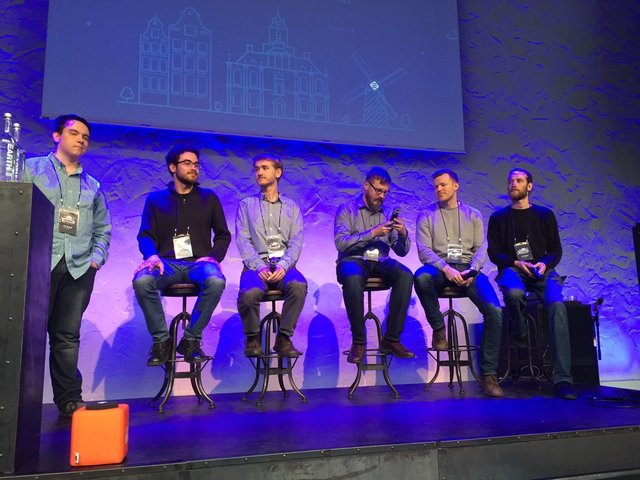 Pictured here: @picokernel, @roadscape, @anyx, @riverhead, @svk, and @pharesim. Before the panel, I didn't realize all the work and effort these (and other) witnesses are providing to better the platform and support the community. Through financial donations and side projects, we learned that:
@picokernel is working on an "Instagram for Steemit" app (plus another app called Busy)
@roadscape works on the front-end development for Steemit.com
And those are just a few examples. It makes me wonder whether others also have a foggy understanding about just what witnesses do or why they are paid. With more clarity on this topic, I think the Steemit community could support them better, which would actually create a healthier feedback loop.
Wait, I only got halfway through Day 1?! Guess this post needs a Part 2!
In the mean time,
please comment below
if we meet at SteemFest so I can follow you and stay connected. I can't possibly express how much I enjoyed meeting everyone this weekend. I am overwhelmed and overflowing with good energy. Couldn't be more enthused about being part of this community--there aren't many the world like it, and I know this has changed my life forever.
Lots of love to the special individuals @shenanigator and I met this weekend:
In no particular order (and I hope I didn't forget/misspell anyone's name!):
@rea
,
@ezzy
,
@wingz
,
@michelle.gent
,
@fifigyuri
,
@ned
,
@fabio
,
@shortcut
,
@shaka
,
@allasyummyfood
,
@timsaid
,
@twinner
,
@prufrarchy
,
@gargon
,
@daniel.errey
,
@rocket.chat
(aka
@gabriel.engel
),
@furion
,
@roelandp
,
@guerrint
,
@demotruk
,
@burnin
,
@dan-atstarlite
,
@marketingmonk
,
@bastiaah
,
@roadscape
,
@anyx
,
@svk
,
@riverhead
,
@pharesim
,
@bloggersclub
,
@mrs.steemit
,
@sneak
,
@andrarchy
,
@kevinwong
,
@xeroc
,
@blocktrades
,
@good-karma
,
@liondani
,
@seanmeeh42
,
@ericvancewalton
,
@everlove
,
@saramiller
,
@tatianamoroz
,
@logic
,
@lafona
,
@wmougayar
,
@picokernel
,
@wadepaterson
,
@robrigo
,
@fairytalelife
,
@comealong
,
@originate
,
@steemychicken1
,
@opheliafu
,
@terrybrock
,
@cryptos
,
@s0u1
,
@ballinconscious
,
@beanz
,
@sjennon
,
@pollux.one
,
@l0k1
,
@sneak
,