It was quite a busy week, releasing https://steemwallet.app and a visit to Kraków. In this update more about that!
Hotels still available, please book before mid-september (within 2 weeks) to not miss it.
Sponsor in the spotlight: Scorum (@scorum.community, who is also giving away SteemFest tickets!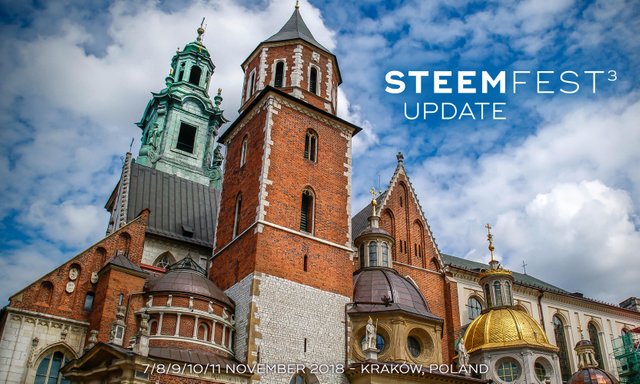 Wawel Cathedral by Gabriela Fab on Flickr
I've just returned from my trip to Kraków and I must say the city and it's people served me well. The atmosphere was just so laidback, like the rippling river Vistula. Also everyone seems to speak English and the food was delicious!
My Kraków schedule was stuffed with meetings with multiple venue visits, suppliers and shooting a little venue introduction tour video (will take a little bit of editing before releasing). In the mornings I used the Wavelo bikeshare program to cycle to practically anywhere in town (19 zloty (5 euro) one-off fee per month, 60 minutes free rides per day).
In the afternoons I got help from @gtg / @gandalf who not only came by car from his hometown every day to drive me basically around, but also took me to lunch and moreover helped explained what this crazy "SteemFest guy from Amsterdam" and Steem in general was all about to all venue managers, in his native tongue, Polish.
At nights I had a couple of meets and talks with @breadcentric (who gave me, as Polish tradition goes, a home-baked bread, which was delicious!) and @hashcash and @nathanmars, whom got from Warsaw to explore Kraków and interview locals and visitors, and they also did a (quite lengthy :D) interview at Mound Krakus, which was great and I think will be posted @hashcash' blog in some parts and days.
In between also behind the computer, setting up a HF20 testnet node and then also writing invite letters to many (mainly Nigerian) steemians whom I all wish luck with the Schengen VISA application (which can truly be a b*tch in these countries), who are getting sponsored by @dimimp's fabolous give away (!!!).
Note if you need an invite letter for the event (which is NOT a free ticket, just an official event invitation letter some visa applications require), check the https://steemfest.freshdesk.com FAQ site for infos on what I need from you.
I also visited both hotels Qubus and INX Design hotel which are literally on both sides of the bridge and 250 meter walking distance in between them. INX told me that only about 35% of rooms is left, so please, if you want to stay close to the heat, act fast, there are cancelation options included, so don't miss out! Btw, it is not obligatory to book one of the hotels.
To book the hotels, please use for the Qubus the bookingcode 'steemfest' and for INX also, but INX Design only uses email to book with the SteemFest discount, so just click "Book INX" on https://steemfest.com/#hotels to create a pre-formatted email for them. More answers about the hotels in the FAQ: https://steemfest.freshdesk.com
New names announced:
---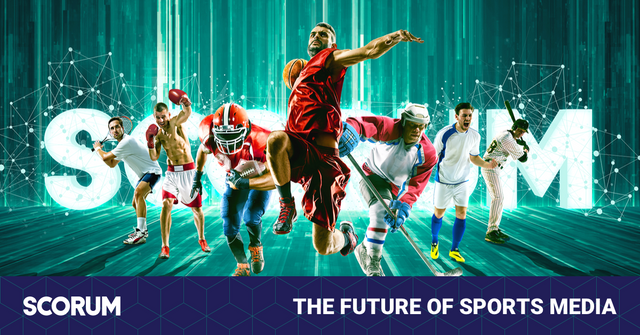 Sponsor in the Spotlight: Scorum - @scorum.community (including SF tickets raffle)
As you know, SteemFest is not for profit. Sponsorships are used to offer a discounted ticket price (50% off cost price is the plankton level) to have as many people attend the SteemFeast in Kraków. So especially if you buy a Plankton or Minnow ticket, you gotta thank these fellows when you see them in Kraków:
Scorum uses the open source Steem software as a basis for their platform which revolves around 3 sports related features:
Sports blogging: users can write & share game reviews and other sports related stories, basically just like how you would post stories on Steem. See https://scorum.com/en-us/ for the frontpage.

0% commission fantasy sports game, fed by Scorum's own sport-stats platform, where you can compose your own fantasy team, play fantasty games and win SCR tokens.

(to be released) sports betting platform
I encourage you to checkout Scorum, it's whitepaper and also their recent announcement here on their @scorum.community steemit account:
---
https://steemit.com/steemfest/@scorum.community/steemfest-2018-ticket-giveaway-from-scorum
---
Ongoing SteemFest ticket give aways
Have a nice weekend!
Greetings from Amsterdam,
---
SteemFest tickets now on sale on steemfest.com
Ticket prices increase in 21 days!
read more about the price increase algorithm here
Liquid rewards from this post will go to organising @steemfest
SteemFest's ticket reductions are made possible by generous donations from: