---
---
After the recent discussion @kdnolan, @blakemiles84 and I had, I decided to draw out what could be the first Steem educational application for students at Wooranna Park Primary School in Victoria, Australia:
Sign Up: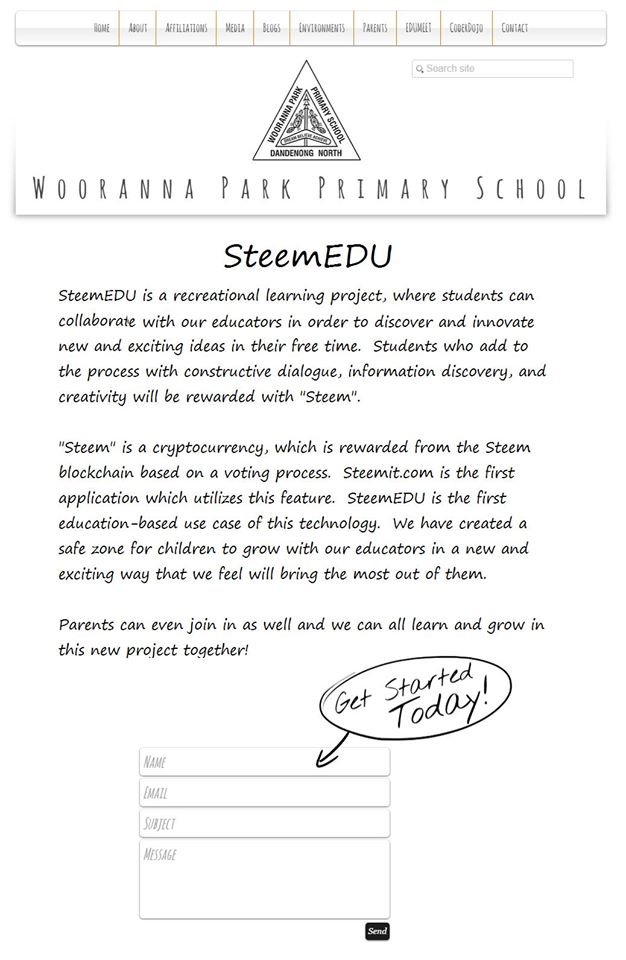 I figure the basic landing page would look something like this.  There would be links to Steemit.com and Steem.io at the bottom, along with one of the videos that Steemit put up on Youtube.
Parents with children enrolled who are interested in having their children participate would fill out the contact form below.  Wooranna would then review each application before emailing instructions for the signup process.
Once the parent is verified and perhaps agrees to some terms and conditions from Wooranna they would be directed to Steemit.com to create a Steem account for themselves and for their children.  They would then inform Wooranna of the created usernames and perhaps confirm with them through Steemit that they control each account.
Log in: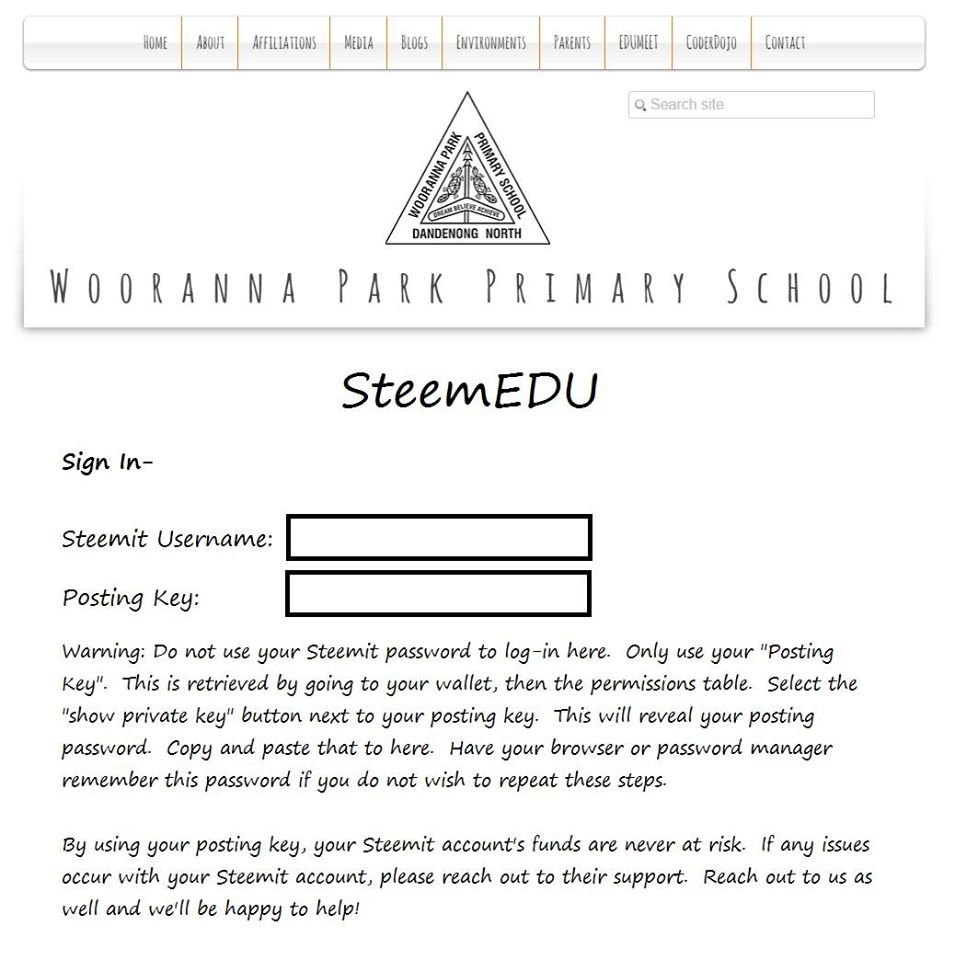 Once the confirmation process is complete, their Steem usernames would be "whitelisted" on Wooranna's Steem app.  Steemit users trying to sign-in who are not whitelisted by the school, will not be allowed access.
It is important to set this up so that funds are only accessible from Steemit, in order to eliminate additional points of failure where account keys could be compromised.  Therefore, their wallets would not be accessible from Wooranna's site, however all of the information would be there to view at any time.
SteemEDU: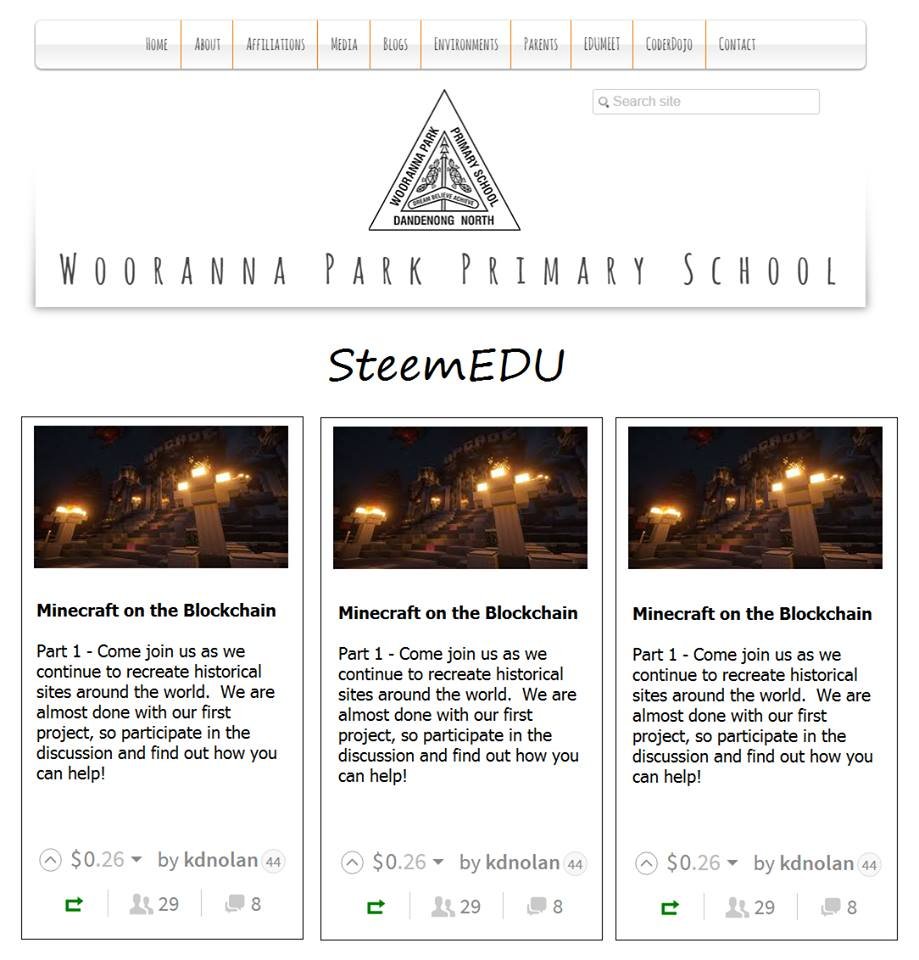 Once inside the app, the information can be laid out however we would like.  I think it would be best to have a sort of tile effect for each topic.  There would obviously be more than in the example above, but I figure you get the idea of how I envision it looking.
By clicking on the tile, you will be brought to the blog post within the Wooranna Steem app.  Once inside, the post will look very similar to here, with the comments below.  Teachers, students, and parents can all post and comment however they would like.
Teachers and administrators would be able to moderate at any point, in case inappropriate content is posted.  This would obviously be different than how we do things here, but I think it would be important for the school to have control over what gets posted or else they likely will not be interested.
It is important to remember that this would be using the blockchain to store the information.  So although you can moderate the Steem app, the content will permanently be on the Steem blockchain, visible only through separate apps.
What would happen?
If Steemit is any indication, we should see the students get very excited about this idea.  They will be able to join, learn, and grow together in an environment tailor made for them.  The best part is, they get to earn rewards that have real world value associated with them.  That sounds a heck of a lot cooler than some points you could earn playing a game.
I envision them diving right in and pushing themselves to learn more in their free time than many would expect.  I think the teachers will learn quite a bit as well through these endeavors, as the open environment will push topics to new and exciting depths, driven solely by the emergent curiosity that envelopes the participants.
Would the school need to invest?
No!  There would be no need for the school to invest in purchasing Steem power in order to push rewards.  Proxy voting will be easily integrated in the future on Steemit and I feel many would be interested in delegating some of their Steem Power towards this project.
In order to help start it off, I will delegate a significant portion of my Steem Power to them, once the time comes.  The school will be allowed to keep the curation rewards, in order to help them accumulate their own Steem Power.  Over time, I hope to withdraw my delegated steem power, only because the project is such an overwhelming success and no longer needs it.
What do we need to make this happen?
Kieran is beginning the process of setting up a Blockchain Education Foundation in Australia to back this project.  We feel this will give us much needed legitimacy and transparency as we seek to build this model out into more and more schools.
We will need talented developers who are interested in this idea to help us out.  We will look into setting up a bounty and a hackathon in order to help generate interest.  A donation page will also be set up in the future, but we are still in the early stages at this point and will hold off on accepting anything until the Foundation is finalized.
This is an open-source, philanthropic project that seeks radical new models of education through the Steem blockchain.  We want to be able to tailor make apps for each and every school depending on their wants and needs.  We also want to build a global platform, similar to Steemit, that is solely focused on education.  In addition, we'd also like to work on a translation Steem app, which Blake talks about here.
---
We feel Steem is the key that can unlock a new future for educational models around the world!
We regularly talk on Google Hangouts, and if you would like to join us or have any ideas to add, please feel free to leave a comment below!
---
Previous SteemEDU posts:
CryptoGoss Episode 30: steemEDU - Education on the blockchain
Steemit's Model Applied to Education
---
---
---
---