Steem Basic Income
Steem Basic Income is a social experiment to bring a basic income to as many Steemians as possible. Members join by sponsoring others into the program. Steem Basic Income is delivered through providing regular upvotes to member content.
Still Going Strong
We are up to six pools, so your upvotes could come from @steembasicincome, @sbi2, @sbi3, @sbi4, @sbi5, or @sbi6. We currently have 1863 members that have posted within the last 28 days, and almost 500 members that have not. Unfortunately the members that are not posting are not receiving upvotes. There are currently 9608 'shares' in the program, and it grows every day.
Pool 1 accounts voted
Managing voting power around inactive members is an ongoing challenge. The portion of inactive members in pool 1 has reduced to 20%. Some of these actively comment, but not post, so they will start receiving upvotes when we finish our automation project.
Lately we have been more successful in redistributing the excess voting power that should go to the inactive members to active members, so that it is not wasted. With so many inactive members, we have only been able to upvote 412 of the members in pool 1! @josephsavage doesn't post frequently enough to get value from his management shares, so most of them are temporarily assigned to @katysavage until the automation project is finished.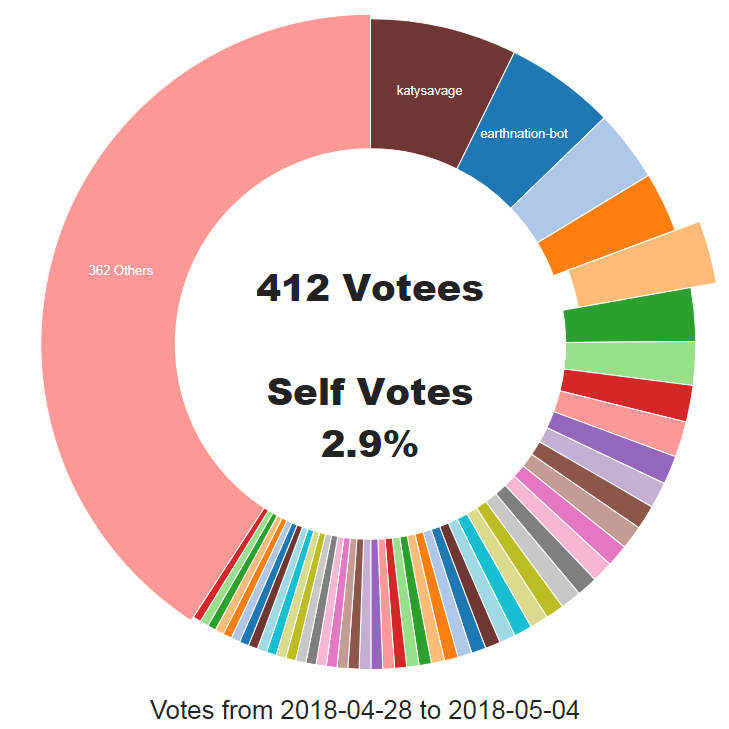 img source: http://www.steemreports.com/outgoing-votes-info/?account=steembasicincome&days=7
Our self-vote held steady at 2.9%, which means most of our voting power has been going to our members. Since our voting power has been holding steady below 90%, with little risk of hitting 100% and being wasted, we have actually turned off the self-vote on several accounts. The accounts still upvoting @steembasicincome accounts will have those votes turned off in the next rebalance.
Pool 2 accounts voted
Pool 2 upvotes come from @sbi2!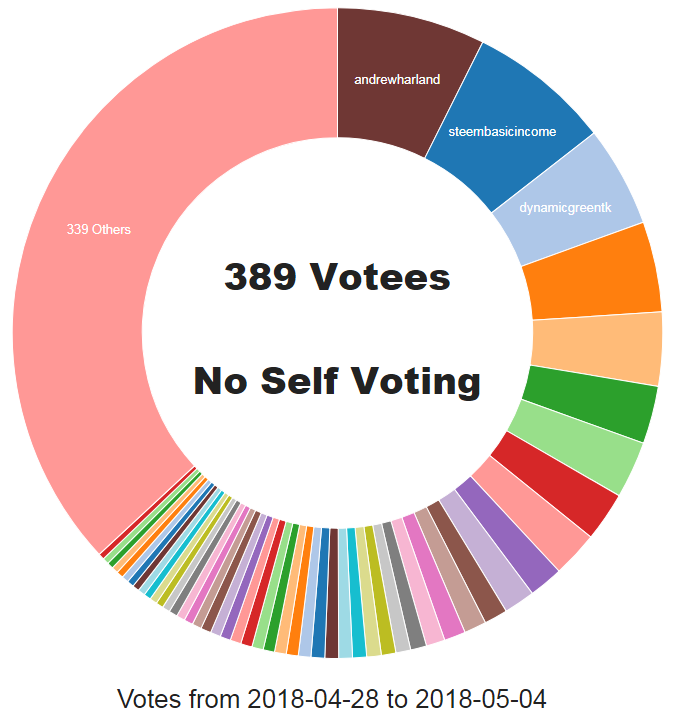 img source: http://www.steemreports.com/outgoing-votes-info/?account=sbi2&days=7
We have made great progress in shifting inactives out of pool 2, and less than 22% of the members in pool 2 are still inactive. With pool 2 still auto-voting the updates, and updates coming out more consistently, the self-voting percentage rose to 7.1% this week. I expect it to reduce again over the next week, once we turn that auto-vote off and devote the full voting power to our members.
Pool 3 accounts voted
Pool 3 upvotes come from @sbi3!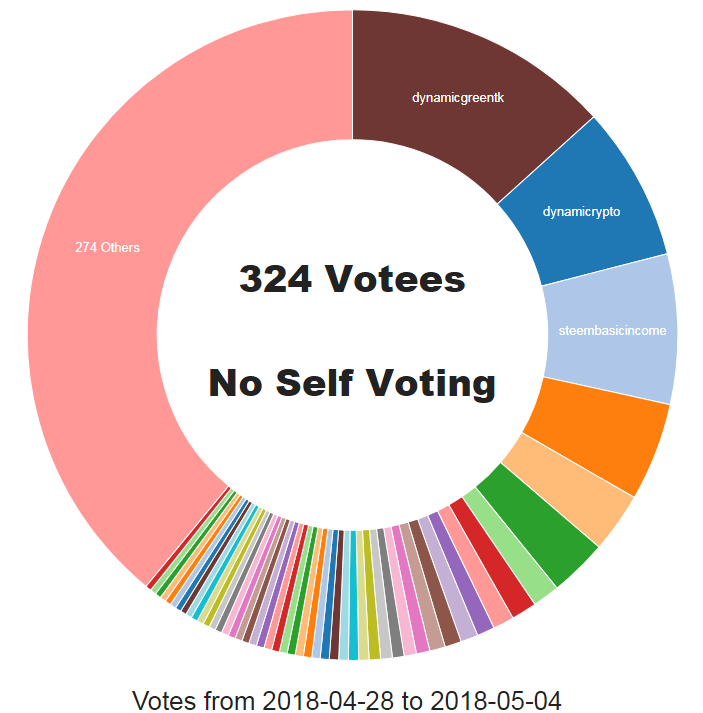 img source: http://www.steemreports.com/outgoing-votes-info/?account=sbi3&days=7
Many of the inactives from pool 2 have been shifted into pool 3, leaving it with a nearly 40% inactivity rate. We are still working to shift more inactives into pool 4, to start balancing pool 3 down toward 30% like pools 1 and 2. The self-vote percentage in pool 3 is up to 7.1%, but it will decrease again over the next week.
Pool 4 accounts voted
Pool 4 upvotes come from @sbi4!)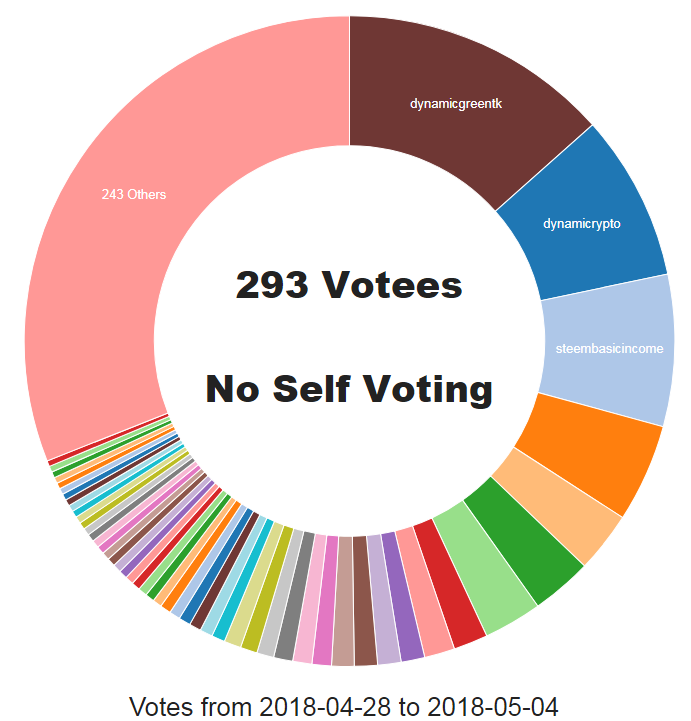 img source: http://www.steemreports.com/outgoing-votes-info/?account=sbi4&days=7
Last week, I wrote that "As we will be moving inactives down into pool 4 (and it will take longer to fully rebalance pool 4 back to 33%, I would expect the inactive rate in pool 4 to climb toward 40% this week before falling again. Time will tell!" This is proving out, as the inactive rate in pool 4 hit 40% this week. I expect it to fall again, but since pool 3 also hasn't dropped much from 40%, it may take a few weeks.
Pool 5 accounts voted
Pool 5 upvotes come from @sbi5!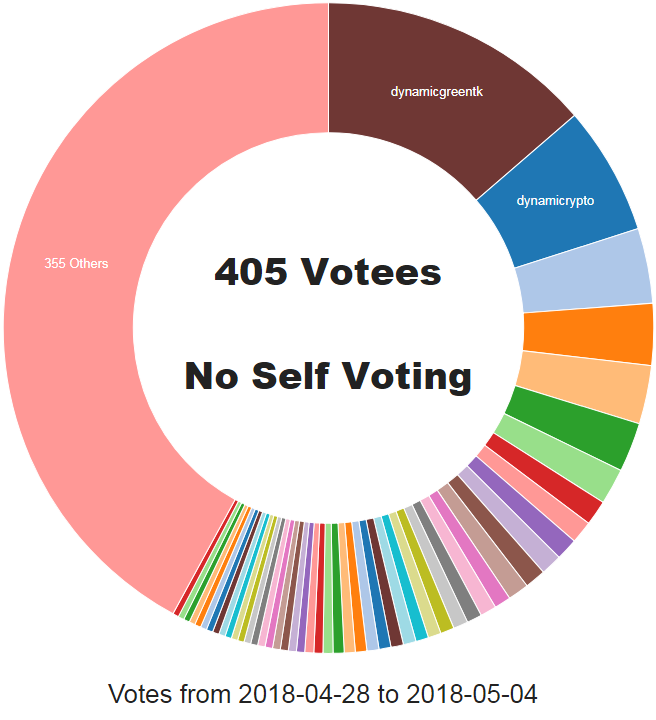 img source: http://www.steemreports.com/outgoing-votes-info/?account=sbi5&days=7
We really start to see @dynamicrypto and @dynamicgreentk in action as we get down to pool 5. Each member is capped at 100 shares per pool, so these guys try to reach that cap every time a new pool is launched. Pool 5 is growing quickly, with the number voted rising from 263 members in the last update to 405 in this one. As it continues to grow, the slice received by any individual member will reduce. The caps of 500 members per pool and 100 shares in each pool per member help create equality in the SBI upvote distribution over time!
Pool 6 accounts voted
Pool 6 upvotes come from @sbi6!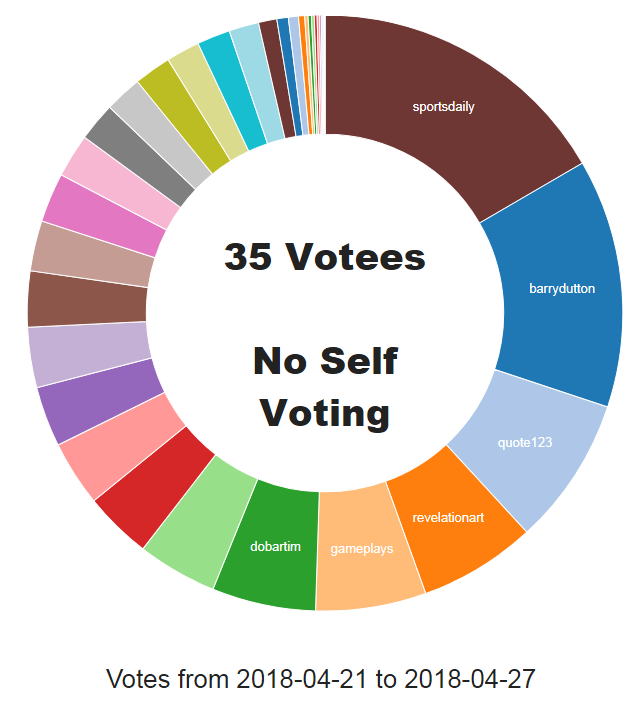 img source: http://www.steemreports.com/outgoing-votes-info/?account=sbi6&days=7
With pool 5 now filled, new members are being filled into pool 6. The number of votees in the pool more than doubled this week from 35 to 77. There are a couple bigger members, but since it mostly has members with few shares and high posting frequency, the distribution chart is more even.
Once full automation is in place, we will no longer be dependent on @steemvoter services. We can skip posts that would have an upvote that is too low to commit to the blockchain, and save the voting power for their next post. Really active members won't have upvotes on every post anymore, but they will still have the same weekly returns, without having to sequester them in their own pool.
That will also mean that we won't have to open new pools until the bottom pool starts actually getting full! That's going to be a positive development as well. We will continue to provide more information about the program changes as we get close to full automation. When we were small, before we figured out the multiple pools system, we started 'pausing' members that posted too frequently and would receive less than 0.5% per post.
As pool 6 fills out, we will start doing this again. We noticed after launching pool 6 that the tiny upvotes received by members that have only 1 share but post dozens (or hundreds) of times each week often failed to exceed the dust threshold. Since we don't want to waste that voting power and we will catch up any under-performers once our full automation is ready, we are going to start pausing these more active members.
If you post frequently and your votes stop, this is probably why. If you don't want to wait until our new system is ready to start getting upvotes again, please ask me about what you can do to improve your voting weight.
Conclusion
I appreciate the confidence placed in me by most of our members, as manually rebalancing voting weights is extremely time intensive. We are still working on our project to fully automate all the processes, but enough improvements have been made to support a more consistent update pattern.
Enrollment
If you want to get involved, or to increase the share of basic income that you receive, enrollment is pretty straightforward:
Just send 1 STEEM to @steembasicincome. Include the name of a Steemian to sponsor in the transaction memo (preceded by @). You and the person you sponsor will each receive 1 share in the program. You can sponsor any active Steemian, it does not have to be a current member.
If you're unclear, please check out our full transaction memo guidelines and then let us know if you have any questions.
https://steemit.com/basicincome/@steembasicincome/steem-basic-income-new-transaction-memo-guidelines
The official currency for enrollment is STEEM. We accept SBD at our discretion (usually when they're very close, or when SBD is stronger) but you do not receive extra value or any partial refund for paying in SBD instead of STEEM. If we choose to accept an SBD enrollment, we accept the entire amount. If we choose to reject it, we refund the entire amount and request you to send STEEM instead.
Steem Creators Conference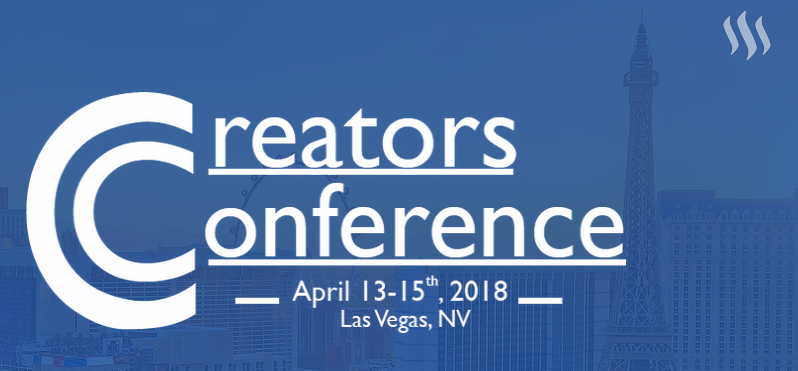 We had a great experience in April at the
#steemcreators
conference! Check out the tag for footage and photographs from all the presenters and attendees, and see how many photos you can spot
@josephsavage
in!
Here is @josephsavage's presentation on Steem Basic Income, which we published at the end of April.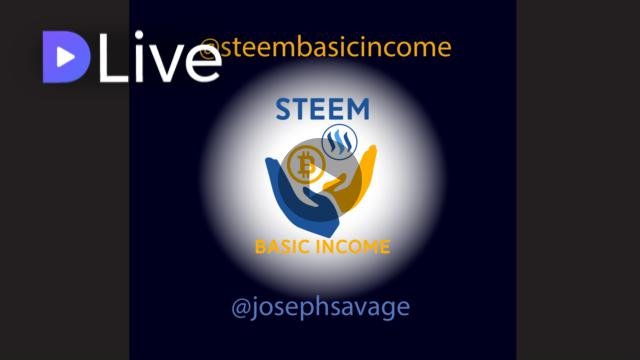 EarthNation
Steem Basic Income is designed by @josephsavage, and developed in collaboration with @earthnation. We are grateful for their early support, both in brainstorming ideas for improvement and in providing funding for our massively complex automation requirements. Learn more about Earth Nation on their web page at https://earthnation.world/


Questions?
Please read our recently published FAQ. Most questions are addressed in our FAQ or in the additional resources that it suggests. If you still have questions, ask in the comments section or join us in our discord channel.