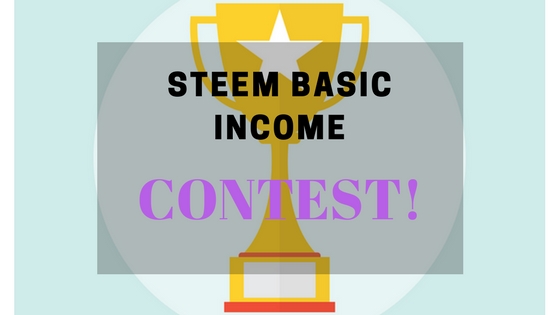 Listen up! I have decided to hold a contest that will reward the winners with shares in Steem Basic Income.
That means you will get upvotes on your posts for life!
What do you have to do to win and get these juicy upvotes?
Upvote this post? NO!
Resteem this post? NO!
None of that crap is required. This isn't about me, this is about YOU! This is about making Steemit stronger.
What you need to do is go and find someone that is creating AWESOME content and isn't getting rewarded to the level that the content deserves. Leave a comment with the link to their post. I will judge all submissions and decide the winner on Wednesday night, 2000 Pacific timezone.
Rules
Find someone making awesome content (all types considered - art, photography, writing, video, etc.) that isn't getting rewards to the level of their content. Hint: The author should be relatively active (at least one good post per week).

Leave a link in a comment below and a few sentences why you think they should get more rewards.

Multiple entries allowed. BUT if you start spamming links without good reason, I will void all your entries. So be smart with your submissions.

The top 10 authors (by my sole decision) will be chosen on Wednesday night, 2000 (8 pm) Pacific time zone.

That's it!
Rewards For The Winners
Both you and your submission will get 1 'share' in @steembasicincome - upvotes for life.

Your submission will get at least one 100% upvote from myself on a future post of theirs.

Both you and your submission will get mentioned in a future post of mine.
Now go out there and find those people that deserve more awareness for their content!
The Window Of Time For Submittals Is Now Closed - Please Allow Me A Few Days For Judging