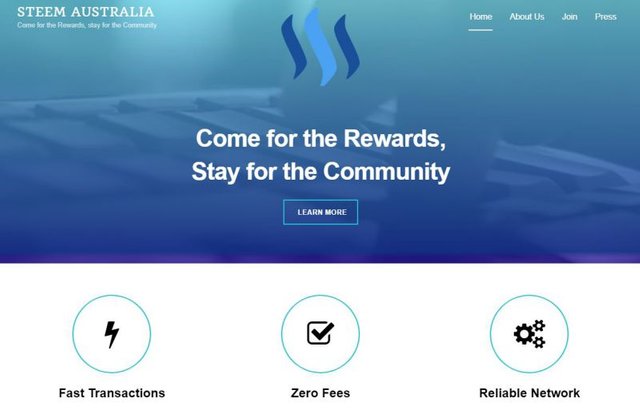 Over the last few days I've been working on a little something for the Australian Steem Community. And now I'm proud to announce we have our own STEEM website which can be used as a reference point for the general public.
Introducing the SteemAustralia.com
But why do we need a website?
Well we need to formalise the message, for up coming projects and the standard STEEM website isn't tailored for an Australian audience.
More specifically we need a place we can send the media, to get resources for stories relating to Steem and the Australian Steem community.
Yes, Team Australia is getting more organised, and hopefully we can get a few projects into the public arena in the coming year.
Now, it's nowhere near complete, but this is where you come in.
I need your HELP!
I'm putting together a Media Kit and need to source content to make it as impressive as we can. Now I'm sure some stuff is already available if you know where to look but other stuff might need to be created.
And since Team Australia is a multi-talented group I thought I'd put a list of items out there to see if we can all pull together to get this done, in true Aussie style.
Media Kit Requirements 
Interviewees
When a journalist is doing her job properly, she will need access to real people who can be interviewed and quoted.
Now I've had a couple of nominations already, @mattclarke and @gohba.handcrafts, but it you want to be Steem Australia famous we can always do with more volunteers.

You'll just need to be happy disclosing your identity.
If you're interested then please leave a comment below.
FAQ
Can you think of some Frequently Asked Questions that you needed answering when you first discovered Steemit?
I want to put together a list of commonly asked questions, so we have a reference if ever asked.
If you can contribute, then please list your Q and A's in the comments below.
Videos
When you watch a news story it's common for the editor to add some b-roll footage into the story to help strengthen the message and to keep the viewer interested.
Currently we don't have any TV quality footage we can share with the media, so it's time to get those video cameras out and start  making movies.
Now I'm not sure of the format required, but it'll at least need to be 1080P quality. Perhaps there is someone with TV experience like @angusg that can steer us in the right direction on the required format.
The video should be around at least 10-20 seconds long so an editor has something to work with.
Here's a few ideas for B-roll Footage:-
Male or Female typing at the keyboard publishing Steemit posts
Male or Female claiming rewards and commenting on the platform
Similarly, people using Dtube and Dlive and Dmania or even show making content for those platforms
Two people transferring STEEM via an app like eSteem or SteemPay
A witness showing their verbose output of a witness server (mining example)
Also a high quality animation would be great if you have the skills and ideas
And finally a person making a purchase from a vendor using Steem
(Now this last one would be easier if you live in Brisbane as there are a number of merchants taking Steem in that area. Here's the link for you to investigate further - https://www.travelbybit.com/merchants
And this last one would be best with a couple of people so you can get the action shots from multiple angles and don't forget to get clear images of the screens.
Now I know video work can be an effort, but you can also share it in Dtube and it might actually attract a few decent votes if you explain what it's for.
** But please remember I'll also need it in a higher quality format, not Dtube quality.
Images
Images are pretty straight forward, and hi-res images of the Steem logo or even a t-shirt design would be cool. And I'm also putting together a merchants page so a high-res version of a 'Steem Accepted Here' logo would be awesome if one of the Aussies artists want to put something together. See below.

And please consider standard sticker sizes when designing the artwork, as it'll be great if we can have a few on hand just in case we are asked.
Quotes
And finally we need to hunt down some quotes, relating to Steem and Steemit from respected publications or personalities.
If you've seen any please let me know in the comments below and of course we will need a related source link.
Too much?
Of course, I'm only asking if everyone can do a little bit to help out, so we can all prosper in the success of Steem. And make sure you write some posts or publish any art and content on Steemit and Dtube and hopefully you'll get a few extra upvotes for your work. 
That said please use the #STEEMAUSTRALIA tag so we can keep track of who is doing what.

So thanks for taking the time to read this and I hope we can all get together and help each other out as much as we can.  And even if you don't have the skills it might be a little fun to give it a try.
Please consider RESTEEMING this post so we can get the message out to as many Aussies as possible.