dMania v0.5: dMania Now Has Videos - Deal With It
I worked really hard the last couple of weeks to create a new version that will bring dMania to the next level. Version 0.5 introduces videos on dMania.
Videos on dMania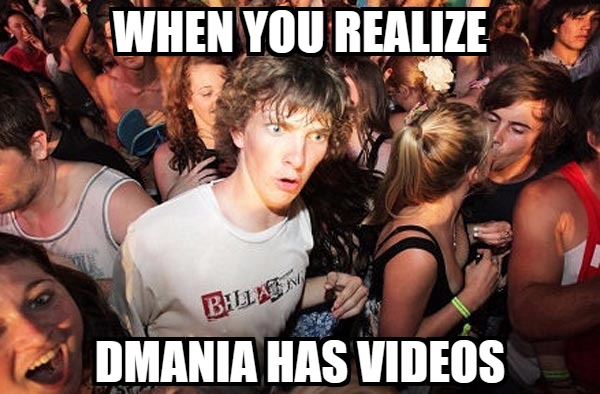 Videos on dMania are similar to videos on 9GAG. They are short, loop, autoplay by default and are muted by default. Videos on dMania are different to videos on @dtube. On dMania you upload funny or interesting short clips. Those clips bring a totally new form of entertainment to Steem.
The maximum video length is 90 seconds. All videos are 360p, very small and fast to download.
dMania video example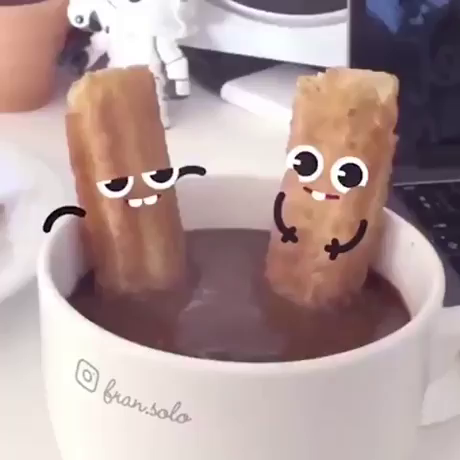 Watch video on dMania
Video upload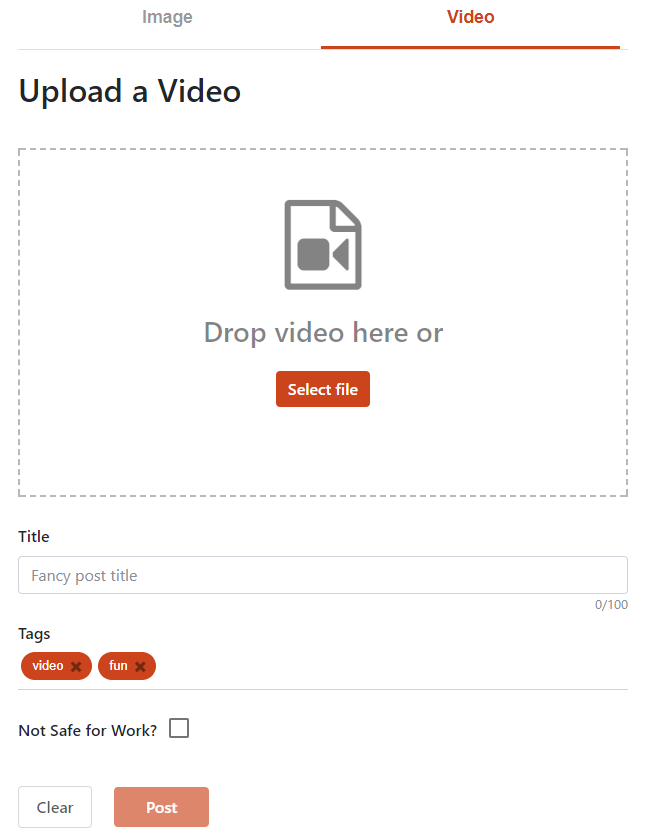 There is a new video upload tab on the upload page. You can select a file or drag and drop a video. The supported video formats are mp4, avi, mkv, flv, mov and mpeg. All videos are stored on Amazon AWS. The upload limit is 100MB. All videos are transcoded to 360p. If your video is longer than 90 seconds, it will be shortened.
The video sizes on dMania are between 1-10 MB. They have to be small and fast to download and they shouldn't use up all the data quota of mobile users.
For every uploaded video, a thumbnail/snapshot image of the first frame is generated. The thumbnail image will be visible on Steemit and will link to your video on dMania. 
Custom tags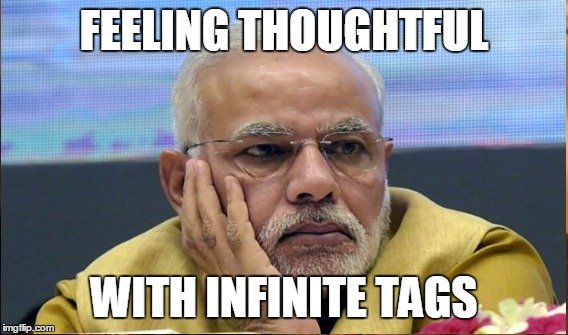 A lot of users requested custom tags, so here they are. On every upload on dMania, you can now select up to 4 custom tags. I haven't implemented custom tags so far, because they are only important on Steemit and not on dMania. I want to make dMania as independent of Steemit as possible. Steemit is the most famous app on Steem for now. In a year or so, things will be different. There will be a lot of apps on Steem and some of them will be as popular as Steemit or even more.
What's next?
For the next update I will improve the UI and usability. I will start to promote dMania outside of Steem in December.
I still can't work full-time on dMania. It just doesn't generate enough rewards yet and hasn't received as much attention as other apps on Steem. In my opinion dMania doesn't receive the attention it deserves. It was never mention on SteemFest and Steemit never tweeted about dMania (They did it for all other apps...). dMania has a lot of features that others apps on Steem don't have like SteemConnectV2 integration, sponsor/supporter system, voting bot, ...
dMania has a similar supporter/sponsor system like @utopian-io. Utopian has already collected over 4 million Steem Power and dMania only 38k. Most upvoting bots have more Steem Power.
Utopian has also received 1 million Steem Power from the Steemit CEO @ned. In my opinion as CEO he should support all apps on Steem and not just one...

Nevertheless I will keep working on dMania and improve it as much as I can. My goal isn't to make it better than other apps on Steem. I want to make it better than 9GAG, the most famous meme website out there.
Support dMania
dMania supporters receive 15% of the rewards on dMania. To become a dMania supporter, you have to delegate some Steem Power to dMania. The minimum is only 5 Steem Power. By delegating Steem Power, you are lending your Steem Power to dMania. The Steem Power still belongs to you.
The dMania bot uses the collected Steem Power to upvote posts on dMania.

Supporters
There are already 50 dMania supporters.
@xeldal
@zombee
@robert-call
@okean123
@nickfost
@imacryptorick
@raggaemuffin
@ippua
@free999enigma
@scandinavianlife
@celestal
@libertyranger
@sazbird
@havok777
@cassillas5553
and many more...
If you have any questions join our new Discord server

Please upvote, post and comment on dMania to support this project. Every single upvote counts. You can contact me on steemit.chat or discord if you find any bugs or if you have ideas for new features. Please resteem and upvote this post and tell everyone you know who likes memes about dMania. Together we can make Steem and dMania great. Follow @dmania and @zombee to get the latest updates about this project.