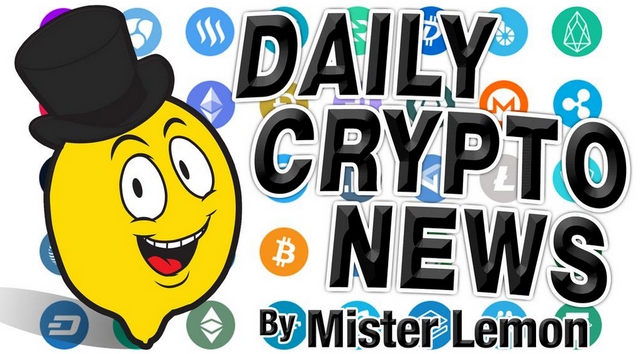 Why Is Bitcoin Price Going Up? 4 Indicators Suggest a Potential Bottom ;
It's Not Time to Write Libra's Crypto Obituary Just Yet ;
Bitfinex Files for Subpoena in Bid to Recover $880 Million in Frozen Funds ;
Bitmain Launches 'World's Largest' Bitcoin Mining Facility in Texas ;
Report: Facebook Could Use Fiat-Pegged Stablecoins for Libra ;
🗞 Daily Crypto News, October, 21st 💰
STEEM Trading Update
Welcome to the Daily Crypto News: A complete Press Review, Coin Calendar and Trading Analysis. Enjoy!
Bitcoin price (BTC) has continued to fend off support in the $7,800 region for what will be the fifth week running at the end of today.
With the BTC price currently back up over $8,200, several indicators suggest that a potential reversal may be in the cards.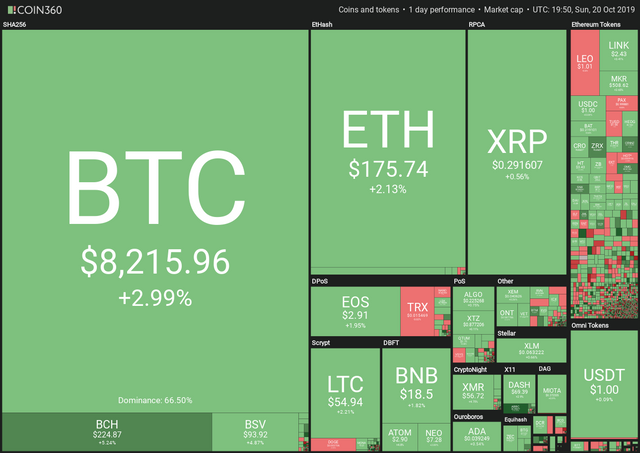 Next week, Bitcoin bulls will need to see the price maintain its trend above $8,120 to break out of the current downtrend, and a break above $8,550 would lead us towards our next level of resistance on the weekly Bitcoin chart.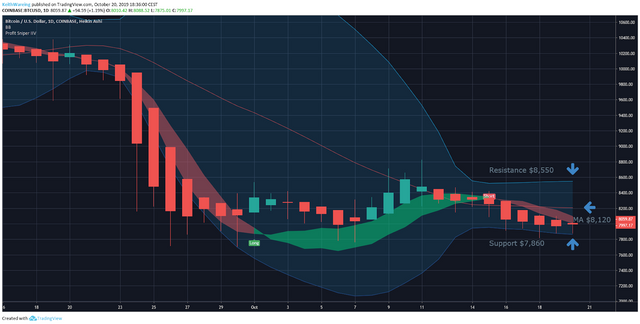 Relative Strength Index (RSI) looks overso![]
(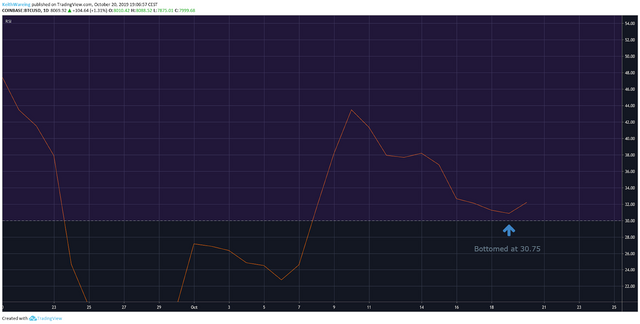 )ld
Bitcoin Moving Average Convergence (MACD)


Bitcoin mining profitability approaches yearly low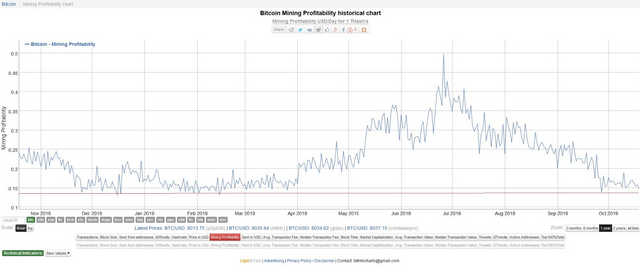 To paraphrase Mark Twain, rumors of the nation-state's demise are greatly exaggerated.
The exits of Mastercard, Visa, Paypal and four other firms from the Libra consortium came after France and Germany moved to block the global "stablecoin" cryptocurrency project and after U.S. lawmakers delivered stern warnings to Libra members. This was more than a major setback for Libra founder Facebook; it was also a reminder that government power remains unrivaled. Ten years into the bitcoin revolution, it remains extremely difficult to challenge the state's monopoly over money.
Yet Libra obituaries are way too premature. The Libra Association still got 21 of its original 28 member entities to sign onto the currency-management consortium in Geneva last week. And even if Libra doesn't survive, other, less controversial players than Facebook are hatching their own stablecoin plans. If those fail, well, we'll always have bitcoin.
Bitfinex has applied to a U.S. court to subpoena a former banking executive of a trust company that the crypto exchange believes can help it recover over $850 million in frozen funds.
The exchange submitted a filing on Oct. 18 to a court in California for obtaining the permission to take the deposition testimony of Rondell "Rhon" Clyde Monroe, a former vice president of TCA Bancorp. It also seeks to obtain documentations of Monroe's communication with Crypto Capital staffers.
Bitfinex alleges in the filing that Crypto Capital "has used one or more accounts held at TCA Bancorp to facilitate the transfer of funds" belonging to itself and believes Monroe has information and documents vital to their claims to over $850 million.
Chinese cryptocurrency hardware manufacturer Bitmain has opened what it claims is the "world's largest" facility for Bitcoin (BTC) mining, in Rockdale, Texas.
In a press release published on Oct. 21, Bitmain revealed the project had been completed together with the Rockdale Municipal Development District and Canadian technology firm DMG Blockchain Solutions.
Pledges to boost the local Economy
The press release places a strong emphasis on working with the local economy of Rockdale, which is located in Milam County, east of Austin, in the United States state of Texas.
The facility — currently developed to a current 25MW capacity, with a 50MW facility remaining under construction — sits on a 33,000-acre site and can expand to a capacity of over 300MW in the future.
Facebook is reportedly open to the idea of using national currency-pegged stablecoins for its forthcoming Libra project.
According to Reuters on Oct. 20, David Marcus, the head of the Libra project for Facebook and CEO of Facebook's wallet service Calibra, said that Libra could use various fiat-based stablecoins, instead of the initially proposed token.
Speaking at a banking seminar on Sunday, Marcus reportedly stated that the main goal of the project was to create a more efficient payment system and that it was not opposed to looking at alternative approaches. Marcus said:
"We could do it differently," he said. "Instead of having a synthetic unit ... we could have a series of stablecoins, a dollar stablecoin, a euro stablecoin, a sterling pound stable coin, etc [...] We could definitely approach this with having a multitude of stablecoins that represent national currencies in a tokenized digital form [...] That is one of the options that should be considered."
🗞 Daily Crypto News, October, 21st 💰
Horizen releasing the alpha version of industry first decentralized and unfederated sidechains.
"Over $42k in prizes! Period: 9 Sep-21 Oct."
Celer Network (CELR)
"Come and join our AMA on Monday, OCT 21 at 7PM(PST)."

Ankr (ANKR), Binance Coin (BNB), Eidoo (EDO)
"This Monday, Oct 21, we are co-hosting a meetup with @Binance in Moscow!"
"... @ETCCooperative Executive Director @BobSummerwill will participate in an AMA held by @GuardaWallet , to answer all questions..."
STEEM Trading Update by my friend @cryptopassion
Here is the chart of yersterday :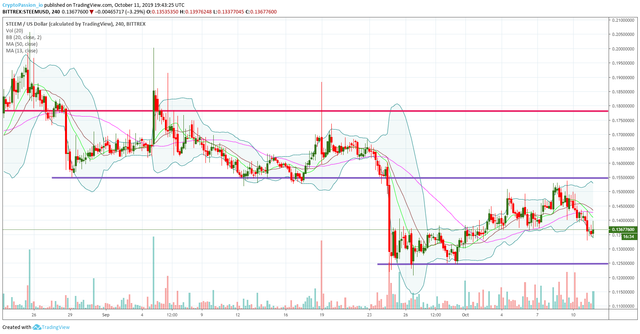 Here is the current chart :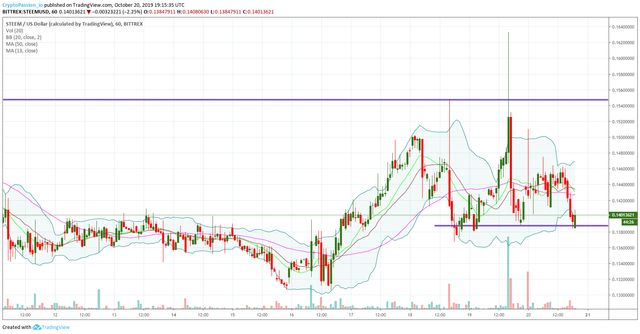 We are testing a support line which is taking some power from 0.138$. For sure it is not a powerfull support as the biggest is at the low that we did some weeks ago but it is better than nothing and this is allowing us to create a bounce from it. The target is 0.155$, even this resistance line looks very powerfull, nothing is impossible. However till now, the bounce is very light and could be invalidated in the coming hours so stay carefull on that pattern.
Last Updates

Join this new Free To Play on the STEEM Platform !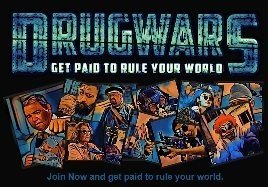 You don't want to miss a Crypto news?
Join SteemFollower and get Upvotes back !