🤑🤑 I truly hope this transaction is much like the guy who bought pizza!!🤑🤑
No idea if this is a first or not, but I haven't read of anyone else doing it. I sold a car for steem!!
A little backstory on the whole thing. Have had this 1999 Ford Expedition sitting in my driveway for a couple years now doing nothing. Kept thinking that I'd use it again, but then just kept not needing it for anything and it's a gas guzzler. So it was time to turn this beast into some steem as I feel steem will come back in value long term and this is a prime buying opportunity.
That said my intention was originally to sell this to someone and then take the funds and buy some LTC on coinbase and transfer that over to bittrex and change it to BTC to then purchase steem, then transfer that over to Steemit. That seriously is a little bit of a PITA, but it's what is needed to make things happen.
So when a family member who happens to be an investor in steem said he was interested in buying my truck I realized there was an opportunity here to sell a car for Steem. How cool is that?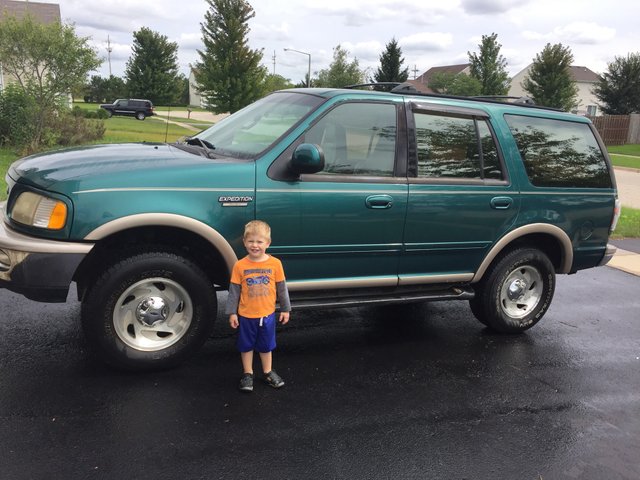 The photo is my nephew and the truck I sold to @bjgeese after getting it home and giving it a much needed washing.
800 Steem to my account in seconds
I sold this car to my Brother in-law so I had zero risk of a fake cashiers check or any of the many other scams that people use to pay you for a car and get their hands on the title while leaving you with nothing. This is always a real risk when selling a car as a private party.
But let me tell you if this wasn't a sale to a family member this would have been an amazing way to do it. With easy to use account names Steem has a HUGE advantage of other crypto for sending and receiving money. Then add in zero transaction fee and nearly instant transactions this truly needs to be pushed more in the real world. Oh and lets not forget that once the transaction is complete it's irreversible.

My brother inlaw sent me the funds and before I could even get my account open on my phone the money was there. So cool!
This has me thinking
With these benefits of Steem as a payment form why not use it more?
➪ Easy to remember wallet name
➪ Nearly instant transactions
➪ No transaction fees
➪ Irreversible transaction
I sell vintage toys, games, comics, and cards at shows and would love to accept steem as a payment form. It's such a simple transaction and removes risk of charge backs that can happen with credit cards or even paypal. Is anyone out there promoting steem in this way? Has anyone tried to convince their customer base to use crypto (any form) as a payment option. What are your experiences if you have?
Seriously I am thinking about coming up with some sort of way to let my customers know that Steem is accepted and even preferred. Maybe offering a discount for using Steem as a payment form. Know this wasn't the main purpose of Steem, but it's very effective as a form of payment.
What can I sell next?
My account is now 800 steem richer and my Wife is very happy that the truck is no longer sitting in our driveway. Now I want to figure out what I can sell next for steem and really jump start my account in a big way here by selling items for steem. Will be looking more into @steemfleamarket and to see if there are other viable options for ways to market items for sale here on steemit. Also going to start asking customers if they are on steemit and if so give them an option to pay with steem or SBD.