HF20 Update: Hardfork Complete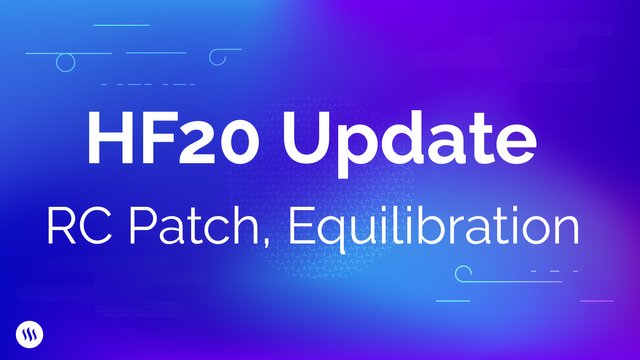 Congratulations Steemians, today we made history by completing Steem's 20th hardfork, codenamed "Velocity." The Steem ecosystem is now being governed by the distribution of Resource Credits which will ensure a more sustainable and scalable future for Steem.
Equilibration in Progress
We are aware that users are experiencing issues posting to Steem and are monitoring the situation, but as of now the equilibration process is going largely as expected. And yes, equilibration is a word :). RCs are regenerating so if you cannot post now, you will be able to post once your RCs regenerate.
Patch for Negative RCs
One issue that has arisen is that users who were highly active before the hardfork are presenting negative Resource Credit balances. This is effectively RC "debt" that they accumulated prior to the hardfork. While the RC system is functioning properly in this context, it is causing a negative user experience especially for small SP holders which we are remedying with a patch that should go live within 12 hours.
This patch is effectively a RC "debt forgiveness" program that will set all negative RC balances to zero as of the time of the hardfork. This will dramatically improve the user experience for small SP holders by enabling their RCs to regenerate to a level that enables them to transact much sooner. Due to the nature of the change we expect it to go into effect within 12 hours. We understand that people are eager to resume using their favorite Steem DApps, and we are doing everything we can to get this patch merged as soon as possible.
Account Creations and State Bytes
We are already gaining valuable information about what operations consume a disproportionate amount of network resources. Account creations, for example, are extremely expensive in terms of state bytes, which means that creating accounts will deplete RCs rapidly. The RC system uses three measurements to determine how much an operation should cost in terms of RCs: blockchain size, compute time, and state size. These three measurements were chosen because they can be computed at low cost to the blockchain and they are tightly correlated with real resource consumption. If an operation is especially expensive in any one of these measurements, then performing that operation will be costly in terms of RCs.
It is important to bear in mind that these are objective measurements of resource consumption at the blockchain level, so when something is expensive in RCs, all that means is that performing the action places a high burden on the network relative to other operations. In other words, this is important information that we want to have as it helps us gain a deeper understanding of how resources are consumed by the blockchain. If you would like to learn more about how the system works, check out our previous post on Resource Credits.
As we stated in yesterday's post, due to the fact that the RC system is a dramatic change relative to the old and inaccurate bandwidth system, there would be certain unforeseeable consequences including potentially negative user experiences while the system reaches equilibrium. We appreciate your patience as the system continues to adapt and as the patch goes into effect that is designed to improve the user experience of small SP holders.
Steemit Team
Update
An unrelated issue with voting power was uncovered that resulted in many accounts having lower voting power than expected. This issue affects everyone who has posted in the last 5 days equally. Most accounts that have been active will return to their expected voting power equilibrium within one day, while the remainder will take no longer than 5 days. To learn more, read this update.