In the last few weeks, I have taken to posting almost all my content on Twitter. I don't have many followers as I simply haven't used my over TEN year old account until recently.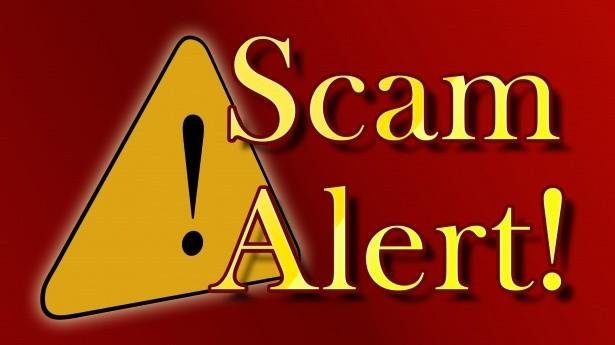 Source
Facebook, forget it? I get a resounding silence when I link something on there to my 200+ 'friends' The Facebook lot just want to read one-liners, not some 700-word 'thing' that I have written about music, or meeting smackheads in an old mill.
So let me refer you back to the click-bait title, Yes it's a scam that's why I have almost 30,000 STEEM invested, of course, it's a scam, go to Google and type in 'Steemit Scam'. Actually, don't, I'll save you the time.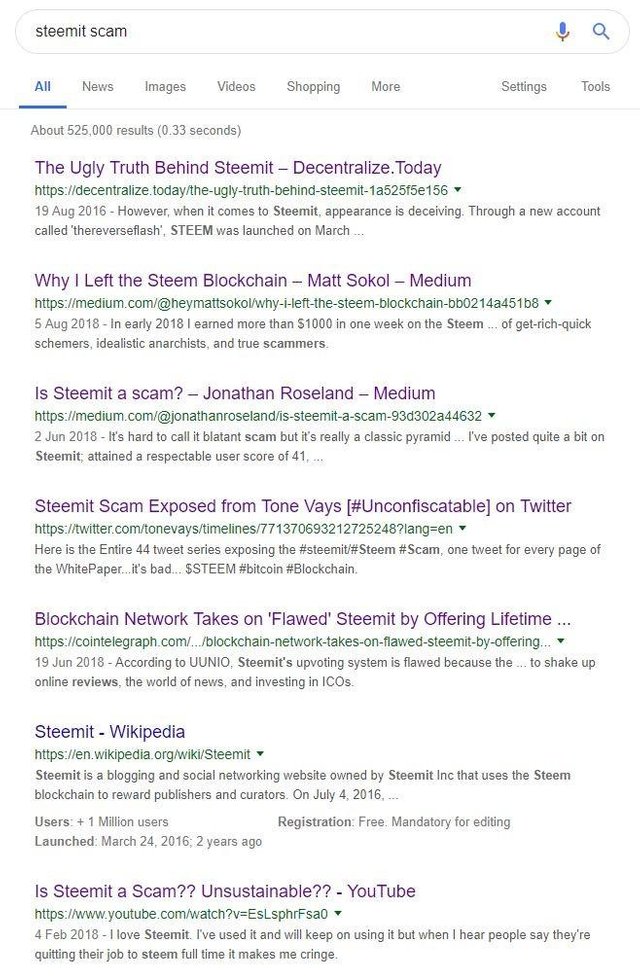 Many of the results are from 2016, yes THREE years ago when STEEM was first unleashed to planet earth. Considering it's 2019 and STEEM has not folded I think we can disregard those.
One is from our own @heymattsokol (Matt Sokol) who has recently returned to the platform after trying some other avenues. It was his concerns over bid-bots that caused him to leave and I'm right with him there.

I have a lot of respect for Matt, he gave me motivation when I was about to quit almost a year ago, and now he's back Steemit is a better place.
One says it's 'flawed', I agree it is, but so are most things in life.
I would say this one is really the only true blast on Steemit (below). The person attained a reputation of (41) and got kicked off YouTube. (41) is a very low reputation and considering his #introducemyself post got $17, that would have pumped his reputation decently.

Jonathan Roseland claims he has worked his ass off, well maybe he has on other platforms but it's quite easy to attain a (50) reputation without too much effort on Steemit. His 'ass' was worked off somewhere else I'm thinking.
He calls Steemit 'a classic pyramid scheme'. I have to disagree there. I have over 750 followers and if it's a pyramid I should be taking a cut of their rewards, right?
Wrong, I don't because it is NOT a pyramid scheme. There are no referral incentives that I'm aware of.
I started this post as both something to read for the Twitter crowd and also for prospective scammers who might come looking for a get rich quick scheme.

You won't get Rich Quick using the STEEM blockchain.
If you are interested in joining Steemit then get that out of your head. 'Jonathan Roseland' is correct in this sense. Maybe he thought it was the land of milk and honey; well it's not.

Don't look at Trending
It's false, fake and those rewards you see have been paid for by the author. I took the time to look at the top FIVE trending posts. ALL of them have paid votes. They may 'earn' $300, but they had to spend $300 to gain it.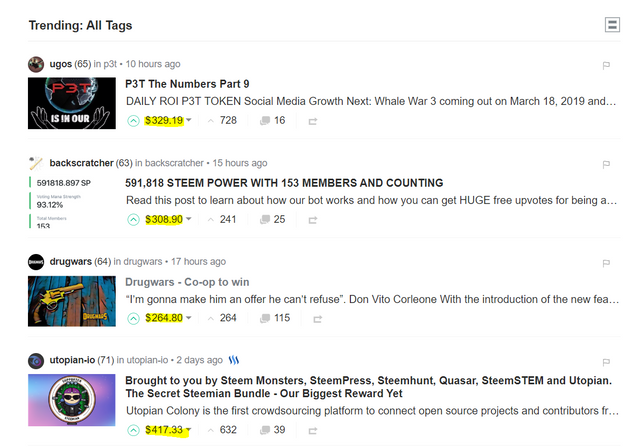 Trending is full of content of varying quality and most of it has been upvoted by bots, which is a form of advertising. If you join Steemit, I would advise you to shy away from any form of 'paid votes'.

'I can earn more at McDonald's than posting my masterpiece on Steemit'
This is very true. If you enjoy burgers, flipping meat and splashes of fat on your t-shirt then you should go apply. They lead us to believe the prospects are fantastic looking at some of the signs in the outlets promoting staff recruitment.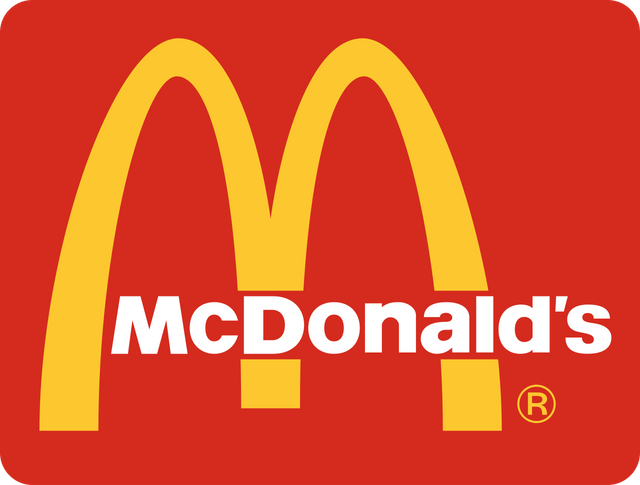 Source
It's not all about the money; it's about the engagement, the community and the satisfaction of creating. If you want an outlet for your creativity and want to gain some crypto then this is the place for you.

'I don't care about 'satisfaction' I just want money and loads of it.'
Then Google 'get rich quick', and take your chances as you in the wrong place, There's no such scheme in existence and I won't con you telling you it's on the STEEM blockchain.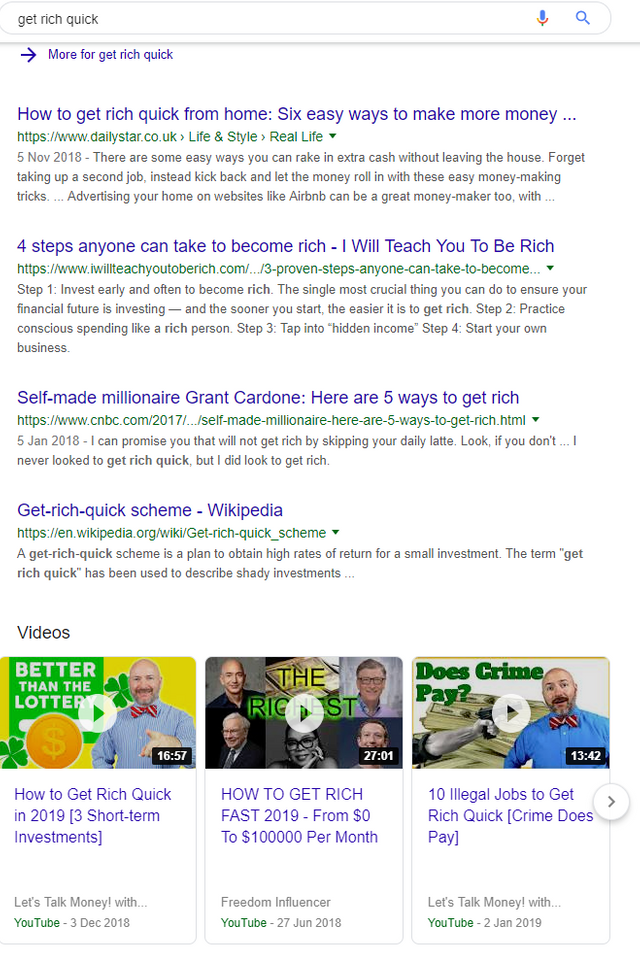 Those videos look great don't they? Off you go!

It costs me real money to gain a STEEM account, everything else is free, why should I pay?
Not strictly true, if you are willing to wait then apply via www.steemit.com. Accounts take a few weeks to create if you want a free one. If you don't want to wait then they a cost around $2.50 from @steem.ninja, for an instant one with a 15SP delegation thrown in.
Yes, this is a referral scheme, but nothing related to how the STEEM ecosystems works. I can also create FREE accounts instantly, drop me a message and I will create one for you. You can find me on Twitter using the handle @BrynRogers.

Delegation, Voting Power, STEEM Dollars, STEEM Power, Witnesses, this is too complicated for me.
Yes, it's complicated to start with and there's a learning curve. It was hard you learned to walk and drive too. Life is about learning. Nothing comes easy and is handed on a plate.

But... I have never written before in my life.
Neither had I when I joined a year ago. It's refreshing, invigorating and creative, try it. If you get some rewards (you will), it will feel so much better. I don't claim to be a great writer, and you wont be judged on your quality.

Can I get by without buying any STEEM?
Yes, but your progress will be much slower. If you are a decent writer, don't put out your masterpieces right away as you will not have an audience.
These take time to build. It's the long game, not the short one. Remember that and you will do well.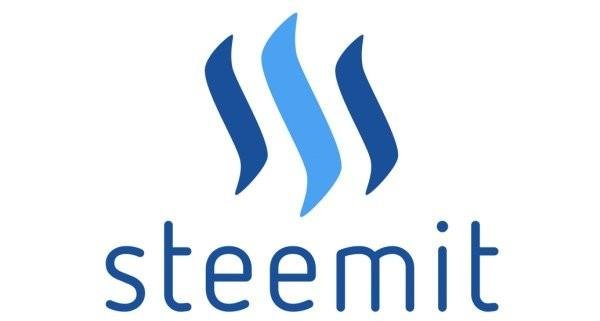 Source

What if I buy some STEEM and power it up?
You will gain more influence and have a bigger vote if you do this. Explaining voting power is beyond the scope of this article but it's essentially stake based. The more you have the greater voting power you yield.

How much will you get for writing this?
Probably around $5-$6. 'Is that it', I can hear you say. Yes, that's it, but you have to remember STEEM is trading at around 50c now.
When I started it was around $2. I earn STEEM, not US dollars. If it was $2 then it would be $20-$24 dollars. Does that sound more palatable?

You might be earning $5-$6 but I won't
Of course not, you have no audience, Do you expect them to flock to your blog and vote you because you have now arrived. There wont be any red carpet, but there are many incentives that new Steemians can use. As I said before, 'The Long Game'. Persevere; keep going and the followers and money will come.

I hear about bullying and people being kicked off Steemit.
You can't be kicked off. There is no ONE supreme authority. It's all community driven. Rewards are not paid until 7 days after you gain them. During this time they can be removed by others if they disagree with them.
If you are here to write content and not abuse or game the system, nobody will remove your rewards. We all want STEEM to succeed.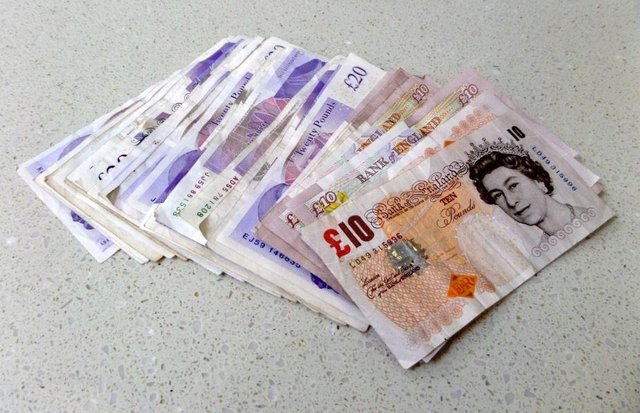 Source
I'm not going to say Steemit is the answer to your financial troubles or to make a quick buck. If you are interested for this reason, then turn around.
What you will find is friends, a vibrant community full of enthusiastic people, and a solid crypto-currency that is not a shitcoin.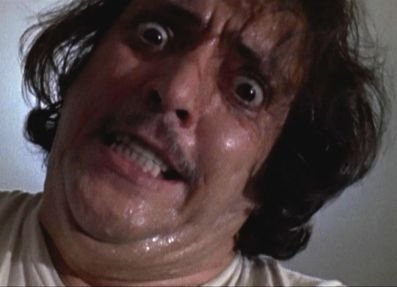 If you found this article so invigorating that you are now a positively googly-eyed, drooling lunatic with dripping saliva or even if you liked it just a bit, then please upvote, comment, resteem, engage me or all of these things.