I am happy to hear some news from @steemitblog about their concern surrounding engagement:
Ensuring that low SP users can transact as much as possible is our #1 priority and we will continue to work with the witnesses to optimize the system to that end.
---
Consensus
Here's your chance to share your opinion!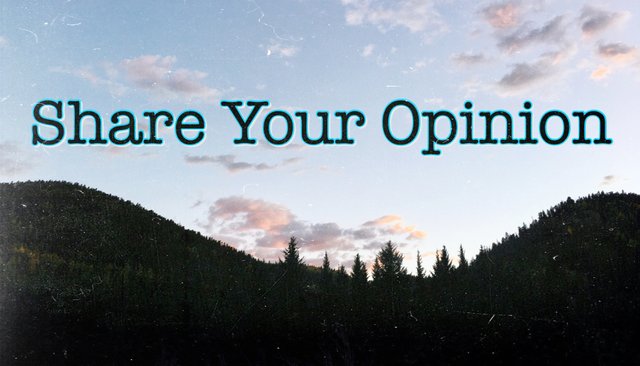 In case you haven't read their latest post, they're asking for our opinions concerning
Thanks to the RC system, we are getting a more accurate picture of how much things cost on the blockchain. But now we need to work together to figure out what to do about those costs. This means coming to a consensus about what user activities should be subsidized by the rest of us so that people are still able to join the network, participate in the community, and initiate positive feedback loops of value creation.
It is not our position that, "The costs are what they are and users just have to deal with it." But these decisions are not as simple as they might seem, and we believe that the ultimate decisions should be made in a decentralized manner, based on the will of the community.
and furthermore:
We encourage you all to make your views and opinions known to the witnesses, and to reinforce those views with your witness votes.
---
It sounds like it's time for everyone to share their opinions!
Because many Top 20 witnesses are relatively inaccessible (in fact I don't even know how to go about truly getting in touch with one), perhaps if people make HUBS of opinions, we can go about creating a consensus discussion.
I think many can vouch that we, @mountainjewel, are a good actor on the Steem blockchain. I invite witnesses to read the comments in this post below to gather information regarding "good actor" opinions(that's you, my friends and comrade Steemians who care for Steem's future and the ability for newcomers to post, earn Steem and grow their accounts.)
---
Share your opinion below.
Consensus only works with an engaged network. As I shared in a post just yesterday, I think newbies need to be able to make at least 30-40 comments a day. If they abuse this privilege (are Spamming), they lose this subsidization.
I think there should also be a shift toward encouraging new users to also power up to take the subsidization weight off of the community.
My opinion
Currently, looking at my RC allotments based on my accounts SP holdings (found on steem.supply/@myname):

... I clearly have some Resource Credits that could be delegated to new users and I think we, as a community, should subsidize new Steemians to help them get on their feet.
The ability to comment, engage and grow one's network is the backbone to the Steem blockchain.
While I'm not sure what Steemit Inc and witnesses have in mind as far as subsidization, I have heard wind of the possibility of delegating resource credits in the future. I'm looking forward to hearing some updates on what witnesses have in mind.
In the meantime, @whatsup (a very good Steem actor!), has already offered to personally delegate SP to help newbies who are having trouble with lack of RC who cannot build their accounts. Check it out!
Are You An Active Redfish/Plankton/Minnow Worried About Transacting?
---
I vote for subsidizing newcomers' RC to a point where they can comment/post (same thing) 30 times a day.
What about you? Share your opinion in the comments below.
---