My Vision for Steem (Reply to @llfarms)
This is a reply to @llfarms' post talking about what your vision of Steem is. I have more to say about this than I'm comfortable putting in a comment so here's my post about it. If you follow me, you won't be surprised at my stance, but I look for any excuse to repeat myself because that means more eyes and ears are exposed to it.
Here's the prerequisite. Steem is too versatile to be absolutely one thing. Marketing campaigns for Steem will have to be targeted in specific directions towards specific demographics, but there can and should be many of these. My vision is focused around subject matter that I'm knowledgeable about, and different people with different perspectives should think about how to promote Steem to those that they could best sell it to.
So Steem...
What is it?
At its core, Steem is a currency. It's a cryptocurrency, but in my vision that's not all that important. It's also a blockchain, but that's not that important either. The important thing is it's a currency.
What does it do?
As a currency Steem was specifically designed to be the best currency for rewarding your favorite content creators. Steem as a platform can house any content creation or sharing application, website, mobile app, etc. and any user can send any other user Steem with zero transaction fees or any third party taking a cut of your DONATION(<- this is important).
Not only that, but by using and engaging on Steem, you'll earn Steem Power, which will allow you to support your favorite content creators from the community reward fund and open the doors to a multitude of opportunities for you to earn, invest, and shape the platform as an important stakeholder in the success of Steem.
*Plain english version. We switch the focus from stake based upvotes to donations on Steem, and reflect this in the UX and UI design of all the different frontends. ie, putting a visible donations stat on each piece of authored content(posts and comments) This gives Steem a utility for regular people that are not interested in Steem per se, they just want to be able to engage and support things they want to support, and get support from others.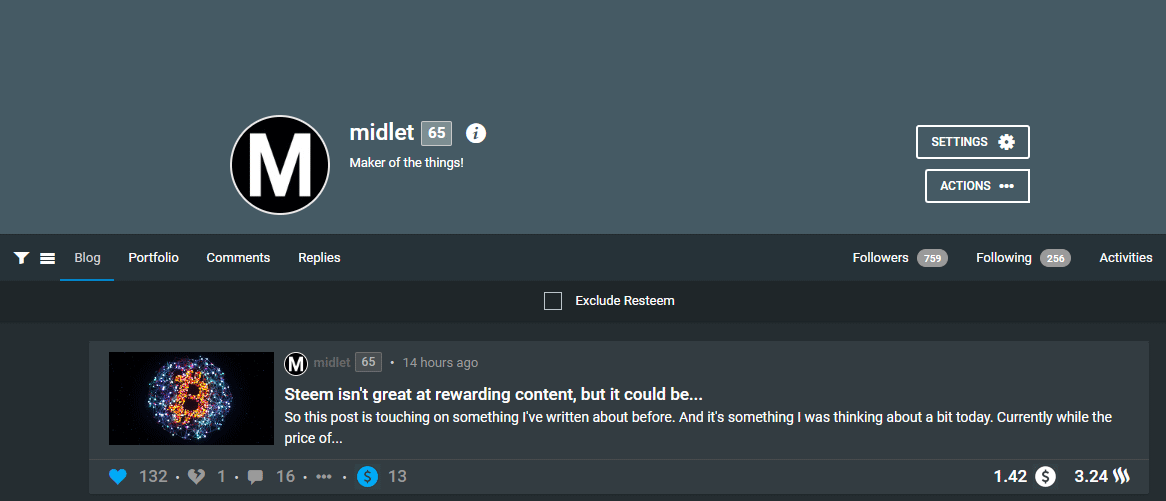 You can see this happening right now on twitch, dlive, patreon, youtube, etc. The reason this is perfect for Steem, is because Steem itself is the platform, and we can have clones for ALL these social applications under one umbrella. We can also offer the same service that these centralized services are offering without taking a cut of the donations. We could even take a cut, just take considerably less. Youtube takes 30%, and twitch takes 50% if I'm remembering correctly.
Currently it takes around 410 Steem to have a .01 cent USD upvote. At the current bear market prices that still costs around $172 USD. That is a terrible sell. Invest $172 to be able to upvote people .01 cent. Instead, we change the narrative and UX and someone that buys 20 Steem, and donates .01 cent at a time, would be able to engage and have fun here at a fraction of the cost. That's how we hook them and ultimately get them to the point to where they want to stick around and level up from user to investor. We need a ramp up. We can't expect normal people to just come here and invest hundreds of dollars. The masses don't know and don't care about crypto. It's a losing battle to try to MAKE them care or to force feed them. We need to provide a service that is valuable beyond the crypto aspect.
What is the goal?
If we could offer this we could actually achieve the original goal of Steem which is to mainstream crypto use and create a global social economy. This has the potential to improve the lives of millions of people and literally make the world a better place.
What does it have to offer?
Pretty much outlined above, but to summarize. A borderless, censorship resistant, fast, easy, and sound currency, with the added benefit of a built in investment mechanism, that grants access to decentralized community funds.
What is it to you?
If developed and nurtured properly, it could be a force that totally revolutionizes the world. If not, it could be a bunch of dead blogs. I'm hoping for the former.