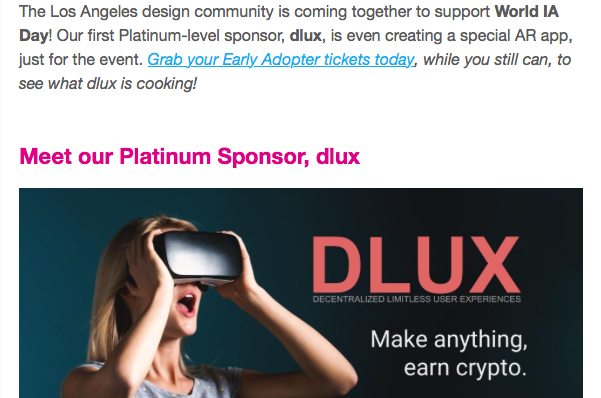 That's right, @dlux-io is taking a major step into Location Based Experiences (LBEs)!
February 23rd is World IA Day (LA Tickets), where around 200 people are expected to attend and share knowledge about information architecture.
@disregardfiat has been hard at work on some major new backend features, and we're excited to put them to use for this AR web app, fully integrated with a dlux NFT. I can't say much about it yet, but the general flow:
Users are on-boarded to STEEM by claiming an account through dlux, providing a username. Then, a World IA Day NFT is added to their inventory, where progress can be viewed.
Quest items completed with the AR camera are tracked by the NFT smart contract, and once the quest is complete the NFT activates into a trade-able token. If the quest is not completed at the event, the NFT will expire and disappear from the user's inventory.
World Information Architecture Day is a global initiative with a yearly celebration manifested locally in different ways.
Whether organized as an informal gathering, a design slam, a conference or something in between; each celebration is unique and local teams are creative, designing a day that brings value to their community and awareness to the practice of information architecture. We have been celebrating World Information Architecture Day since 2012 and our celebrations grow every year. - World IA Day
dlux is providing turn-key blockchain solutions for empowering apps with the token economy. We think it's one of the most interesting information architectures, powered by STEEM and designed to scale. We're proud to sponsor this event and share what we've been passionately working on.
Bonus: check out our logo above Verizon's.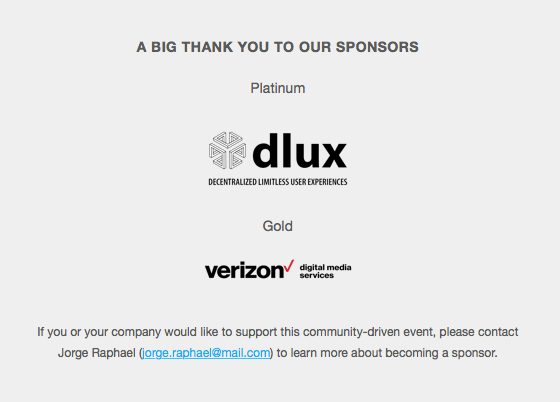 Here's the full email blast:
The Los Angeles design community is coming together to support World IA Day! Our first Platinum-level sponsor, dlux, is even creating a special AR app, just for the event. Grab your Early Adopter tickets today, while you still can, to see what dlux is cooking!

Meet our Platinum Sponsor, dlux

Immersive Content Meets Border-less Architecture

dlux (decentralized limitless user experiences) adds blockchain infrastructure to games, apps, and events, supercharging them with cryptocurrency and NFT smart contracts for the token economy.

Create immersive AR and VR web apps, games, challenges, quests, and social media. Content is monetized through community upvotes for the STEEM rewards pool, and connected to create a traverse-able world users can explore in augmented and virtual reality.

The code is open source and rewards those who contribute.

Start creating today with dlux: make anything, earn crypto.

Website: https://dlux.io/about
Email: otoluxla@gmail.com
Twitter: https://twitter.com/@dluxxr
Instagram: https://www.instagram.com/dluxxr

Co-Founders: Steve Ettinger & Mark Giles