In a recent Hard Fork, code was changed to the voting curation time to curb self-voting advantages at 0 minutes after a post. Similar changes can be done to change other undesired behavior and effects in the system, such as buying or selling votes, and promoting the curation of content again instead.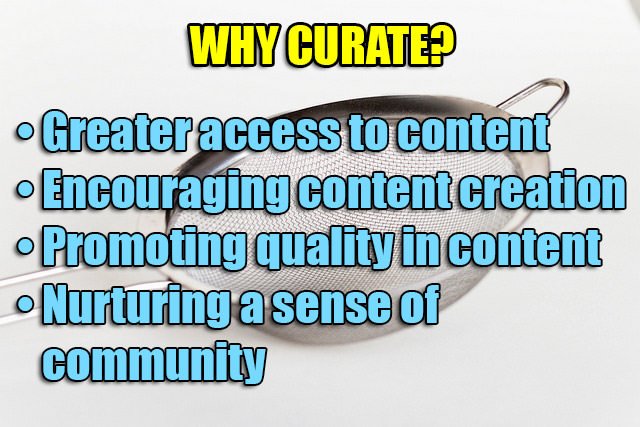 Made by @krnel from source: Marco Verch/flickr, CC BY 2.0
The Problem
The problem of vote selling has been mentioned by many recently, like @kevinwong and @trafalgar. They suggest a 50/50 rewards split to authors and curators as a solution. I don't see that as a real solution to the problem of people selling (or buying) votes to make money. They can still do that after a 50/50 split, as they will get even more for selling their votes from the curation reward returns that pays out to them for selling their votes.
Vote seller returns from curation rewards will increase by 100%, from 25% of a post to 50%. That is not going to get the vote selling to stop, but only promote it more as a means to make money without doing anything. Finding content and upvoting with a click of the mouse is not much work, but it's still work compared to just delegating your SP and getting easy money in return. While those who create content do the most work, and will be most affected, with a 33% reduction in payouts from 75% to 50% author rewards from a post.
Those who create content and do more work will get less, while those who do no work and sell their votes will get more. Does that seem right? But that is would happening in 50/50, where the stated goal would be to incentivize people to stop selling their votes where they get returns for 0 work, and instead get them to do work and curate themselves. It doesn't make sense to me, as it will incentivize more 0 work vote selling, not the opposite, because they just get more curation rewards in the end.
Delegation
Why do people sell votes with no work, rather than do the minimal work to curate? Because delegation of SP and voting authority exists which allows them to get paid for selling their votes. But delegation is used in better ways and is useful. Getting rid of delegation would remove both the positive and negative aspects about it. There is an alternative that can keep the good and disincentivize the bad.
Vote Buying
People also sell votes because others are willing to buy those votes. Why do they buy those votes? Because they can make money. And, as some claim is the primary reason, they want to promote their post to gain visibility, eye-balls and attention. The making a profit is supposedly "secondary". Is that really true? Or is that just a facade and false justification many use in order to appear less profit-driven in their motives? Let's find out by changing how the system works!
Many people have claimed that buying votes is mostly to "promote" their content and get eye-balls on their posts, attention, etc. It wasn't about making money by buying votes, they said. Ok. Then lets make the mechanism really about promoting posts, and not buying votes to make money.
If they really want to promote their post, then they will be willing to take a loss from buying votes. Just like regular advertising, you pay to get promoted, to get visibility, to get potential attention for your product or service. Then if your product/service is good, people buy it over time. It's a loss then, at that time, with potential to make money in the future. If the product -- or in the case of Steem, content -- is worth it in the future, they will get support from real curators who want to reward them for their valued content. Their actions when buying votes and not making a profit or gain but taking a loss, will determine whether it's about making money, or getting attention through paying for advertising.
How?
It's simple really. Just like votes that are made before 15 minutes aren't given to the author, and are re-allocated to the reward pool, we do the same for those who buy votes. We re-allocate a portion of their rewards to the reward pool when they buy votes.
They can still get their post promoted, since that's what most of them claimed it was for in the justifications I have heard months ago. And when the post pays out, 100% of the paid-for-votes, (or maybe even 90% of their author rewards total (75% of post total)) can get re-allocated to the reward pool. Then it will only be about promoting their posts, and the profit incentive is completely gone. Or if that's "too strict", then it can be varied to whatever. But I think it's a good way to penalize the behavior that is being objected to by bringing in negative incentives. Maybe 100% author rewards removed is the best.
If people really want to buy votes to promote their post, they can. They just won't be making back the money they spent on that posts. They can get visibility, eye-balls, and attention from others to comment and maybe support them in the future where they can choose to not buy votes and keep their rewards.
As vote buyers stop buying votes, since they really wanted to make money by buying votes, then vote sellers will have to start actually curating themselves by doing some work and take back their delegations if they want to make some money. This is how we incentivize vote sellers to stop and engage in curation again. If vote buyers still buy votes, then there are additional things we can do to get curators to go curate instead of selling their votes.
Implementation
For Vote Buyers
Vote buyers send SBD or STEEM to accounts that they want to vote on their posts. Those transactions have a link to a post in the memo. If the post is voted on by the account being sent money, then the code will recognize it as a bought vote, and change the way the post payout is done. Instead of 75% of a post going to the author, 100% of the bidbot votes can be returned to the reward pool. There will be more rewards in the pool for other authors who don't buy votes.
EDIT: If memo encoding is used to hide the URL, we just use a list of bidbots and annul the rewards for authors who receive votes from those accounts. Then it's all about promotion, and no rewards are kept for buying votes, or using alt accounts to buy votes.
For Vote Sellers
The same could also be done for those who sell votes. We can't do it directly to the vote sellers themselves (unless it's from authorizing voting through keys), but we can do it to the account which they are delegating to. Instead of the vote sellers getting returns for selling their votes from the account they delegate to which gets curation rewards and payments made for voting, the account doing the voting would have their curation rewards reduced by say 90% again (or even 100% meaning no curation rewards for engaging in vote selling).
The curation rewards would then we sent back to the reward pool, instead of being paid out to the voting account that is being delegated to, and then those rewards would no longer be sent back to the vote sellers who are delegating because they never get them in the first place. This provides more rewards to all the other posters/authors who aren't buying vote, as well as curators who aren't selling votes.
No one needs to flag either. It's all taken care of in the code as a behavioral consequence mechanism, just like self-voting at 0-minutes was taken care of. A solution at the code level. Rather than require people to go flagging all over the place, they can keep applying positive voting behavior and go curate what they like, not negative voting of flagging what they don't approve of.
Double Incentives to Change Behavior
This would apply a double-incentive to stop selling votes. Not only would the authors feel the pressure and stop buying votes to get vote sellers to stop selling votes and engage in curation again, but vote sellers would have pressure to stop as well. Even if people wanted to buy votes at a loss, vote sellers could still delegate and not curate themselves. If we apply negative consequences to vote selling by removing a percentage of curation rewards for those that are selling their votes by re-allocating it to the reward pool, this would apply more pressure to get them to go out and curate content themselves.
Everyone who doesn't buy votes or sell votes will benefit. This creates a positive incentive to not buy or sell votes as you get a greater portion of the reward pool allocated to your author or curation rewards, and a negative incentive to not buy or sell votes where you lose part of your author or curation rewards.
Authorized Proxy Voting
Delegation isn't the only way people sell votes. There is also giving authorization to an account to vote for you and being rewarded for it by those who buy votes that are paid to that authorized account. Plus you get curation rewards for your vote cast. This could also have negative consequences implemented in a similar way to incentivize those people to go curate themselves. Any account that authorizes voting from their posting or active key to another account, can be known. When the account that has that authority makes a vote on behalf of the initial account that gave the authority, redistributing the curation rewards can be implemented following that recognized action. The code could also look at who receives transfers of SBD or STEEM for their voting authorizations to the same accounts.
In either case of delegation or authorizing voting by proxy, the vote buyers are the ones driving this system, and they are the ones that will be pressured the most to stop buying votes in order to simply make money. That's the root of the whole system. Without vote buyers, there are no vote sellers. This is the primary area to target. But as mentioned above, vote sellers can also have negative consequences and disincentives applied as well in order to promote real curation of content again.
Future Problems that Bypass this "Fix"
If there would be ways to get around the negative consequences in this new mechanism, we could understand it and find a way to combat it once more by implementing new code to deal with it. But so far, this proposal seems to start us on the path to fixing the broken system, don't you think?
Objections?
The code has already been changed to change the behavior on the platform, in the system. Code can be changed again. Negative consequences have been applied to self-voting at 0-minutes of a post, in order to promote positive alternative behavior. This has been accepted by the vast majority of the platform. The proposal I'm giving is more of the same.
Making changes to the code that make people change their behavior on the platform. This will replace the negative behavior we don't want with positive behavior we do want. Who is really against that?
All other cryptocurrency have people invest and make profits by holding for the value of the token to go up, which they can sell to reap the earnings. That's it. Steem has people posting to get rewarded, and people curating to get rewarded. The excuse that people should only invest in Steem if they can make even more money than what curation offers, is a joke. As if the option of curating isn't already more than all the other cryptos provide. You're already able to make more from Steem than other cryptos, as they only offer you holding, while Steem gives you the option to curate if you wish.
I think that whatever can be automated in the code to promote positive behaviors should be, rather than expect people to do things in a better way of their own volition (or rather than flag them). The desire for making money is too strong. Only when coded alternative ensure greater losses through certain behavior compared to greater gains through other behavior, will the behavior change. That's what was done with self-voting at 0-minutes. We can do it to more of the platform/system to "make Steem great again" :)
What do you think?
---
Thank you for your time and attention. Please consider voting for me as a Steem Witness. Peace.
---
If you appreciate and value the content, please consider: Upvoting, Sharing or Reblogging below.


me for more content to come!
---
My goal is to share knowledge, truth and moral understanding in order to help change the world for the better. If you appreciate and value what I do, please consider supporting me as a Steem Witness by voting for me at the bottom of the Witness page.