Starting today I aim to resteem more posts than I publish because while I have been receiving a lot of resteems on my posts, I rarely have returned the favor. This has been one of the least effective ways I've been giving back and going forward I hope to collaborate with many more of our authors on Steem to resteem posts! Now the question becomes how to help me find a post and resteem it?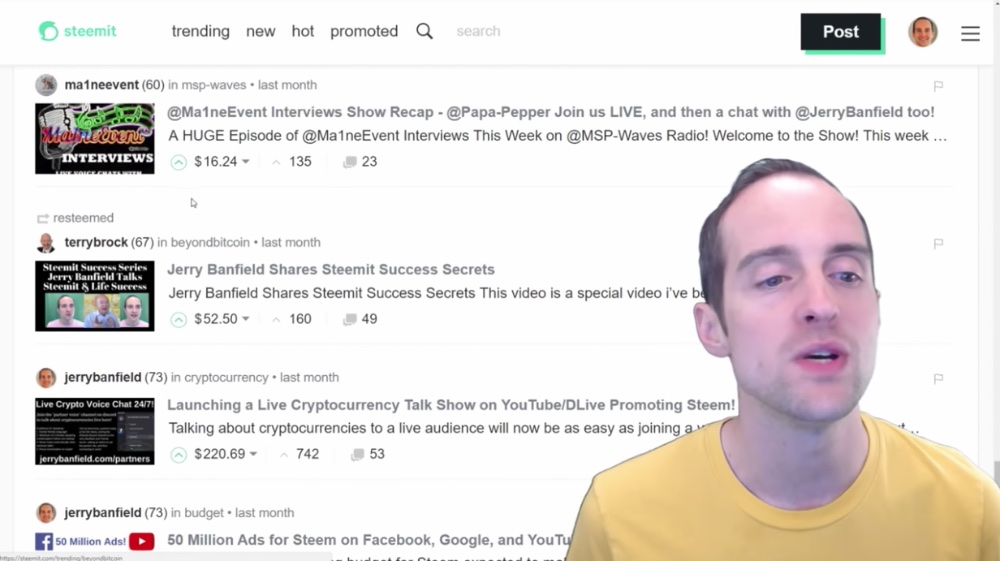 How to Help Me Read Posts?
First, let us talk about my limitations because this will help us understand how to work together most effectively. I have on average about 4 hours a day 7 days a week I can spend doing everything related to my business online including reading posts on Steem, posting on Steem, filming videos, etc. The rest of my time is spent with my family and going to AA meetings. This means I am lucky to have time to read 5 or 10 posts by other authors on Steem each day giving me a very limited ability to find the best posts to share.
Second, let's look at what I contribute by resteeming to see the responsibility I have when it comes to clicking the resteem button. When I resteem a post, it has one of the largest potential audiences on Steem which today is over 26,000 followers. Resteems go through my Facebook page as seen on this resteem I did with David Pakman recently that went on automatically on to my Facebook profile that has a 2+ million people following and consistently reaches thousands of people reached in the first 24 hours.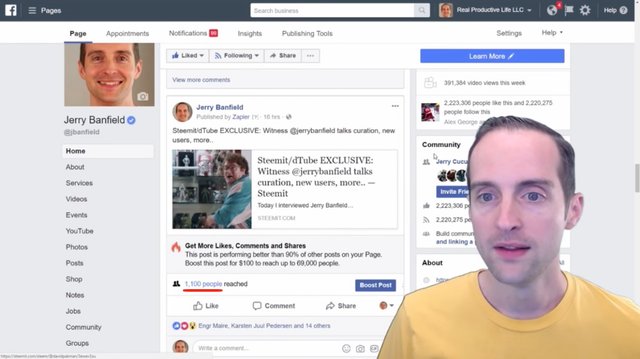 Then, it's the same thing on Twitter, all of the resteems go directly to my Twitter account too. This one tweet has 22 retweets and about 700 impressions in the first 24 hours.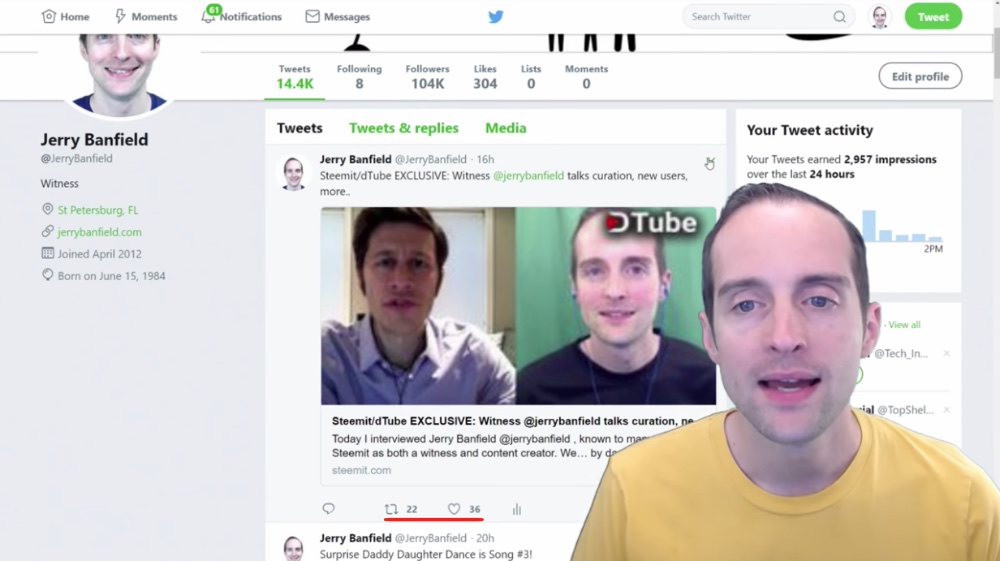 I also have an email list that goes out to thousands of people and posts from Steem are able to be featured there. I have about a hundred that get every single post or resteem, and then the list of thousands that get the Steem post of the week and the highlights.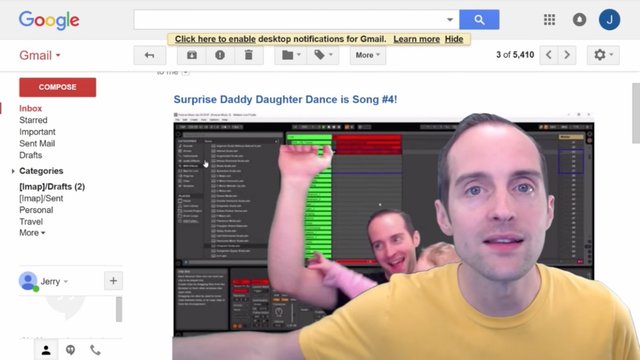 Given the amount of people likely to see my posts combined with my limited ability to reach posts, I choose to set clear boundaries to prevent the majority of requests getting through while allowing the best to be resteemed.
Best Way to Reach Me?
For those of us that want to build a relationship with me and ensure I consistently follow posts, the easiest way to immediately get in the door is through my partner program and the chat access on discord at https://jerrybanfield.com/partners/.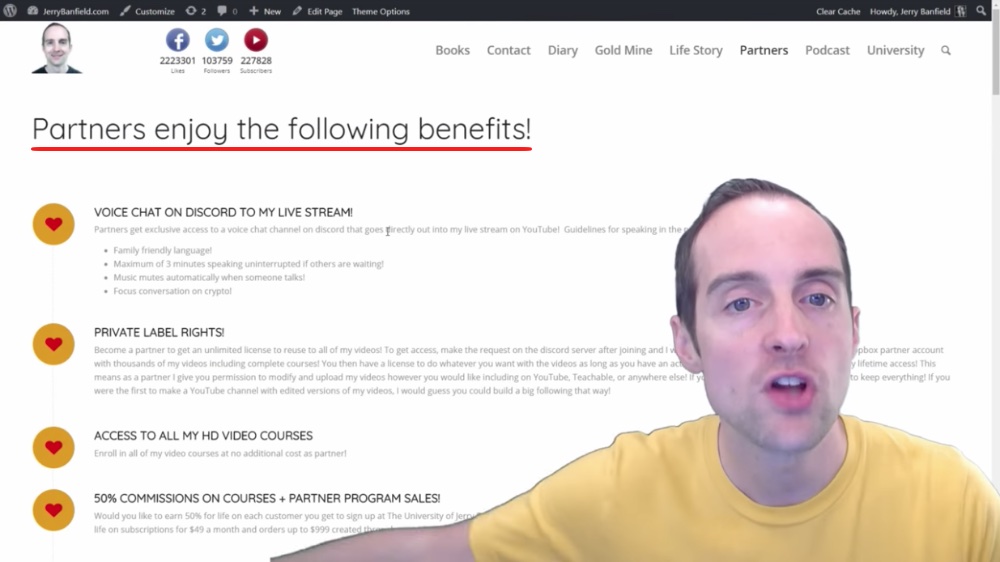 If you'd like a resteem, if you'd like to build a relationship with me, and a relationship is a big part of a resteem to me, then being a partner is the easiest way to start building a relationship. To make this simple, being a partner costs money. Because 99.9% of people who want to talk to me are not willing to spend any money, this allows anyone who puts down the $49 a month on Patreon or the $999 for a lifetime payment, the opportunity to essentially instantly start getting my attention. Note that payments via Steem can be sent to @jerrybanfieldroi. I wish the authors of the books I buy and have loved had systems this simple and transparent in place because I would definitely participate.
While I have a Discord server that I'm monitoring where anyone can post, partners gain access to an exclusive channel that I check daily before I check anywhere else.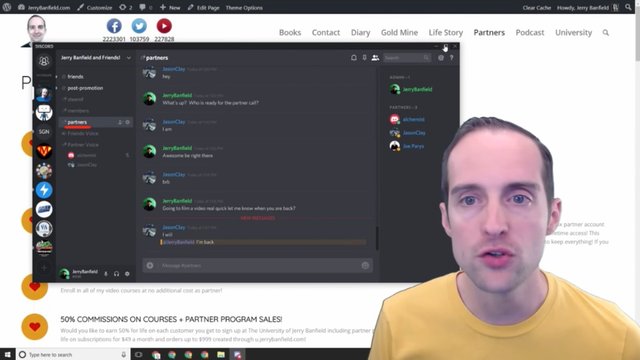 If you want to become a partner, this is the best opportunity to get in touch with me, to get a resteem, and to get consistent support. Several of the resteems I've done have been with my partners already.
Alternatives?
You don't have to be a partner to get a resteem. Any existing relationship whether you have been upvoting me, you are a witness voter, whether we met at SteemFest, any existing relationship, you are welcome to ask for a resteem as well. If you just want to interact through upvotes and comments on Steem, I try to read the comments that come through my posts as often as I can. You are welcome to get to know me as I've gotten to know lots of us through just comments on my posts. The challenge there is that often there are hundreds of comments on posts and I often miss the majority of comments after 24 hours.
For those already upvoting my posts, I prioritize giving back to those who have given the most to me. One of the easiest ways for me to find resteems is to click on top upvoters on my newest posts and see what they have published lately. I found two awesome posts this way in less than 10 minutes just before writing this post.
If you have a post that is just amazing, that you really want to share and you don't know me at all, going through someone who already does know me, an existing partner who has easy access to ask me to resteem a post, or someone else who has a closer relationship with me, is a good way to do it.
Transparently Imperfect!
This isn't a perfect system of course and it does make clear exactly how to collaborate with me to receive resteems. Up until now it's been almost impossible to get a resteem from me unless you were a partner, in which case it was fairly easy to get one resteem, but not more than one.
Today, I'm grateful that I've been willing to look at it, "You know what? I have the chance to do better by resteeming."
I also value your feedback on this because I realize one of the reasons I've not done this so far, is that it's potentially annoying for me to resteem other people's posts. If I pick posts that don't match well with my readers and audience, I could potentially lose readers on my own blog, although it'd be hard to argue I'd lose more than what I already do with my own posts.
Update the Interface!
I find it annoying on Steemit.com when I want to read posts by one author and the author has resteemed three to five posts for every one they have published.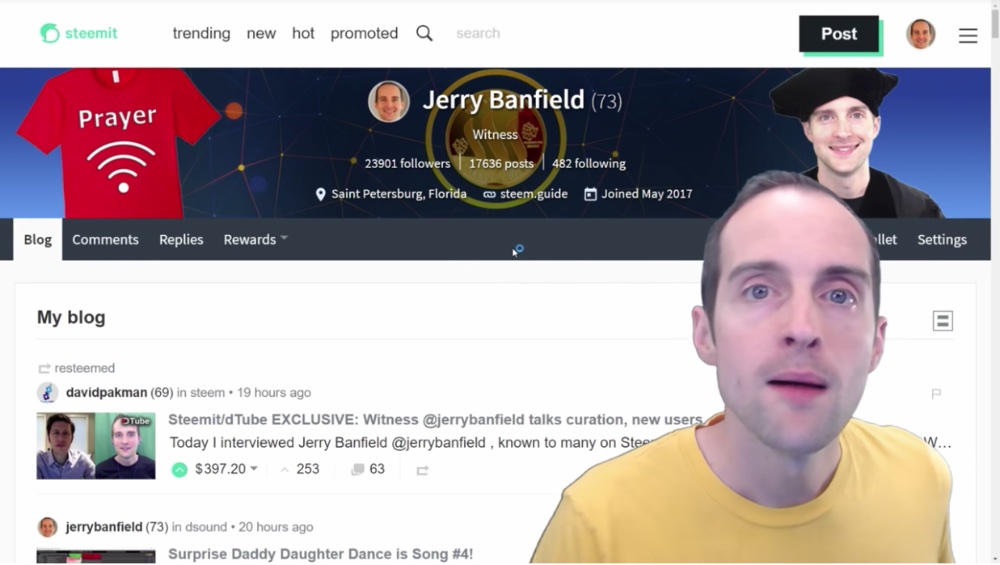 It's very difficult to locate posts by that author, which is one of the main reasons I have not been resteeming much because it is annoying as a reader to have to deal with that.
I trust that the witnesses submitting issues and the Steemit.Inc team are aware of this and are working on ways to help us sort our blogs and customize our blogs more thoroughly so we could share and have options.
I'm just going to start resteeming now and trust that there will come more user interface improvements that will make it easier for readers that just want to see my posts, to exclude all resteems from my feed.
Thank you very much for reading this post on Steem or watching the video below.
I value your feedback on this as well because this is part of a relationship. I do something, I see what you think of it. Based on what you think of it, I modify my approach going forward.
It's been brought to my attention that resteems are something that might be very valuable for me to start doing more of, and I might be wrong about that though.
You might say, "Look, I just want to read your stuff. If I want to read someone else's stuff I'll go to their blog."
Therefore, I leave it open to you to help guide me as to how to effectively serve you.
Thank you.
I love you.
You are awesome and I hope to see you again soon.
Final words

Thank you for reading this blog post, which was originally filmed as the video below.
If you found this post helpful on Steem, would you please upvote it and follow me because you will then be able to see more posts like this in your home feed?
Love,
Jerry Banfield with edits by @gmichelbkk on the transcript from @deniskj
Shared on:

Our Most Important Votes on Steem are for Witness!
Would you please make a vote for jerrybanfield as a witness or set jerrybanfield as a proxy to handle all witness votes at https://steemit.com/~witnesses because we are funding projects to build Steem as explained here? Thank you to the 2500+ of us on Steem voting for me as a witness, the 2 million dollars worth of Steem power assigned by followers trusting me to make all witness votes through setting me as proxy, and @followbtcnews for making these .gif images!

Or

Let's stay together?