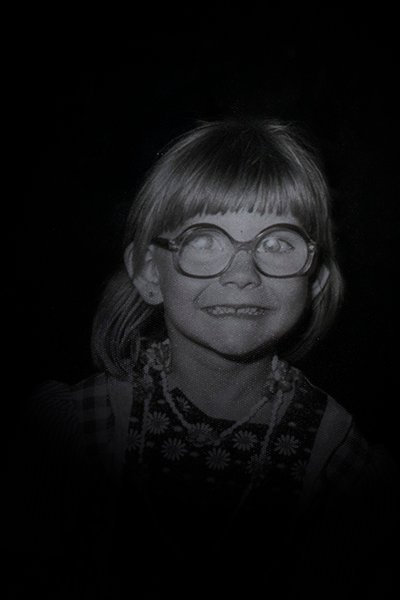 A little girl, driven into a corner. A group of children is around her. She holds her arms over her head, and her shoulders are bent. Crouched, she stands in the corner. And the group of children is there, one by one they give the little girl a slap on her head, on her back, on her shoulders. They shout at her a bit and then walk away.
The little girl raises her head. You look at a narrow face with huge glasses. She sobs hard, then decently removes her tears, muzzle her nose and with dry eyes she puts one foot in front of the other. She goes on her way home after her daily beatings.
Once I was this little girl!
For me the bullying started at primary school. I had to wear glasses because I could not see without those glasses. And it was a big pair of glasses! But did the children in my class have the right to bully me every day? Did my glasses give the children in my class the right to belittle me, to shake me, to kick me into the ground? Did my glasses give the children in my class the right to tell me that I could do nothing, that I was worth nothing, that I was an ugly child?
At that time I did not know better. My feeling always told me that it was not allowed, that it should not be possible, that it was not right. But because it did not change, in the course of time I increasingly believed that it would still be true. I was stupid, I was ugly, I could not do anything and I was not worth anything. They were allowed to bully me, they were allowed to beat me up, they could kick me in the ground.
Unfortunately, that was also what happened. And nothing I could do about it, nothing I dared to do. I was literally that little girl who was driven into a corner and automatically held her arms above her head to protect herself.
I waited until all the children had walked away from me, I kept huddled. Then look up, with my big glasses on my nose. When the children were gone, I wiped my tears from my eyes, blew my nose and walked slowly home. Foot for foot, my attitude was defeated. I did not have fun. Just wanted to go home, to the safety at home, the safety of mom. But at the same time I could not show my tears to her. She would have been upset about it.
The child in me longed to be comforted. But my sensitivity told me that my mother needed to be protected. She tried to do everything she could to prevent me being bullied, but nothing helped. Once at school, the misery started every day again. And knowing that would be difficult for my mother, I felt, so I tried to prevent her knowing that I was still being bullied, that I was still beaten, that I was crying every day because I felt so unhappy.
How do you think it feels like never to be chosen in a team? How do you think it feels to be ignored or rejected? How do you think it feels like children call as soon as you walk in "Hey guys, 10 points for the person who cuts Hetty's glasses off her nose". And how do you think it feels when someone finally talks to you, when someone finally sees you, and the other children tell you that they are not allowed to go with you. How do you think it feels to feel every day that you are ugly, that you are stupid, that you can not do anything and that you are worth nothing. How do you think it feels when you already know in the morning that you will be beaten up again in the afternoon. How do you think it feels to be a shy child that it is normal for that child to be beaten?
I can tell you that it hurts never to be chosen in a team. It hurts to be ignored and rejected every day. It hurts when children want to knock your glasses off your nose. And it hurts even more when someone finally seeks contact with you, where you finally feel valued at the same time, your world becomes slightly lighter. And that is taken away from you again. Then you go a bit dead inside. It hurts, indescribably pain, and you feel inferior!
I wanted to be accepted as a child just like any other child. I just wanted people to like me, just like any other child. I wanted to go to school without fear, I wanted to walk home without fear, I wanted friends and girlfriends, I wanted .... yes, I wanted to die at a certain moment. If I were dead, I would not have to go to school anymore, I would not feel that pain anymore, then I would not have to be afraid anymore.
It may be some 30 years ago now, if I think back ... then the tears will roll over my cheeks again. This period in my life has had such a huge impact on the rest of my life, has caused such a huge lack of self-confidence. And has ensured that I have fought my whole life to be accepted, my whole life I fight against a lack of self-confidence, my whole life I struggle to believe that people can love me, that people like me .
My whole life I made wrong choices, due to the lack of self-confidence, the fear of being bullied again. I do not have the choice for further education based on my abilities, not on my ability, but on my fears. I was too afraid to be bullied again.
And again later when I had to accept the consequences of these choices, I was guided by fear. Never in my whole life have I lost that fear. And one of the biggest consequences of that fear is that I do not have a job right now. Not because I can not work, not because I could not do anything. But because I have made wrong choices in the past because of the fear, because of the lack of self-confidence.
Sometimes I sometimes think, what would have become of the children who bullied me? Would they be aware of what they did to me? Would they regret if they knew? Would they have done it if someone had pointed out to them the consequences it may have for the child that is being bullied?
For me it has had great consequences to be bullied, and I can only hope that more and more attention is paid to it, that children are already made aware of what bullying does to someone. And that it is recognized in time when a child is bullied. And even more, I hope ... that no child has to endure the hell of bullying.
Stop the suffering that is called bullying.
Photo is made in my childhood and shows me, alone on a fun fair crying because I was rejected again.