SAVINGS
In this post I am going to address the "SAVINGS" feature of our ecosystem.
If you are not sure what I am talking about, have a look at your wallet on Steemit.com and you will see the following: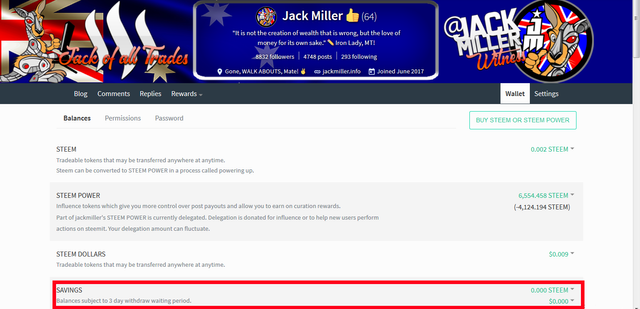 What is the current status of "Savings".
Well, believe it or not when we put our Steem into Savings, those tokens are not vested.
They do not reduce the internal Steem/SBD debt ratio.
Simple as that.
Note:
Shout out to @ timcliff who was nice enough to confirm this for me.
Thank You Man, you are a wealth of knowledge, a walking encyclopedia of Steem.
What if the Steem tokens that (we) people put into savings were to earn interest?
& add to that the same withdraw clause as with Steem Power (13 weeks).
Should they then be vested the same as SP?
I would say:
YES
Lets think about it.
Steem in a savings account, earning interest and vested safely, so if the account does get hacked one day, it is all nice safe and sound.
Same as SP, only difference being, these funds are earning profits (in Steem) for the owner, they are vested and rightfully contribute to reducing the internal Steem/SBD debt ratio.
How can these Steem Tokens earn interest?
Well, same way as was imagined for SBD tokens.
The Witnesses fill in the "APR" column, and the top 20 witnesses are the ones who's figures are accepted and calculated.
What am I talking about?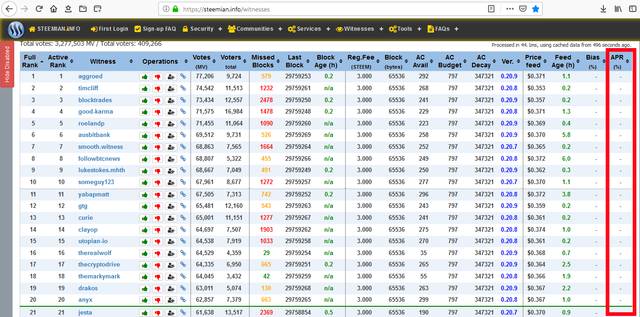 So the code is there, it needs to be modified to exclude SBD and promote savings of Steem tokens.
So no "savings" for SBD, only for Steem.
Sounds too good to be true, but go check it out.
It's in the code, it is all there, more than possible.
Thinking out of the box is what it takes to CHANGE things.
Can't keep voting in the same old politicians and expect something to change in the country. Guess the same applies to other governance models out there too, where people vote people in to represent them and look after the best interests of EVERYONE and not just the chosen few.
But we'll leave that for another time and place.
for now, lets chew on this "Savings" idea.
Links to the first 2 posts:
Making It Work: The Steem Ecosystem. "THINKING OUT OF THE BOX"!
&
Making It Work: The Steem Ecosystem. "THINKING OUT OF THE BOX"! (Part Two)
Cheers.