The State of Steem Forum #5 (Marketing, PR & Onboarding) - Thursday 24 January 2019 [recording]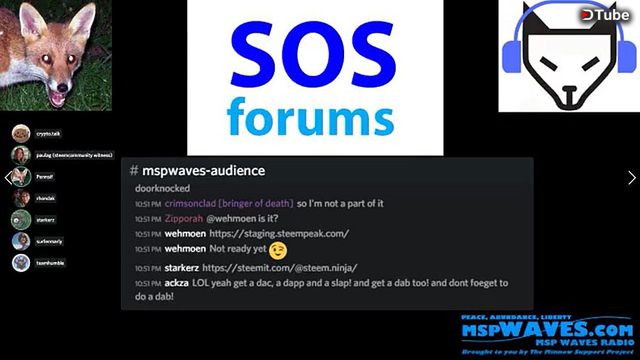 ---
The fifth State of Steem Forum was broadcast on MSP Waves on Thursday 24 January 2019.
This forum focused on Marketing, PR and Onboarding.
The people speaking on this forum were...
@anomadsoul - witness and co-founder of @SteemOnboarding
@clixmoney - founder of @dcooperation
@crypto.talk - developer of @Partiko
@jongolson - founder of SteemSavvy
@mcfarhat - witness and founder / developer of @Actifit
@paulag - witness
@rhondak - co-founder of The Writers Block
@starkerz - co-founder of Oracle-D and Promo-Steem
@surfermarly - long-time steemian
@ura-soul - witness, developer of SteemOcean.com & creator of @steempassport
@whatsup - long-time steemian
---
The forum was co-hosted by @teamhumble.
At the start of the forum @traveller7761 spoke more about polls that are running alongside the SOS Forums...
---
---
The forum was preceded by a discussion with Steemit Inc Executive Chairman Ned Scott and newly appointed Managing Director Elizabeth Powell. The recording of that interview is available here...
---
---
There are two further forums scheduled. If you would like to take part in any of there please message me on Discord (Pennsif#9921).
Forum 6 (31 January) : Communities, content creation, curation, retention

Forum 7 (07 February) : SteemCommerce, shopping with steem
---
---
This recording is also available on YouTube