From my understanding, when you earn rewards and choose the 50/50 option, the SBD you earn is always valued at 1 USD, regardless of what it actually sells for on the open market.
When SBD and Steem were BOTH trading at approximately $1 USD and your article earned $10 (let's forget about curation rewards for simplicity sake), you would earn
5 SBD and 5 Steem
$5 + $5 = $10, for which you could then trade your 5 SBD on the internal market for 5 Steem and power up with 10 SP.
However, if we now assume BOTH SBD and Steem are trading at $10 USD each (which they are close to now), that same $10 earning would be paid as
5 SBD and 0.5 Steem
$50 + $5 = $55, for which you could then trade your SBD on the open market for $50 USD and the 0.5 Steem for $5 USD for a total of $55! If you were to buy Steem with that $55, you would only get 5.5 Steem or SP!
Sooooo...
For those of you who are trying to grow your SP, this is NOT a good time to do so.
I must admit that seeing those large numbers in your potential rewards notification LOOKS great, but it isn't so great for growing your SP.
If you are like me and want to grow your SP, it might be best to hold your SBD as SBD until things change. I'm hoping SBD stays high and Steem drops so that I can exchange my SBD at an advantage over the near 1 to 1 ratio.
Of course, it is all speculation and if Steem stays high while the SBD drops back to $1 USD, I'm in trouble! That would mean I need to pay several SBD just to buy 1 Steem!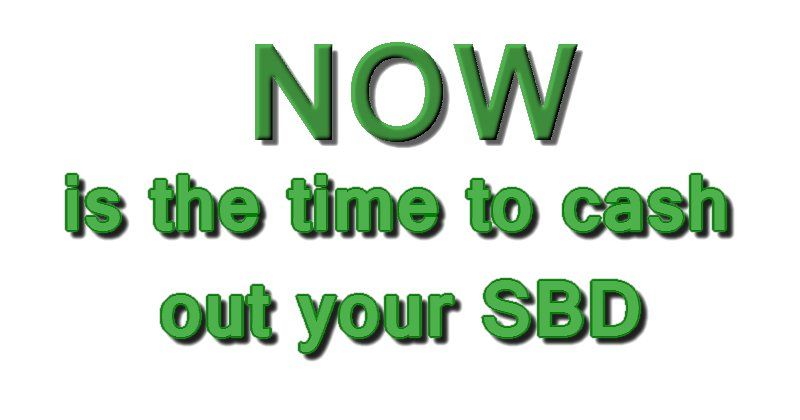 For those who have SBD they want to cash out, this might just be a good time to do so. I'm hoping that a huge sell-off won't cause the SBD to drop or I'm actually shooting myself in the foot by posting this!
If only we could see what the future holds!

I sincerely thank you for your interest!