Should I Sell or Should I Hold?
What should we do with the Steem we own when the cryptocurrency market is still going further down? Would you read this post because I will try to explain what my position is about Steem and cryptocurrency in general?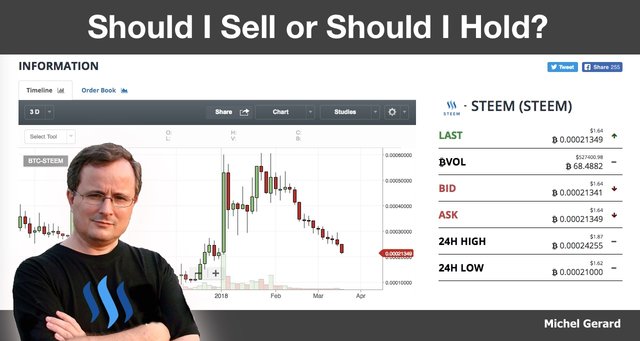 Should I Sell or Should I Hold?
When Steem was at more than $4 I wished it would drop a bit back to $1.50 so I would buy more. Now, it's nearly at $1.50 and I wish it would have stayed at $4 plus!
The problem is that it's rarely a good time when these ups and downs happen. When it was at $4 I had some money to buy more Steem, and at what it is now, I haven't that money anymore, because I put it in somewhere else, which is a Kuvings Cold Press Juicer and my daughter's school fee for the first term of next year in May.
Isn't that a bit upsetting to be on the wrong end of things?
You might feel the same, we all have bills to pay.
I also received some 600 STEEM in several transactions, which I wanted to exchange in Fiat, but they already had lost in value from when they were sent few hours later. I waited a bit to see if it was going to get back at least to the USD value I was supposed to have with them, but it never did.
Should I sell them now that I will get half the money it was worth?
No.
I am patiently waiting for the market to recover and I am considering powering them up so I can have good use of them in Steem. I'll have to find some other ways to pay my bills this month!
I also have other cryptocurrencies I hold and that the same thing, everything is down, even thought I am still in profit.
Should I sell my other cryptos?
No.
In fact, I am very calm about this situation because I know it will recover again, and I also don't have a million in crypto.
What about the Stock Market?

They just had 2 terrible months and about to recover.
Anyway, Steem has lost a lot in a couple of months, on 20 January it was at $5.30 and now, on 22 February it was at $3.61, and now nearly one month later it is at $1.62.
Unfortunately, I believe it will go further down for a while before Steem rebounds and starts gaining in value again.
Fortunately, this doesn't have to do with the Steem blockchain and technology, but the drop is caused, like all other cryptocurrencies to the drop of Bitcoin.
There have been many negative news lately like Facebook and Google banning cryptocurrency ads, the US government imposing more regulations for trading cryptocurrencies, exchanges being investigated in Korea and so on.
If you go to Coinmarketcap.com you will see that all currencies are in the red, not only Steem.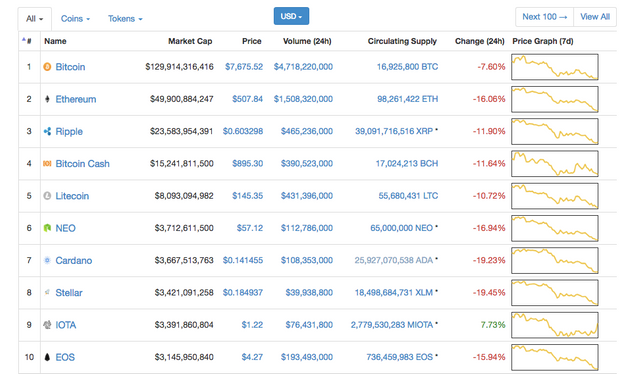 This is the chart for STEEM/BTC and since January 25 it has been in a downtrend. The highlighted area in the background is for Bitcoin and you see that it has been going down too.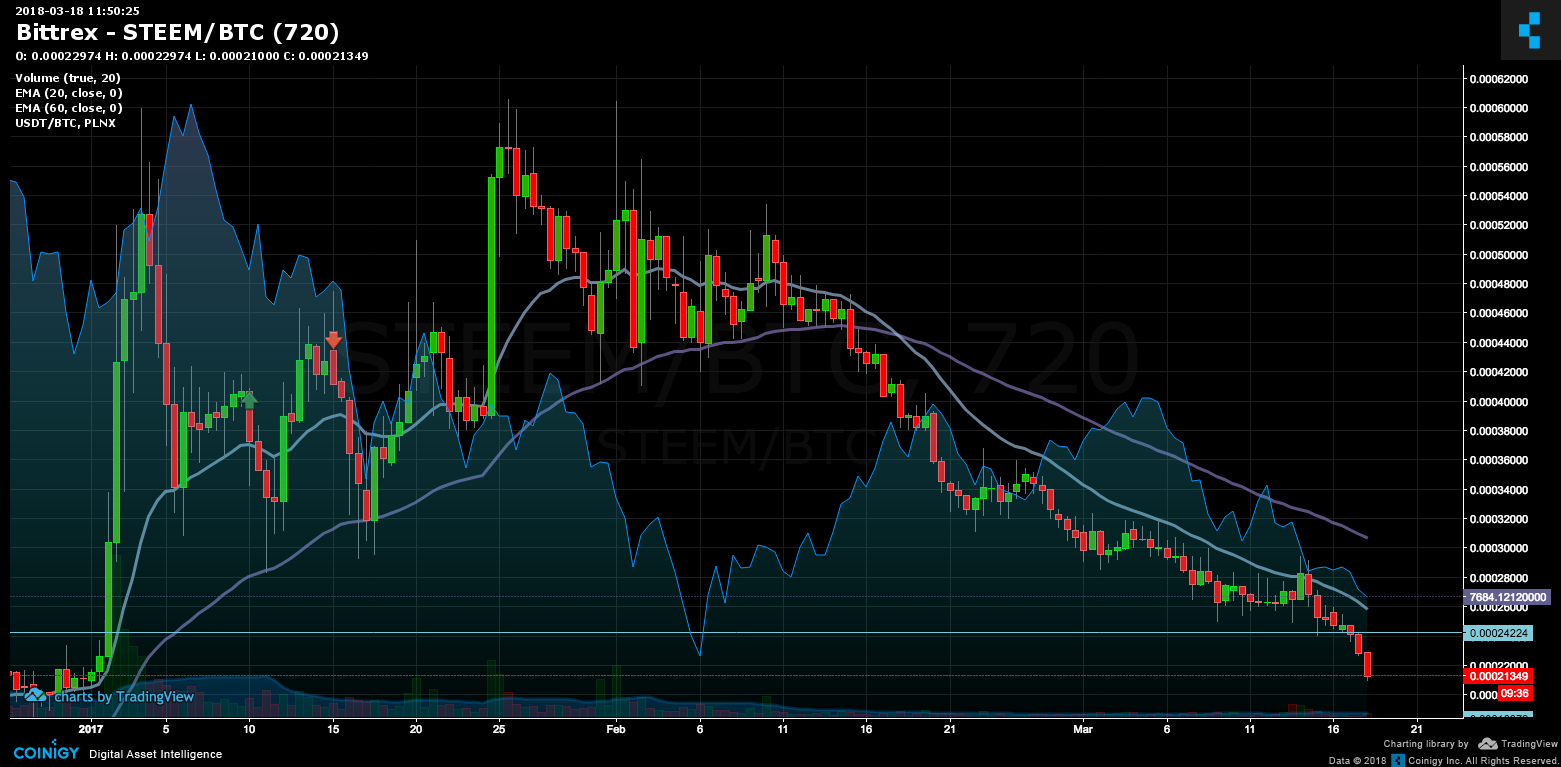 All this is because people are reacting to news and selling their coins in a panic as they do not want to lose more, but their lack of patience is making them lose even more.
The best way to lose with Steem right now is to sell the Steem you have, and, in my opinion, holding is the best solution because we want to invest long-term in STEEM not speculate short-term with STEEM.
When is it going to go up again?
I don't know!
But what's going down has to go up because you still need buyers to buy what you sell.
Should I power down and sell everything now?
No.
I am confident that holding Steem Power long-term is the right thing to do.
Would you upvote this post about Steem and follow me for more because this will encourage me to write more posts like this one?
Would you please help @jerrybanfield become a top 20 witness because you can help funding projects to build Steem as explained here? Vote for jerrybanfield as a witness or set jerrybanfield as a proxy to handle all witness votes at https://steemit.com/~witnesses. Read the 5 reasons why I'm voting for Jerry Banfield as a witness and how to vote in my post.
Michel Gerard