Steem.Supply Update: Displaying SBD / STEEM Payouts Breakdown
As you already noticed, payouts breakdown in Steemit has changed. Until a couple of months ago, we received payouts in SBD and Steem Power, but recently STEEM came into the mix again. This change came as a result of SBD printing rate decrease.
Let me explain.
If SBD supply is less than 2% of the entire STEEM supply, the blockchain prints 100% SBD.
If SBD supply is more than 5% of the entire STEEM supply, the blockchain stops printing SBD entirely
If SBD supply is between 2% and 5%, the blockchain prints SBD according to this formula: 100% * ( 5 - debt)/3, where "debt" is the above percentage between 2% and 5%.
All this sounds very complex, and even determining the debt ratio used to be quite a confused thing. Fortunately, we have the SBD printing rate built right into the blockchain and it's a simple matter of getting the blockchain main properties to obtain it.
For example, at the moment of writing this article, the SBD printing rate is 49%, which means the system prints 49% SBD and 51% STEEM.
So, based on this SBD printing rate, I updated all the rewards panels in steem.supply.
Here's how it looks for the posts panel:
---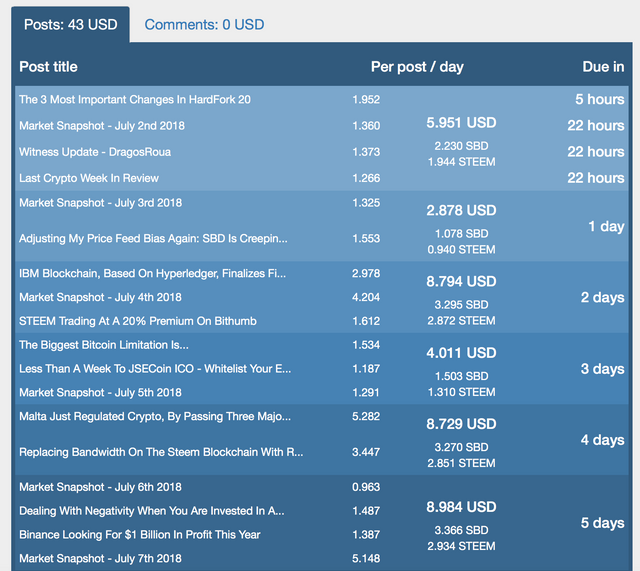 ---
For the comments panel (as you can see, I'm not much of a commenter):
---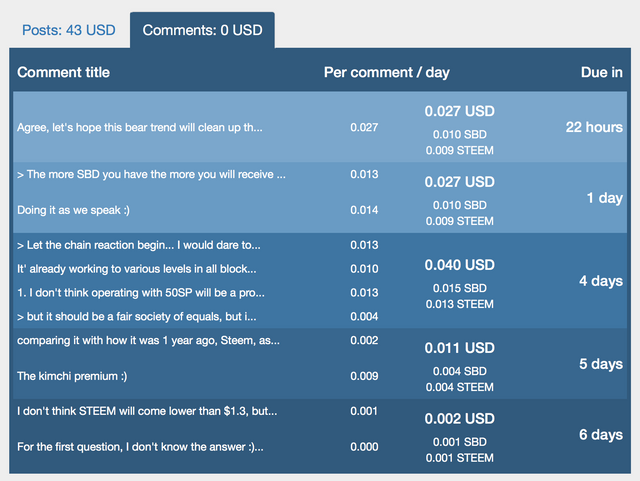 ---
And for the details of each post / comment.
---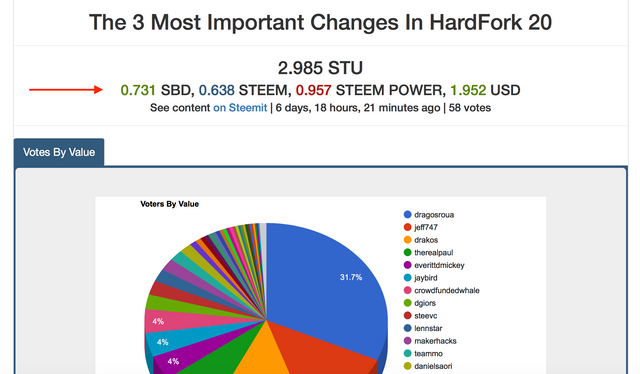 ---
Also, the main display area of the totals has been updated too:
---

---
In the main display area I also included the current SBD printing rate, just for reference.
As usual, looking forward to your suggestions, criticism and feedback.
Oh, and if you enjoy this tool, I would very much appreciate your witness vote.
---
I'm a serial entrepreneur, blogger and ultrarunner. You can find me mainly on my blog at Dragos Roua where I write about productivity, business, relationships and running. Here on Steemit you may stay updated by following me @dragosroua.


---
Wanna know when you're getting paid?
I know the feeling. That's why I created steem.supply, an easy to use and accurate tool for calculating your Steemit rewards
It's free to use, but if you think this is a useful addition, I'd appreciate your witness vote.
Thank you!
Psst: new to Steemit? Start Here