VESTS, STEEM, and SBD in Charts
Something to do on a cloudy Monday - play with historical data to produce some charts and say a few words about them.
---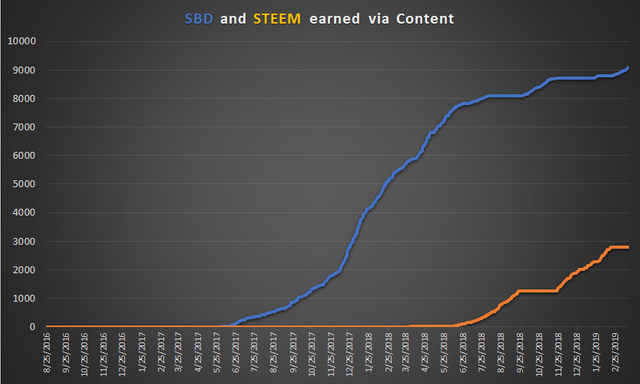 The above is the complete history of my SBD and STEEM earnings, including 0.01 SBD on the 25th August 2016, and then nothing at all for 8 months which duffs the chart up a bit. Excluding that first entry in the chart below.
---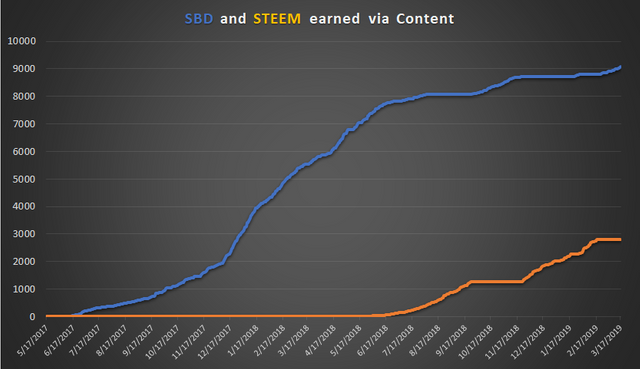 SBD: The usual liquid payout route showed movement on the charts about a month after I started producing content in earnest. 5 months later and 1000 SBD has been achieved, although these charts are very much skewed by recycled SBD into Bid-bots. Towards the end of 2017, STEEM took off and so that meant you were earning a raft of SBD and it looks like almost 2000 earned in 1 month between Christmas and the the end of January 2018. Slower, but still fairly steady growth for the next 5 months, until STEEM became the liquid payout route. Since then there have been a couple of flips between the two, shown by the flat spells on the charts.
---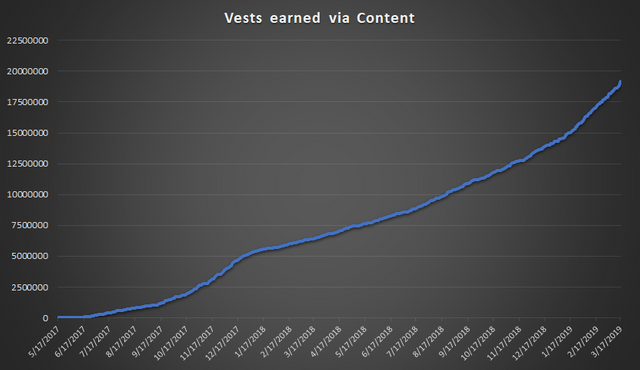 Ignoring the 25 vests earned from that payout in August 2016, a slow start again and what looked to be a good month Nov-December 2017. I was using bots regularly, but @utopian-io had recently arrived, and I was picking up some nice votes from a few friendly Orcas and Whales as well. A fairly steady climb throughout 2018, I'd gone on a bot hiatus, which only began again a few months ago with @ocdb.
---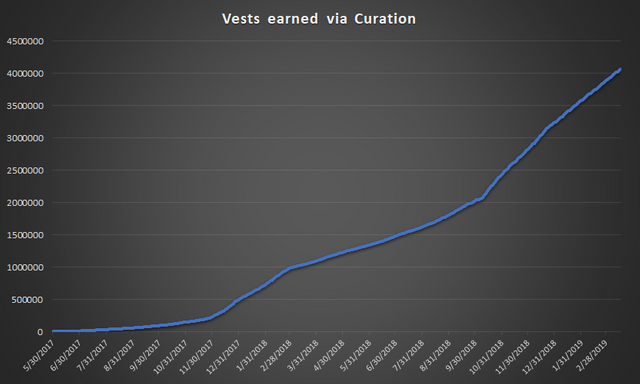 The curation chart is similar with a good spell in early 2018, a long steady climb for the middle half of the year lasting around 6 months (I stopped self-voting almost completely around Feb-March 2018), and then a rapid move starting at the end of October 2018. I did adjust my timings following hard-fork 20, but I have a feeling that this noticeable change in trajectory is also due to friends picking up on @ocdb, and the fact it's holding around 4 million delegated SP.
---
Along with the direct promotion @ocdb provides, there's also a bit of bonus in that people are checking the queue over at: https://thegoodwhales.io/queue.html

I've got to be honest and say that since I started using @ocdb to promote the engagement league each week with a sizable bid, I've not really seen any change in the trickle of new people sign up. The post doesn't get close to top 50 Trending and so that could be why?
---
Some comments might get a chart, senders of ENGAGE tokens will get a chart :P
Cheers
Asher