Press releases have been sent out and IT Web is the first South African Teck news site to be running the story.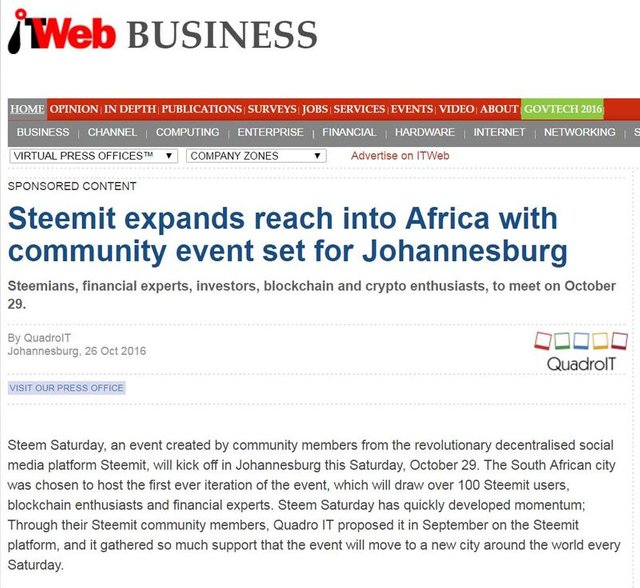 I'm pasting the content below. Lets see if @cheeta can pick up if its gone up in any other places yet... ;)
Steem Saturday, an event created by community members from the revolutionary decentralised social media platform Steemit, will kick off in Johannesburg this Saturday, October 29. The South African city was chosen to host the first ever iteration of the event, which will draw over 100 Steemit users, blockchain enthusiasts and financial experts. Steem Saturday has quickly developed momentum; Through their Steemit community members, Quadro IT proposed it in September on the Steemit platform, and it gathered so much support that the event will move to a new city around the world every Saturday.
As a key advisor to Steem Saturday, Jaco Rossouw said: "I've been involved in business and IT for 21 years and I've never seen such an amazing opportunity like Steemit before. Steem Saturday will bring together the growing list of fans and contributors for a series of meet-ups, talks and social activities. It will be an opportunity to discuss not just the success of Steemit, but how to develop the platform so that it can be applied as a better solution to real world problems."
Steem Saturday is open to anyone and is free to register and attend. The Johannesburg event will see a keynote address from Steemit CEO Ned Scott, as well as @gavvet, who is currently the top South African user.
Scott said: "These initiatives are truly incredible. One of our goals starting this project was to reward people for their contributions and ideas through the power of the blockchain. This is yet another example of people doing so, and making a difference in their own way. It's my privilege to be in attendance and help find ways to see Steemit disrupt the fintech industry even further."
Steem Saturday will be funded by local community sponsors. It precedes the highly anticipated SteemFest, which is a three-day conference being held in Amsterdam from November 11-13, organised by another group of Steemit community members. Scott will be in attendance.
As the organiser and key sponsor, QuadroIT is very excited to be involved with both the event and the Steem platform. QuadroIT MD, Robert Marshall, who will be the host at the event, said "Through our investigation of the blockchain and various crypto currencies, we found Steem, and we are seeing this event as a launch pad to use both their currency and their Blockchain and platform to solve a number of pan African real world challenges."
QuadroIT is a small niche company that takes technology solutions into Africa via a network of partners in various African companies, and aims to use both blockchain technologies and Crypto Currency to solve numerous African problems in finance, medical, mining, energy and goods trading sectors with this as an underpinning.
Event registration can be done at:
https://www.eventbrite.com/e/steem-saturday-johannesburg-south-africa-29-october-2016-tickets-27984775216
Registration is free, open to all and press is more than welcome to register via this link too.