dApp Review: PickFlix
Hey Steemians
As some of you may know I'm a bit of a movie buff and enjoy hitting up the cinema for the occasional blockbuster so when I discovered Pick Flix I thought it would be a dApp I could actually get into.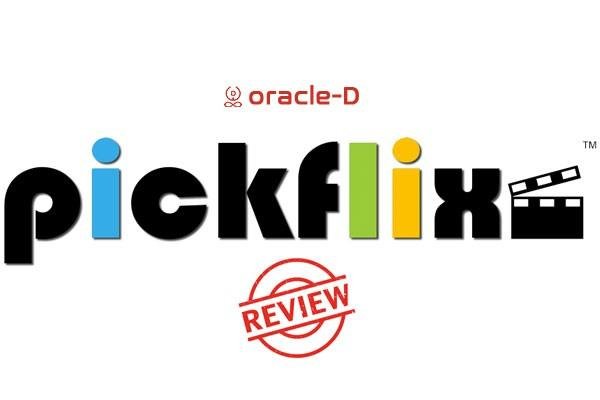 What is Pick Flix?
Pick Flix is a part strategy, part gambling game where users are kind of thrown into the role of a Movie Producer.
You pick movies
Compete against other players
Earn Ether
The games main aim is to combine the entertainment value of the movies, with the emerging blockchain technology and give you a little incentive when going to see movies.
PickFlix players are asked to research movies and place bets on which one they think would perform best at the box office. They are pitted against other players along with their selections.
How does Pick Flix Work?
The current game consists of two or more movies that compete against each other for their share of the Box Office.
One you log in and set up your wallet with meta mask you need to make your way to the lobby.

Click on a Game and you will see the Game Information and all of the movies from which you can choose. Now once you've done your research on the various films you need to buy a Pick Flix token for that movie you feel would perform the best.

You can make your picks up to the release date of the movie, but so can everyone else.

Each Game is unique and one Game does not affect another.

You will then have to wait for the box office results are in, redeem your Tokens to Pick Flix which is done via an oracle.
The value of your Token goes UP with box office sales and goes DOWN as more players pick that same movie so favorite picks might not be your best bet, and you need to get creative with your picks if you want to win big.
The Gaming mechanics
If you don't completely get it, let me take you through an actual game. So here we have three movies all releasing this weekend. As you can see each movie already has a return based on their performance, the more successful the movie, the smaller the return per token so you'll need to bet higher.
The less popular the movie, the higher the return if it performs well.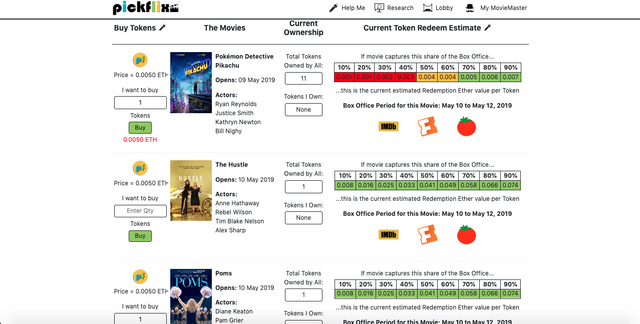 What are Pick Flix shortcomings?
Pick Flix is by no means market ready and will need a lot of development and even more marketing. Just spending an hour or so messing around with the site I was able to come up with the following issues.
Still on a testnet
Pick Flix is in BETA on the Rinkeby Test Network. For those of you who don't know what Rinkeby is, it is A proof-of-authority blockchain, started by the Geth team or testing. The Ether can't be mined; it has to be requested.
When I tried to run the game on the testnet, it couldn't even load my requested tokens and took ages to load the lobby.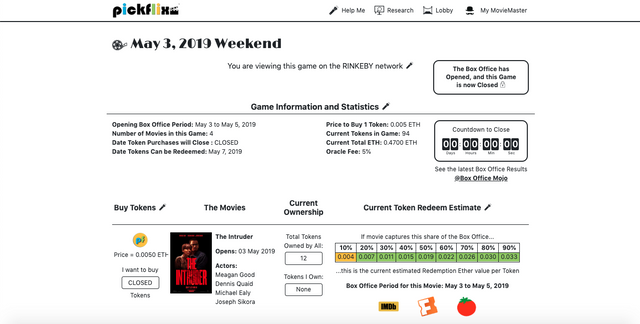 Terrible looking website
The website looks horrid, like something out of an Angelfire or Geocities site from the early 2000s. It offers users very little in terms of user experience and by no means an inspirational appeal. The call to actions are weak, and there is no distinct user flow.
The site looks more like a maintenance page for a website that is yet to come than an actual working prototype on a testnet.
Clunky user experience
As with most ETH dApps, you will need Metamask installed in your browser, and while the sign-up process is easy, it could do some work in terms of guiding the user on each step.
When you land on your dashboard, you're crudely thrown into a master account page with no guide on what to do next. You stumble around and figure things out and with so little incentive to do so, I hardly feel it was worth the effort and I'm sure many users will feel the same way.
Gaming explanations too complicated
When reading through the documentation it was by no means apparent on what I was meant to do or the value proposition on why I should do it. I think video explanations (since you are a movie based dapp) would be most welcome in explaining how the game works, why it's fun, why you should get involved.
It was only when I signed up and went into the lobby that I understood what was going on.
Also, there were not even test movies available for you to try out lol, so you have to hope and imagine what it's like. This shouldn't even be listed if you can't also use the game even ina testnet phase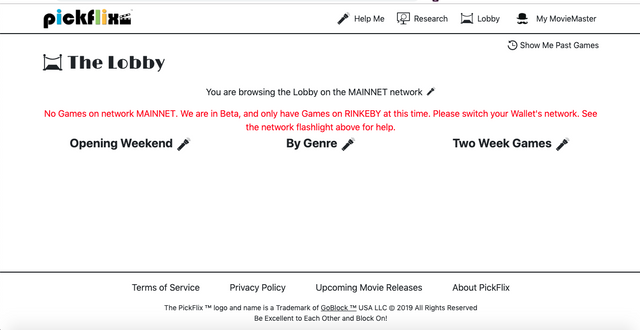 Pick Flix Lobby with no active movies
What I think of Pick Flix
As with every blockchain dApp I do think the concept has a lot of promise and could be fun if integrated with local movie theatre loyalty programs and movie review sites like IMDB and Rotten Tomatoes.
I think if the application thought a bit bigger to integrate user-generated content into the site and allow viewers to add their thoughts, reviews, ratings on the movie it would offer a richer experience for people and they would be more inclined to participate each week.
The game itself isn't much of a game changer so they would need to rely on strategic partnerships to introduce the game to a broader audience and then to integrate it with users normal flow of finding information on upcoming movies.
If they can achieve this, the game might take off!
My rating for Pick Flix
I would give this dApp in its current state 2 out of 5 stars.
Disclaimers and such
This is a review for @dapplovers - Review a Featured DApp & Earn Rewards ft. State Of The DApps!. If you would like to try out a dApp and review it check out the instructions in the original post.
Have your say
Have you heard of Pick Flix? Have you tried it out? What other dApplications do you use?
Holla at me in the comments! All my commenters I will now refer to as Jessie. Jessie is a good friend of mine, but Jessies got a girl, and I want to make her mine.
So have at it my Jessies! If you don't have something to comment, simply comment "I am a Jessie."
Let's connect
If you liked this post sprinkle it with an upvote or resteem and if you don't already, consider following me @chekohler


---
| Buy and sell STEEM | Get Daily Upvotes | Get A STEEM account |
| --- | --- | --- |
| | | |