🚨 SSDNodes by Strasmore VPS hosting is Blockchain Unfriendly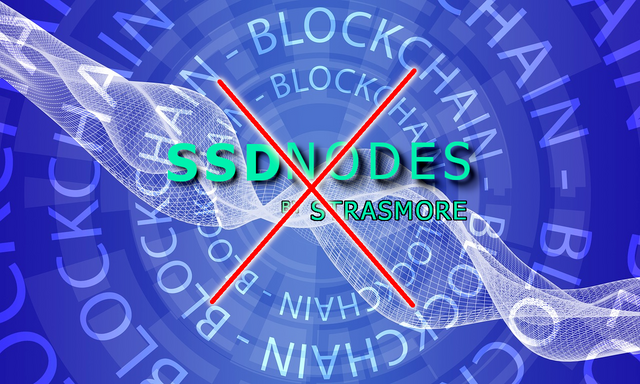 I must share my experience with SSDNodes by Strasmore. I have previously recommended their VPS to people looking to host witnesses, but I must recant that recommendation and advise you to go elsewhere. They are NOT blockchain friendly and I will share my experience.
When Whaleshares was still in testnet I decided to try a few different VPS hosting services. After reading some comparisons put out by SSDNodes and the fact that I caught a good offer I decided to give them a shot. Everything seemed to be fine and I even recommended them as an option to a few folks who asked me about setting up a witness.
Then out of the blue I get this account suspension notification.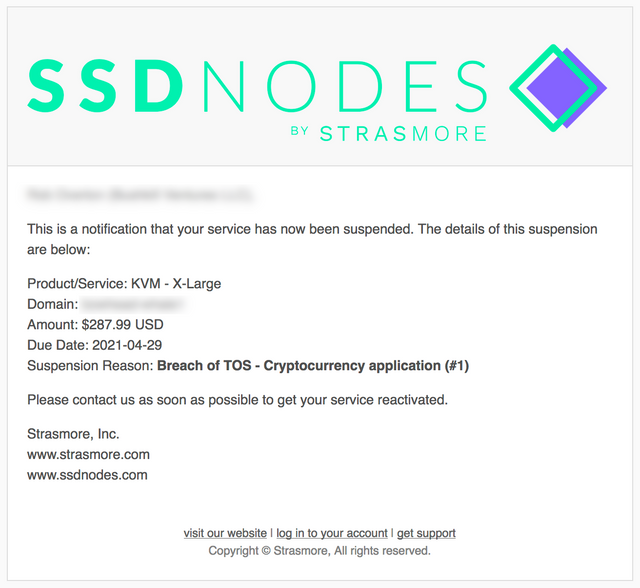 Full Disclosure
I did not read the Terms of Service before purchasing the hosting. My experience has always been that TOS cover illegal or abuse issues, neither of which I was planning to do. Bad on me. So off I went to see what the terms of service actually said. So among all the 'normal' abusive activities I came across these 2 sentences.

A pretty broad and non-descriptive statement. BTW, AUP is "acceptable use policy" and the Methods of Resolution just describes their process of notification to user and suspension of account.
I totally understand not allowing mining as it can be a resource hog, but not all blockchain applications are. Which brought up the question do they see 'cryptocurrency' and 'blockchain' as one in the same? From the fact they they never mention blockchain but do mention steem (which could be mined) I assumed so, but wanted to find out for sure. After all, not all blockchains allow mining, Whaleshares is one example.
So I decided to ask for clarification.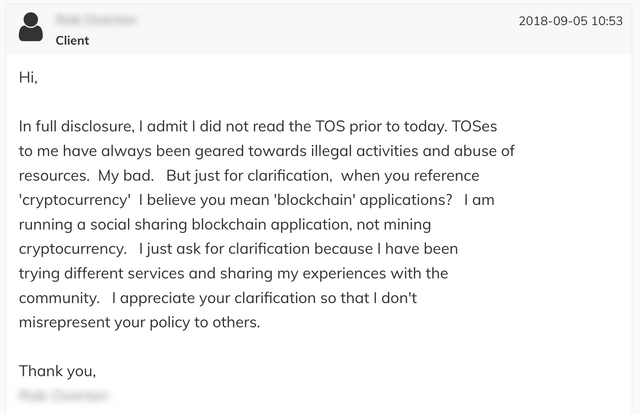 ---
That got a typical response of restating what the original suspension email said and did address my question.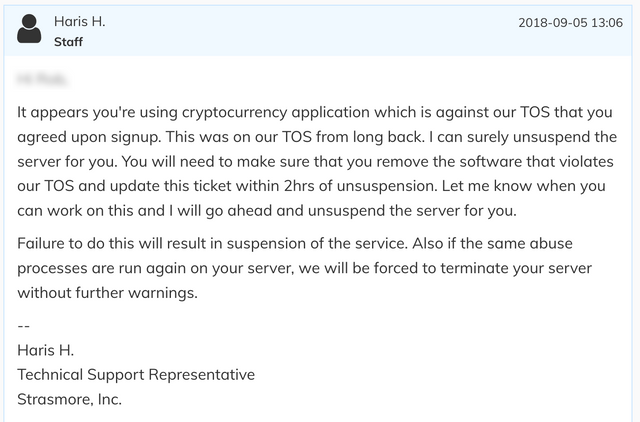 ---
So I try again but this time made absolute sure to state that I wasn't trying to argue their policy (after all, they can set whatever policy they want) but rather get clarification.

---
That was better received and I got a response that he would check into it.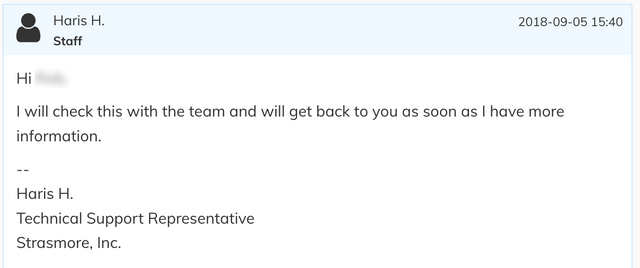 ---
I politely responded with a thank you and wanted to reassure him that I was not trying to argue the policy.

---
So I was going to get to the bottom of this.
Ah.... NO
The next response is from a different support representative and back to telling me I violated the TOS.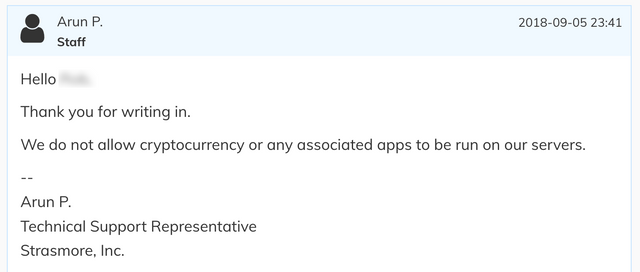 ---
Since I couldn't get them to clarify, I tried a different route by stating my conclusion and seeing if they would either confirm or deny.

---
That attempt bombed as well and I ended the discussion.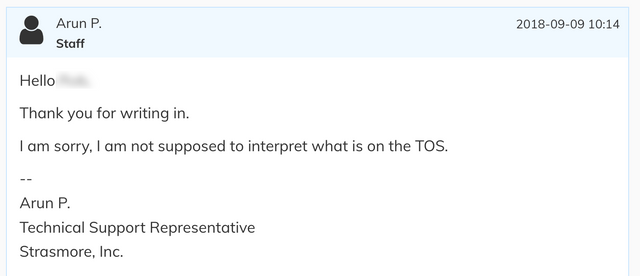 ---
At that point I was ready to write it off as a lesson learned for not readying the TOS. But a few weeks later I got a survey about my experience with customer service. So I took advantage of the opportunity share my disappointment with their ability to clarify their terms of service. Unfortunately they don't take feedback from their survey any more serious than customer support answering questions. I never heard back.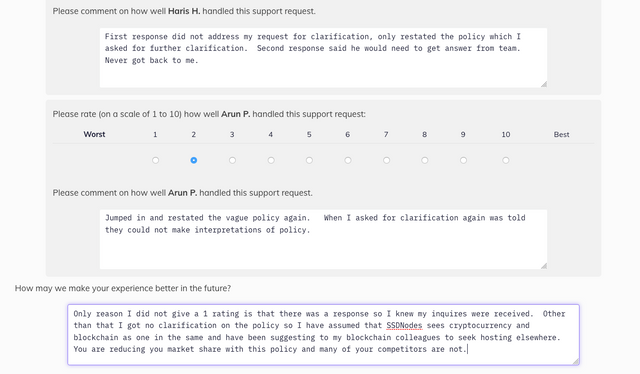 ---
What about other VPS hosting services
So I thought I better check the TOS of the other VPS hosting providers I have been using. A search for "cryptocurrency" and "blockchain" in the TOS of 3 major competitors of SSDNodes showed ZERO results. The closest I could come up with was a small hosting provider called Wishosting. Their TOS states:



---
A request for clarification to their support clarified their position.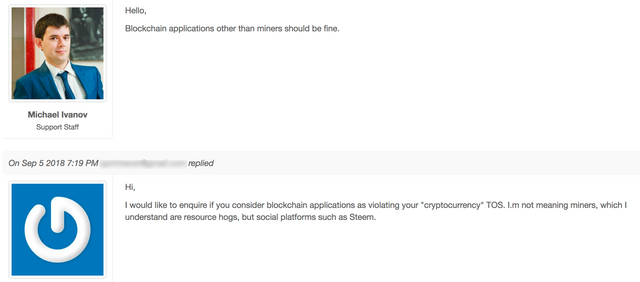 ---
In Summary
I unfortunately invested in a 3 year plan to get the best deal I could at the time and now have over 2 years left on a VPS that is sitting in 'suspended' state. Yes I know I can get it 'un-suspended' but really have no use for it at the moment. There is really no sense in moving anything non-blockchain related (websites, etc) there because it will only need to be moved off in 2 years when the plan expires. I was hoping if their 'issue' was 'making money'. I could at least run a seed node which does not earn reward. But without clarification and competency of blockchain on their end that is not going to happen.
I am also not whining about loosing my money either. I did not read the TOS before purchasing so will suck it up as my own fault. But I do feel the need to warn others and the SSDNode policy is outside the norm of their competitors. I'm sure I'm not the only one who doesn't read the TOS before purchasing.
This is not meant as a sales pitch for SSDNode competitors, so I won't mention any by name, but they are easy to find and I suggest using one of them for your witness needs. I have not had any issues with the other 3 providers I currently use.
I also found SSDNodes support to be very disappointing. I can only assume they are an oversea 3rd party support provider that is just driven by problem counts and closing open tickets. Resolving problems and clarification of TOS is obviously not a priority. As I said in my survey response, the only value I got from support was confirmation that my inquires did make it to them.
---
Keep producing those blocks ⛓