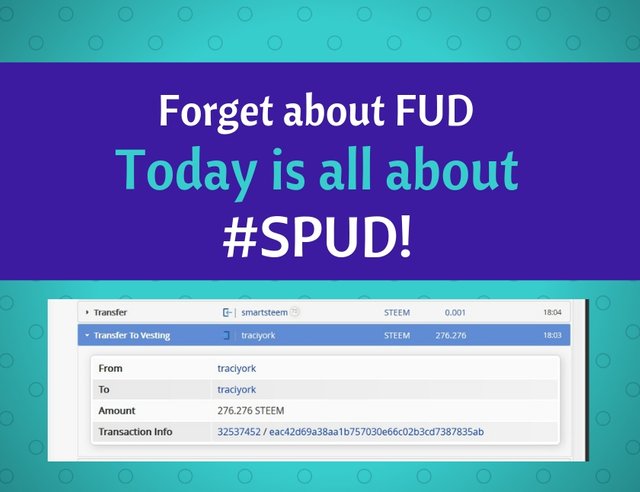 I did a post not too long ago about how I put my money where my blog is, and invested some cash into my Steem blog. Soon after, I talked to my hubby about wanting to invest a little more into some Steem. Given that we're a family of five living off of one paycheck, there's really no such thing as, "spare cash" but he agreed that it would be a worthwhile investment.
Then I started seeing posts about @streetstyle's wicked awesomesauce #SPUD initiative, and I figured it was a sign to stop letting Fear, Uncertainly, & Doubt whisper in my ear and just go for it! I purchased $100 worth of Bitcoin on Coinbase on the 23rd (forgetting I'd have to wait almost a week for it to be available to trade - I really wish I could buy Steem directly on it), and started watching the exchange rates on BlockTrades, hoping I could time it right to get the most Steem bang for my buck.
Long story short (too late...lol) I finally decided the time was right a few hours ago, and in short order, I was able to #powerup about 276 Steem!

And for those of you who are joining in the
#SPUD
fun, be sure to check out
@theycallmedan
's post,
SPUD - Did you participate?
and
@khaleelkazi
's post
SPUD Initiative and Twitter Awareness | Earn 7 SBI Shares and Other Rewards!
for some amazeballs giveaways in honor of today and
@nathanmars
's
#seven77
initiative.
#Steem to the moon!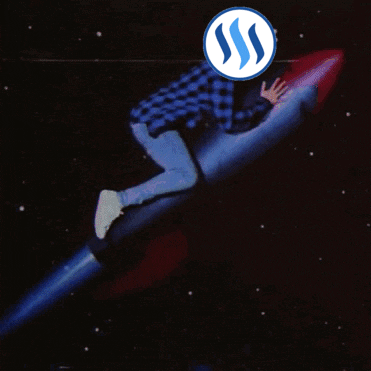 via GIPHY

Thanks for stopping by!
My posts may occasionally contain affiliate links. If you click through,
I might get a wicked small commission, with no extra cost to you.
Blog graphics created on Canva
My photographs are taken with my trusty Nikon,
sometimes utilizing my handy dandy tripod.
All words and images are mine (unless otherwise indicated),
and can sometimes also be found on my various social media sites.
Speaking of witch which...

I have one billion many homes on the interwebz.
Here are a few...
On the Steemit blogging site,
I am a proud member
of these awesomesauce communities


   



 
 


 
 
Links: PowerHouseCreatives; steemsugars; steemusa;
anonyvoter/steemians directory; helpie