SPUD Initiative and Twitter Awareness | Earn 7 SBI Shares and Other Rewards!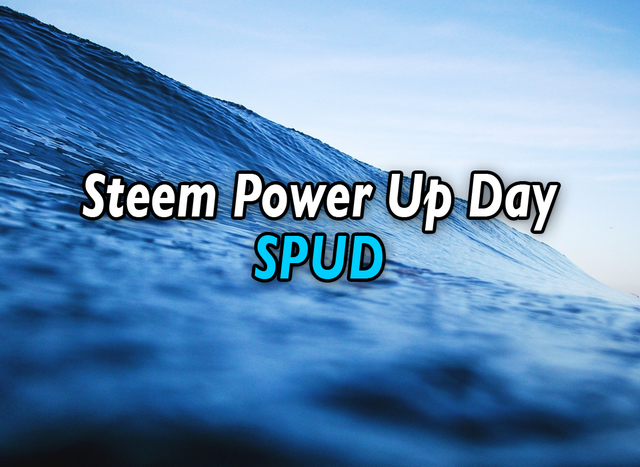 In honor of both the SPUD (Steem Power Up Day) initiative as well as the 777 (#seven77 on Twitter) initiative, I'll be running a contest in hopes of getting more participation for both!
May 1st, 2019 is Steem Power Up Day and was introduced by @streetstyle. This is a day when all participants will power up some STEEM into their account. It doesn't matter if this STEEM comes from an exchange, your liquid holdings in your wallet, converted SBD, etc.
Check out the SPUD Countdown Page I made on my website and also reference the end of this post or the page on my blog for detail on how to participate in SPUD and earn 7 SBI and the potential for an additional 77 SBI from me!
To participate in SPUD, all you have to do is power up some STEEM into your SP holdings on the Steem blockchain.
#Seven77 (777) is an initiative launched by @nathanmars. The initiative focuses primarily on Twitter and the central goal is to bring more positive attention and action to the Steem blockchain.
@nathanmars has done an incredible job so far in getting nearly 200 daily participants in the #Seven77 movement on Twitter and it's clearly having a great impact on user activity on the Steem blockchain.
It's also allowing CT (Crypto Twitter) to see that the Steem blockchain is so much more than Steemit, Inc. — one of the greatest challenges that we face in bringing mass adoption to the Steem blockchain.
If you aren't already participating in the 777 movement, then please consider getting a little more active on Twitter and using the hashtags #steem and #Seven77 to bring some more positive attention to the Steem blockchain.
The Benefits of Powering Up:
The benefits of powering up are pretty clear to anyone who's active on the Steem blockchain. Powered up STEEM gives you more influence on the blockchain, allows you to reward and build an audience, build a business, support projects with delegations and even earn a passive income.
The benefits of powering up STEEM are not well known to the crypto community and to the world at large. The SPUD initiative can make a big difference in changing this perspective and hopefully getting people to ask the questions: "Why are so many people powering up STEEM and talking about it? … What is powering up? … How can I benefit from powering up STEEM?"
How to Participate in SPUD and Seven77 and Earn 7 SBI Shares From Me:
To encourage participation in both of these initiatives on May 1st, I'll be giving 7 SBI shares to everyone who participates by doing the following 3 things on May 1st:
Power Up some STEEM — There is no minimum amount, just power up whatever you are able to!
Post a Tweet using the hashtags #Steem and #Seven77 — Say 1 thing that you love about the Steem blockchain.
Tag me in the Tweet — You can tag me either in the actual Tweet itself or in a threaded reply to your main Tweet. This is to make sure that I don't miss your Tweet!
Note: Everyone who participates will be awarded 7 SBI shares from me. After that, I'll do a draw and choose 1 winner who will get an additional 77 SBI shares!
Don't know what SBI is? Check out this post by @steembasicincome who's mission is to bring a basic income to all Steemians!
I'll be powering up 777 STEEM for SPUD and #Seven77 awareness. Any amount you can do to show your support for both the Steem blockchain as well as the movement to bring positive attention to Steem is amazing!
Do you plan on participating in SPUD on May 1st? Let me know in the comments below!
My Twitter Handle: @Khaleelkazi1